Windowpane line quilting is a beautiful way to finish your quilt top. Windowpane lines are actually a special variation of straight vertical lines.
They are commonly used with quilts just pieced with squares or half-square triangles.It's a nice way to add interest without difficulty. It's a great choice when you want the fabrics to be the feature of the quilt.
Things to consider
Because of the nature of the design, it won't work with every quilt top. Here are some things to consider that will help you decide if it will work.
1. Will it complement the piecing or detract from it?
Windowpane quilting draws attention to itself. If you have complex piecing, you want that to be the main feature of the quilt. Windowpane might be too distracting. It works best with very simple designs.
2. Are the squares small enough?
Windowpane quilting is based on the size of the squares in a quilt. If you use large squares (6" or more), that quilting might not be dense enough for the batting you are using. Check the spacing recommended for the batting you are using to see if you will need to add more quilting to secure it.
Check out Getting Started with Simple Quilting for tips on marking your quilt top.
Design options
There are really only two variations of windowpane lines. Use one of these, or a combination of the two.
Single Windowpane
This design consists of stitching an echo line on one side of the seams. It is like in the ditch stitching, but offset from the seams.

You can see it in the sample quilt Rolling Meadows.
Double Windowpane
Double windowpane has lines stitched on either side of the seam.

You can see this design in the Pink Unicorn Baby Quilt.
Combination
You can also us a combination of double and single. This option is used in the Peaches and Cream Bentio Box Quilt.
Helpful tips
Begin in the middle and work out, spread as you stitch, and take your time.
Windowpane quilting is approximately 1/4″ from the seams. If you need it to be exact, mark it with a line to follow. Most of the time, just using the edge of the presser foot is good enough. It is close to 1/4″ wide and saves a lot of time marking.
Sample project
This sample is a small placemat, but the procedure would be the same for a quilt of any size. Make your own quilting practice placemats with this tutorial.
Design Option – Double Windowpane
This basic design has stitching on both sides of all the seams.
Marking
There is no need to mark the piece because the presser foot will be used as a guide.
Stitching
Start with the seam closest to the middle. Stitch along one side of it, keeping the edge of the presser foot along the seam.

Stitch all the lines in one direction, moving from the centre out.

Turn the quilt and stitch the lines on the other side.

Rotate and stitch one side of perpendicular lines, again moving from the centre out.

Turn and stitch the final side.

---
NOTE: For a placemat, you can probably fit the entire placemat in your sewing machine easily, so you might choose to not rotate it and stitch the sides separately. That's fine, but if you are are quilting a larger quilt, this is the procedure you will need to use.
---
Once the quilting is done, just trim and add binding to finish it off.

Be sure to share a picture #simplequilting to inspire others.
---

Get more Simple Quilting
Finish your quilts quickly and beautifully on your domestic sewing machine with the Simple Quilting book.
No more wondering how to start or struggling with free motion quilting.
Ten designs with unlimited variations!
---
Video
---
Inspiration
---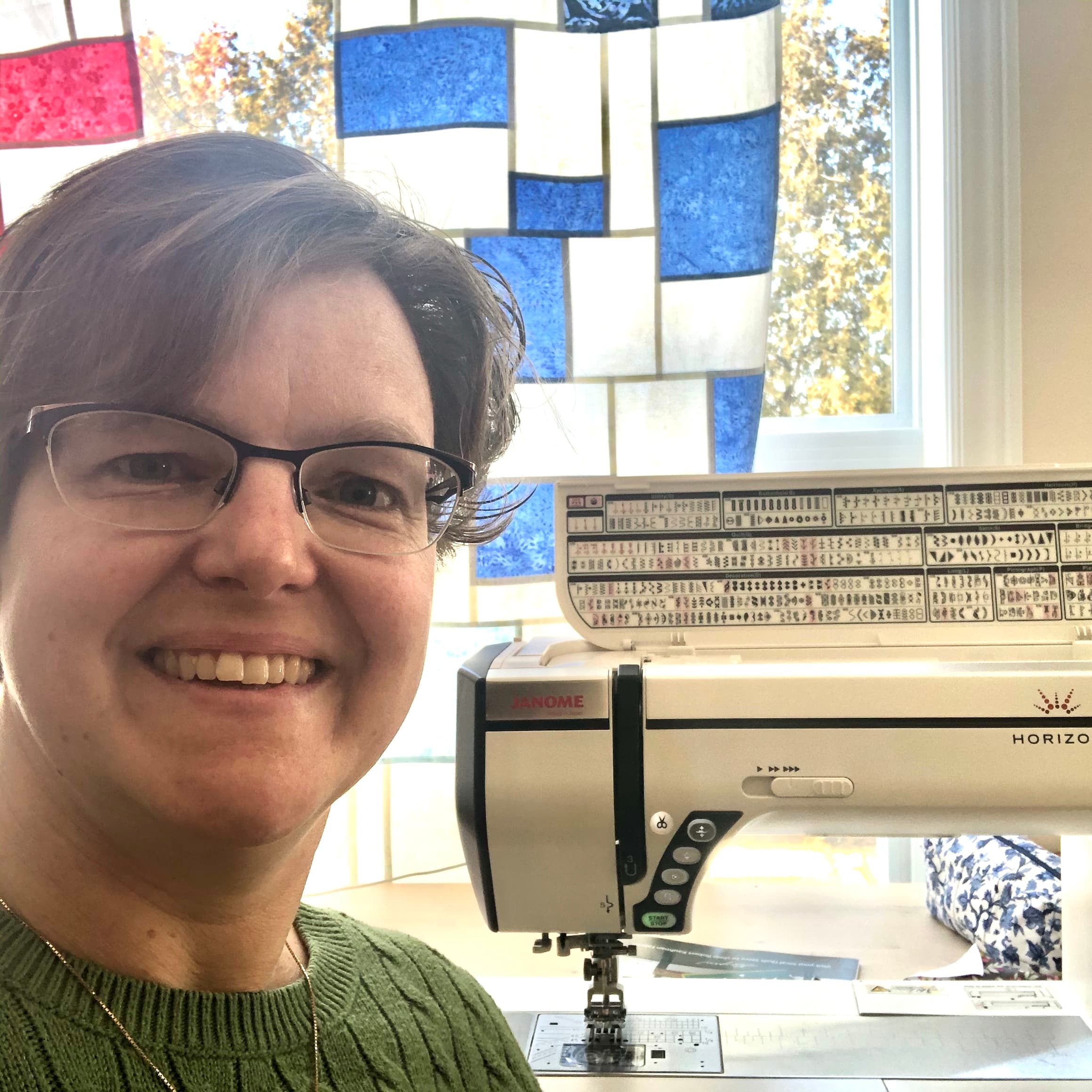 Elizabeth DeCroos
designer, teacher, speaker
Elizabeth enjoys doing all types of sewing and needlework and teaching others new techniques. For more information or to have her speak to your group click HERE.