The thought of paper piecing causes some quilters to break out into a cold sweat. Trust me, though. Paper piecing half square triangles is not at all like making complex stars or picture blocks. It is simple and straightforward.
---
---
Choose your paper
To begin, you need to cut two pieces of fabric – the two triangle colours. The sizes will differ depending on what triangle papers you are using.
There are many different options available to paper piece triangles. If you google "half square triangle paper", you will find a bunch of different options. Some are files that you can print yourself and others are physical printed papers that you can order.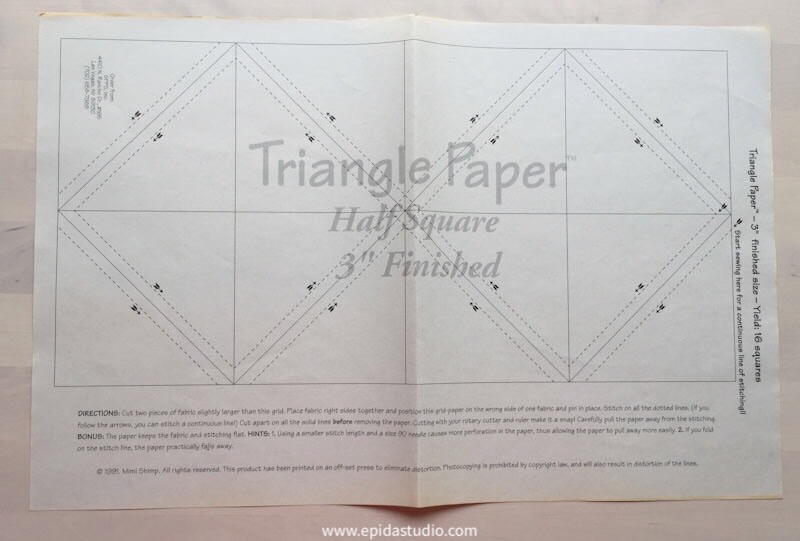 If you have the time, you can even draw your own grid on paper (or directly onto the fabric).
All of these designs are based on squares or grids with diagonal stitch lines marked right on the paper.
I have tried many different variations, and they all work great. My personal favourite is Thangles brand. The reason I like it is that if you need a 4″ finished piece, you will use a 4-1/2″ strip.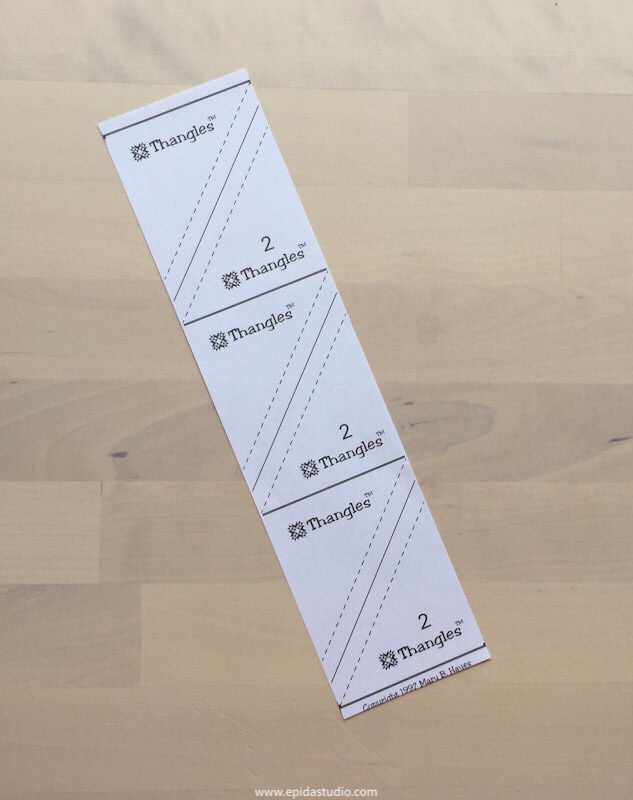 This means that if I am making a block with squares and half square triangles, I can get all the pieces from one strip of fabric. I don't have to cut a bunch of different sizes.
Stitch
Place the fabric right sides together and put the paper on top. Pin together securely. For this size, one full Thangles paper will make four HST units.
Sew along the dotted lines. This has to be accurate, but the line is right there for you. You don't need a special foot or seam allowance marking.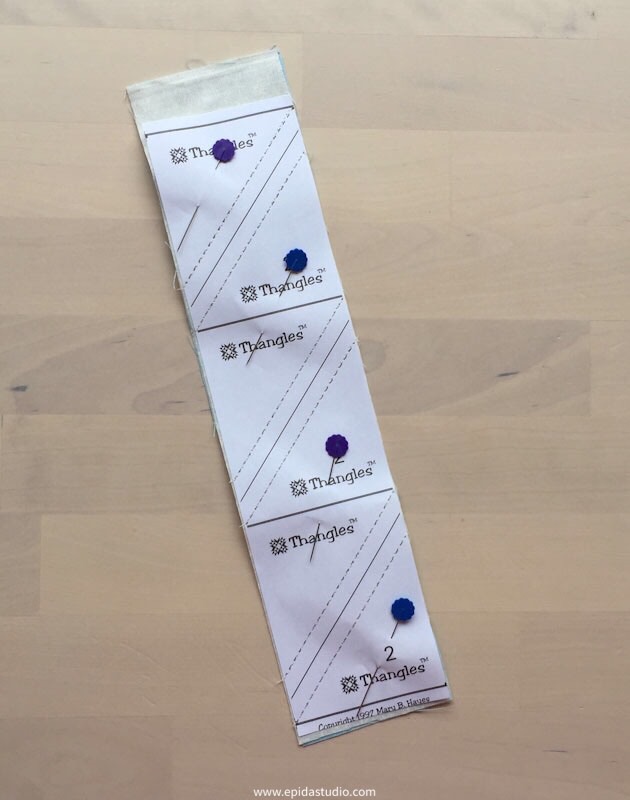 Cut
Cut along the solid lines using a rotary cutter and ruler.
Open and press
Open the triangles and finger press the seam allowance to the dark side.
After finger pressing, press with an iron, being careful only to move the iron up and down, not back and forth.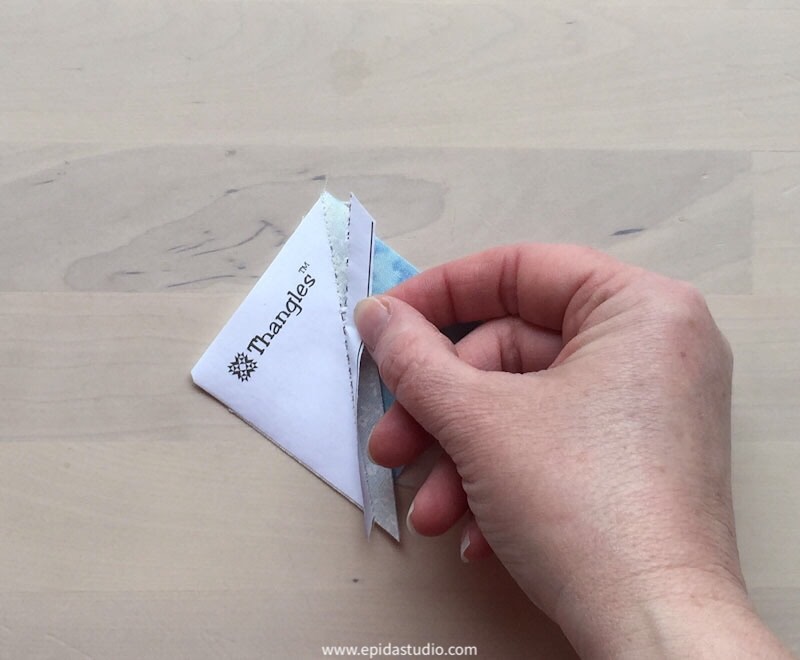 Remove the paper
Remove the paper. If you use a short stitch length, it should perforate easily. This is a good activity to do while watching tv.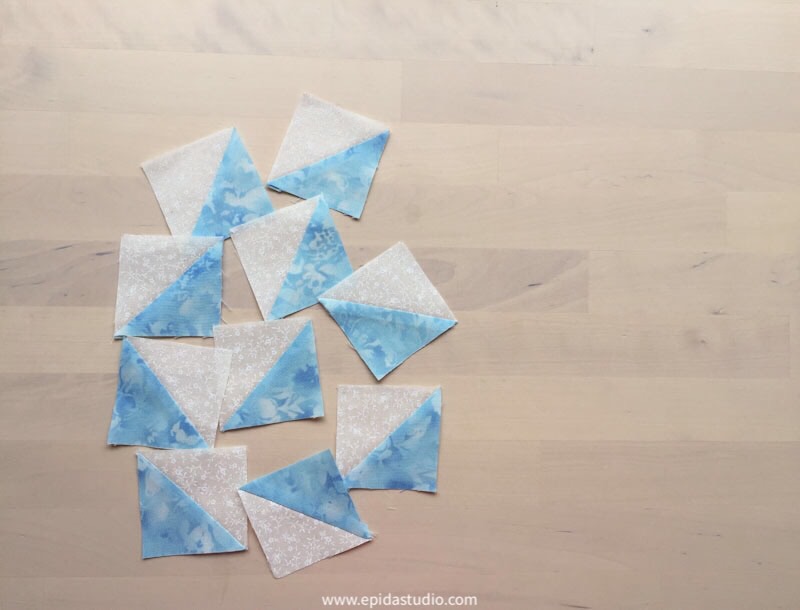 ---
What's Good
accurate stitching is easy
no trimming or squaring up
quick
What's Not Good
paper is one time use
have to remove papers
When to use this method
need a lot of HSTs
making one block that uses HSTs and squares
using jelly rolls
Rating: 5 out of 5
This is my favourite method of making HSTs. Removing the paper can be annoying, but not nearly as much as squaring up.
---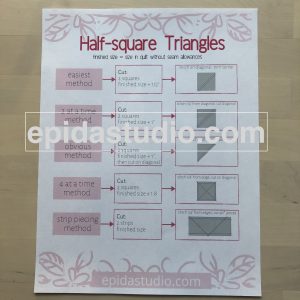 ---
---