In Korea, when a gift is given in a pojagi wrapping cloth, the cloth is a symbol of the love and good wishes that go along with the gift.
This book cover is not a traditional wrapping cloth, but the pojagi hand-stitching is still a way to share love and good wishes with your book loving friends.
Customize this book cover easily for any size book you want. It could be used to cover a journal or sketchbook, a calendar or planner, or even a Bible or other book with special meaning.
Supplies
Book
Before you begin, choose the book that you will be covering. The project is custom-sized so it will work for any book.
Fabric
The main cover is made with lightweight linen fabric. This is a great option for pojagi stitching because it is easy to work with and comes in a lot of colours.
You will need a large piece of linen for the main cover and some small scraps in a second colour for the accent strip.
You will also need a piece of cotton fabric for the lining.
The size of the fabric pieces will be determined by the size of the book that you are using, so look for amounts in the measurement section.
Thread
Size 12 or size 8 perle cotton, whichever matches the weight of the linen fabric you are using. Traditionally pojagi is stitched with a contrasting colour. Your stitches will be clearly visible, so keep that in mind when you choose your colour.
General supplies
You will need the basic pojagi stitching tools:
scissors
Hera marker
ruler
needle (cross stitch or crewel)
sewing machine (optional)
---
Measuring
The size of the pieces will be determined by the size book you are using. You will need two measurement.

First, measure the book from the edge of one cover all the way around the spine to the edge of the other cover. Write it down so you don't forget it.
This will be measurement "A". The sample book is 10-1/2″.

Second, measure the height of the book.
This is measurement "B". The sample is 7″
Main colour fabric
For the main portion of the book cover, cut a piece of linen 5″ longer than measurement "A" and 1-1/2″ wider than measurement "B".
A + 5″ x B + 1-1/2″
For the sample, the length will be 15-1/2″ (10-1/2″ + 5″) and the height will be 8-1/2″ (7″ + 1-1/2″).
Cut out this piece on the grain of the fabric.
Next, cut this piece straight on the grain into two smaller pieces. Cut it so that one part is about 1/3 of the total and the other part is about 2/3 of the total. Don't worry about exact calculations. You can even just eyeball it.
The sample is split into two pieces – 5-1/2″ x 8-1/2″ and 10″ x 8-1/2″.
Accent fabric strip
Use scraps of fabric that are all 1-1/2″ wide. Height doesn't matter.
Join these with 1/4″ seam allowances and a traditional pojagi seam. You need a strip to match the height of "B" + 1-1/2″.


Lining
Cut the lining piece "A" – 2-1/2″ long and "B" + 1-1/2″ wide.
The sample will be 8″ (10-1/2″ – 2-1/2″) by 8-1/2″ (7″ + 1-1/2″).
Assembly
Join the main fabric pieces to both sides of the accent fabric strip with a traditional pojagi seam.

Fold over the short ends 1/4″. Press and then fold over another 1/4″ and press again.

Topstitch either by hand or sewing machine to hem those ends.

Lay the piece out, right side up. Fold over the two ends 3″ on each side.

On the lining fabric, zig zag around all edges to stop it from unravelling over time. Centre it on the main fabric, right sides together and pin the top and bottom edges.

Stitch the top and bottom edges with a 3/8″ seam either by hand or machine.

Turn right side out. Put the notebook into the cover.

You're done!

Make variations of this project in whatever sizes and colours you like.
Be sure to #epidastudio when you share your projects on social media!
More fun stuff
You might also like …
---
---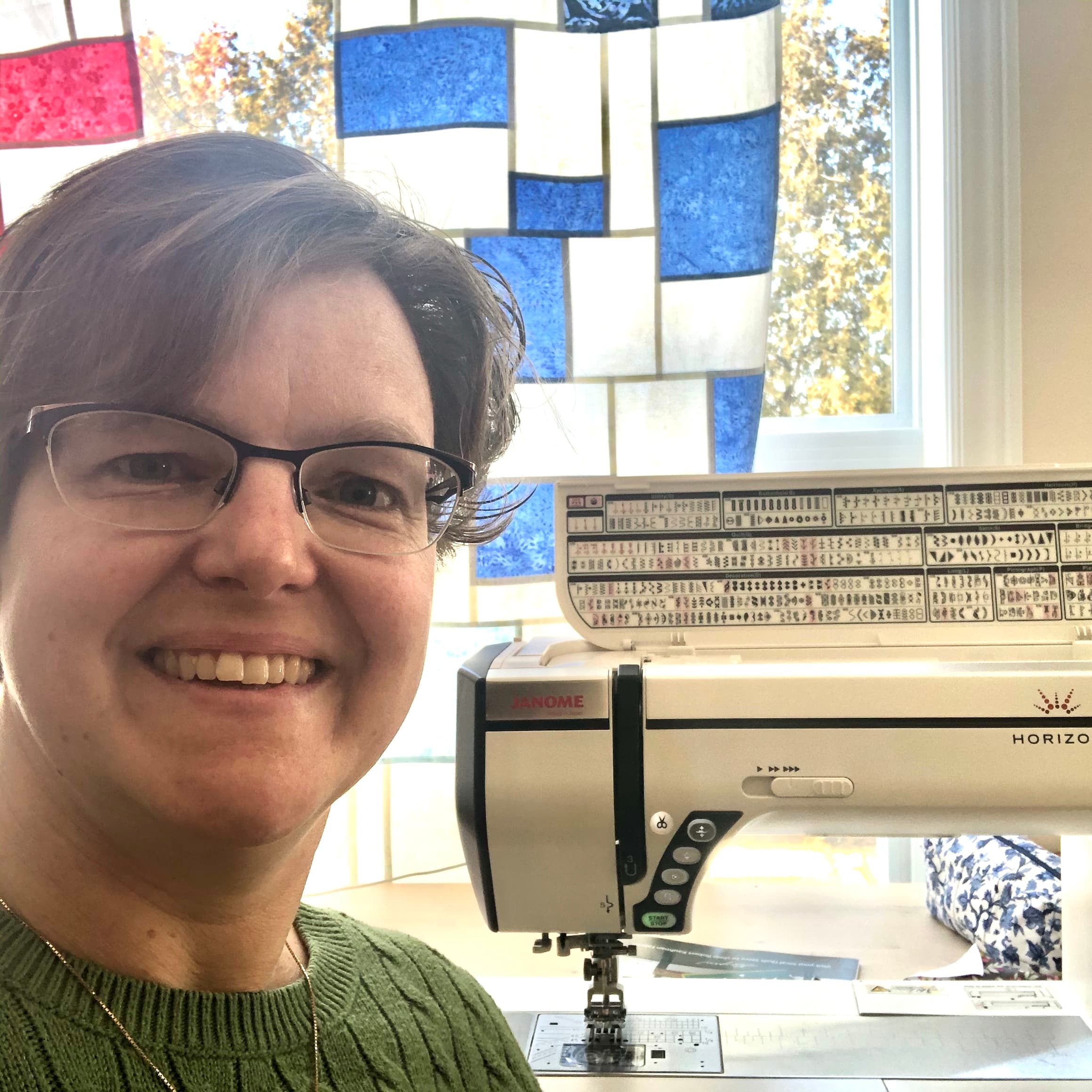 Elizabeth DeCroos
designer, teacher, speaker
Elizabeth enjoys doing all types of sewing and needlework and teaching others new techniques. For more information or to have her speak to your group click HERE.