This stitching project is a fusion of cultures. It is made with traditional Korean patchwork techniques, but linen and perle cotton instead of silk or ramie. When my kids saw it, they said "it looks like a samosa" and the name was born. No matter where you're from, you can enjoy this simple project with multiple uses.
I originally made this as a Christmas ornament as part of the Pojagi Christmas Collection. It is a cute little ornament, but it could also be used as a pincushion or a pattern weight.
If you want to try pojagi patchwork for the first time, this is the perfect project. It is small and just has the basic seam technique. It can be done in a couple hours, so it's not a huge commitment. Materials and supplies are easy to find.
---
---
Materials
Fabric
You will need two different colours of linen fabric. For each colour, you need a piece at least 5″ square. For best results, use lightweight linen.

Thread
Size 12 perle cotton. Traditionally, stitching is done in a contrasting colour and the stitching is part of the design. You can choose how much of a contrast you want. Choose a thread weight that matches the fabric weight. If you are using a heavier linen, you might want a size 8 or even size 5 perle cotton.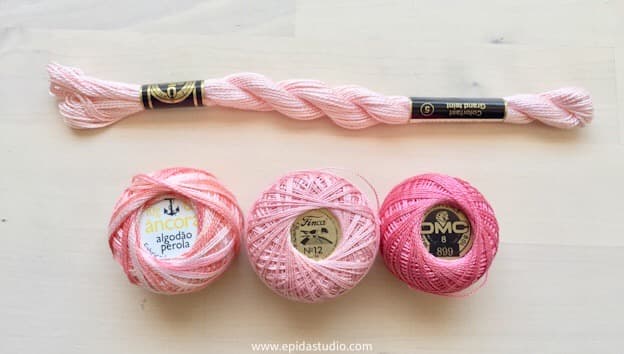 Filling
You will need some sort of filling. If you want to hand this as a decoration, lightweight stuffing is all you need. To make a pincushion, stuff it firmly with stuffing.
If you want it to be a pattern or paper weight, something more substantial like beads or plastic pellets work well.
Needle
Use a needle with a large eye to accommodate the thread you are using. Look for something with a dull point like a medium sized cross stitch needle.
Hera
A hera marker is used to crease the fabric to prepare for the seams.

---
Preparing the pieces
Making the template
Cut a 1-1/2″ square out of lightweight cardboard, such as an old cracker or cereal box. Be sure to label the size so that you can use it again later in another project.
Marking the pieces
Place the fabric on top of a semi-soft surface such as a catalogue or an old pad of paper. This will both make the marking easier and protect the table surface from getting marked.

Hold the template firmly against the fabric and trace around it with the hera marker, pressing firmly with a back and forth motion.
The square should be clearly visible on the fabric.

This marked line is the stitching line, so be sure to leave a 1/4″ of fabric around all sides of the square for seam allowances.
Repeat. You will need four squares of each colour fabric.
Remember that the squares should be 1/2″ apart, since you need 1/4″ seam allowance for each one.
Cut out.

Press the creases with your fingers to help them set into the fabric.
Assembling
Pin two different coloured squares together, with wrong sides together and the seam allowances tucked inside.
Join using the basic pojagi seam technique. This is an overcast stitch that goes through all the layers of fabric. Keep your tension loose enough so that the pieces will be able to open flat after the stitching is complete.

Repeat with the other pieces. You should have four sets of two squares.
Join these into two squares, alternating the colours.

Join these two larger squares together on three sides, alternating colours.

For the final seam, pick up the top piece and fold in half, perpendicular to the seam you just made. Stitch along this seam, stopping before you get to the other end.

When you have about 1″ left in the seam, add the filling of your choice.
Close up the seam. Knot and tuck the tail of the thread to the inside.

Finishing
If you want your finished piece to be able to be hung, add a loop of perle cotton for hanging.

You're done!
Ornament, pincushion, patternweight –
What other things could you do with this piece?
---
You might also like …
---
---