This poinsettia appliqué is a nice way to turn any sewing project into a Christmas project. It can be added to placemats, bags, tea towels, pillows or even clothing. If you use fusible web, it is a quick project that can be done only a few minutes.
The poinsettia pattern is about 4-1/2" across, which is a versatile size. That is the size I used to embellish the Fill in the Blanks Table Runner Christmas variation. If you have a larger space to fill, like a tote bag, you could always make a group of flowers or enlarge the pattern.
It would look beautiful with embroidery embellishment, but it is also nice plain. Have fun playing with the pattern and using it in your own designs.
---
---
Materials & Supplies:
5" x 10" piece of paper back fusible web
Two 5" squares of red fabric
Tiny scrap of gold fabric
Something to put the appliqué on
Pattern
This is the basic pattern. A downloadable version is available in my resource library. (Free bonus for newsletter subscribers. You can get access using the form at the bottom of the page)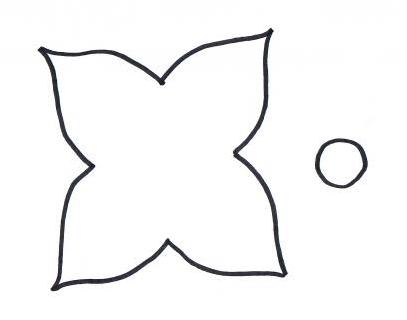 Trace the pattern
The fusible web will probably have two sides of paper with the web in between. Read the directions for your product first to check for any brand specific differences. Whatever fusible web you have will work fine even if it's not exactly the same.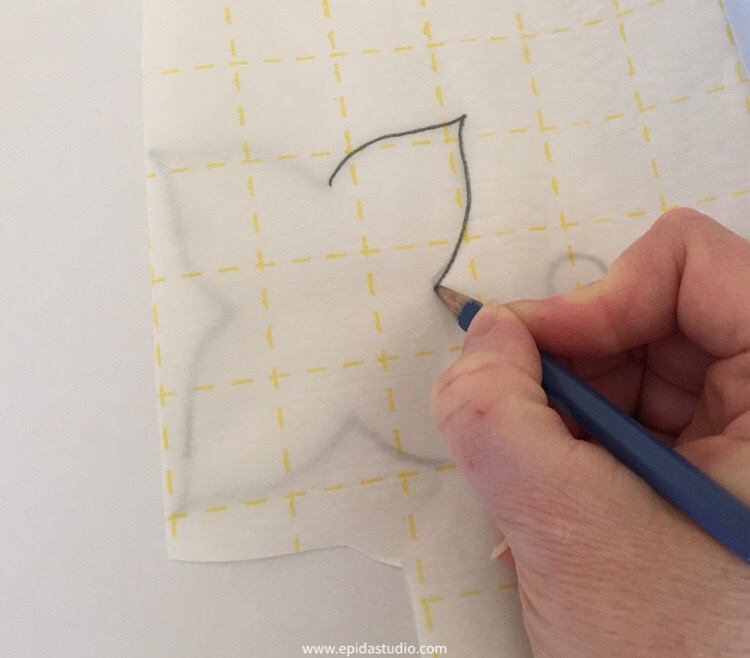 Trace the pattern onto the web paper. You will need two copies of the flower and one centre.
Cut them out roughly. Leave a bit of margin around the shape.
Fuse to fabric
Peel off the back paper (without the flower outline).
Put the fusible web onto the wrong side of the fabric. Some brands are tacky, which will help it hold in place temporarily (like a post-it note).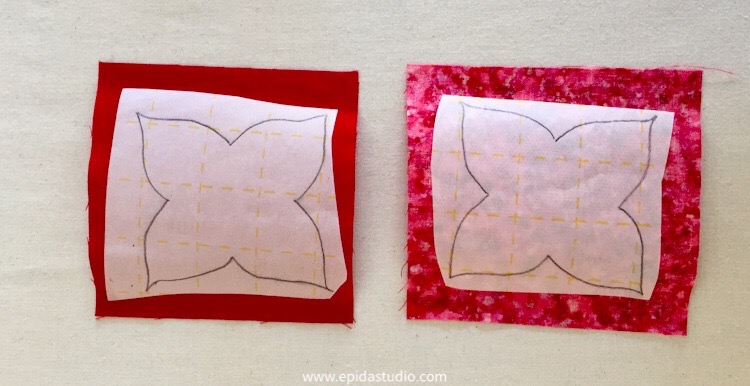 Double check that the web is on the WRONG side of the fabric, then fuse in place permanently with an iron. Check your brand for the correct iron temperature.
Cut out pattern
Once it is fused, cut out the shapes directly on the pattern line. Since it is fused, there is no need for seam allowances.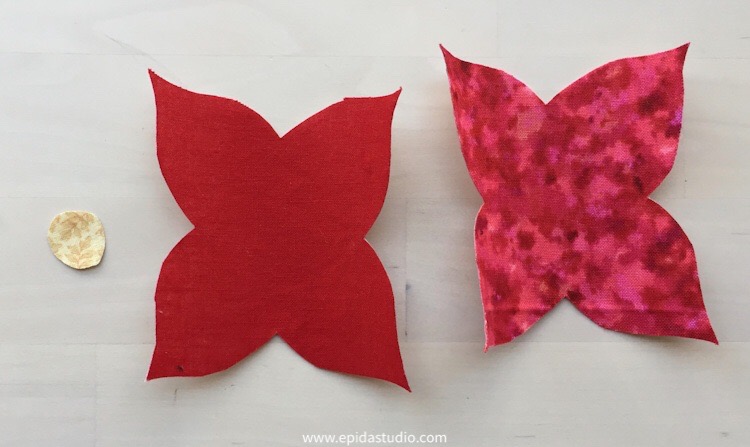 Fuse to piece
Remove the paper backing, being sure to leave the fusible web on the fabric.
Lay out the pieces where you want them to be on your product. Fusible webs that are tacky are helpful for this, since they stay in place and you can easily experiment and rearrange as desired.
Once they are in place, fuse permanently by pressing with an iron.
Embellish with embroidery (optional)
Many fusible webs leave a permanent fuse that will not peel off and stand up to wear and tear. Some webs require additional stitching on the edges to finish them off.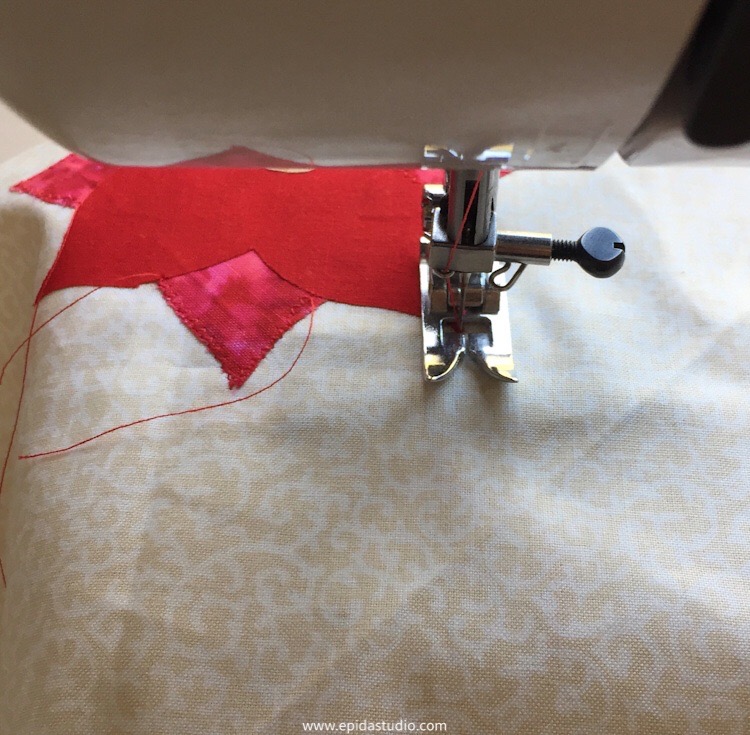 I like to finish off the edges with some type of embroidery to give it a bit of dimension and because I like stitching.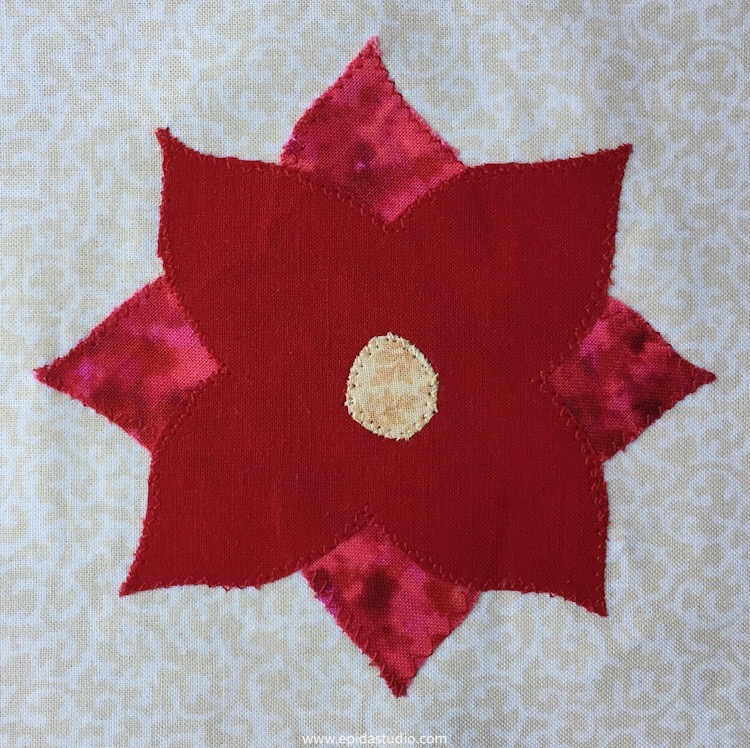 With a sewing machine, you can use a decorative stitch or just a zig zag stitch. Experiment on a scrap first so you can choose the stitch length and width that you like.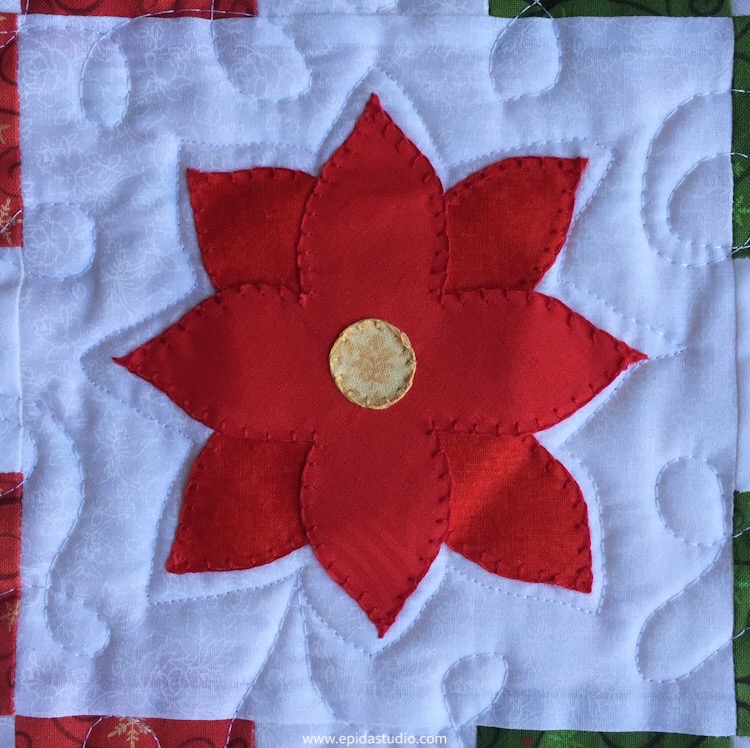 If you prefer hand stitching, there are a few stitches, but the common favourite is blanket stitch (sometimes called buttonhole stitch). Use a crewel embroidery needle and two or three strands of embroidery floss for a nice edging.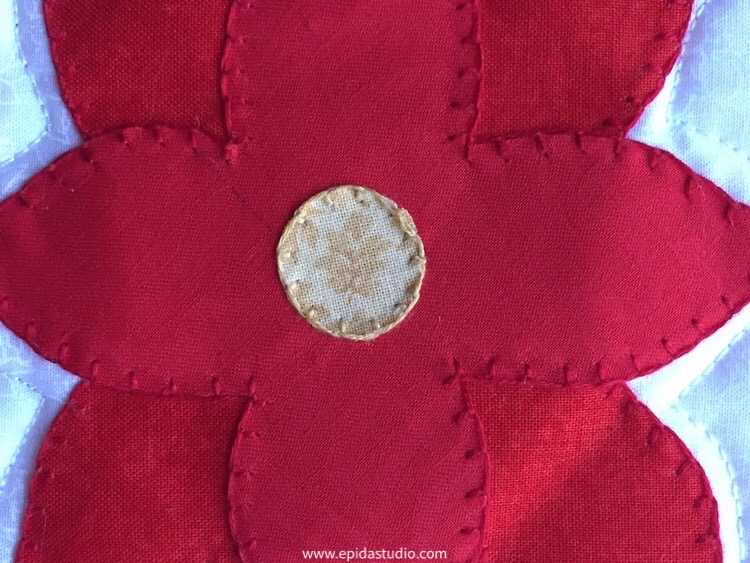 No matter which embroidery option you choose, you might have to wipe your needle a few times during stitching. Sometimes the adhesive from the fusible web gets on the needle and makes it sticky. This is more common with hand stitching because embroidery floss is thicker and seems to pull the adhesive out more.
Decisions to make
If you are using this appliqué pattern on a quilted piece like a table runner or wall hanging, you have the option of putting the appliqué on before piecing it or after piecing it.
Some people prefer to put the appliqué on a larger piece of fabric and then cut it down to the right size so that the appliqué is aligned just right. Then they proceed with piecing.
Others prefer to do the piecing first and then appliqué onto the finished top.
Either option is fine. I would choose to do whichever is hardest first, so that if you have a disaster and have to start again, you won't lose as much work. I do recommend that you applique before doing the quilting.
I hope you enjoy this appliqué pattern. I would love to see a picture of something you've made with it. Either send it to me or #epidastudio on instagram.
---
---