The nine-patch block is probably the most traditional quilt block of all time. In fact, it is probably what many people think of when they hear the word "quilt". My earliest memories of the nine-patch come from reading about Mary working on one in the Little House on the Prairie books. At the time, I couldn't have told me you what a nine-patch even was, but already I was drawn to quilting, so I was sure it was beautiful.
A nine-patch block is simply nine pieces sewn into a square – three across and three down. The most basic is made of nine squares, but once you know the basics, there are hundreds of different variations. This series will be nine weeks (appropriately) and will guide you through making a sampler quilt with twelve blocks – two each of six different styles. This would be a great project for a beginner, and no quilting experience is required. If you follow along and try each step, you will learn the skills and gain the confidence that will enable you to make many, many more patterns. In preparing these lessons, I practiced on my own beginner student – G2, my nine-year-old daughter. You can follow along with her progress as we go.
Each week will have the block lesson – instructions for making the block for the week, and a bonus lesson. If you only want to make the sampler quilt, the block lesson is all you need, but the bonus lesson will give you more information and inspiration for other projects.
I hope you enjoy this series, and quilt along with me!  Use this week to gather your fabric and supplies.
Fabric requirements
I recommend using 100% cotton quilting fabric for best results. If you are using bright and bold colours, you will want to pre-wash it, because colours often run, and you don't want them to run when you are washing your finished quilt.
There are many different options. You could do a scrappy quilt, monochromatic, or only use two fabrics. These amounts include a bit extra for practice and "oops cutting".  You can buy fabric off the bolt, or fat quarters, but make sure the total adds up to these amounts.
Background fabric – 1 1/2 yd
Accent fabric – 1 yd
Sashing (strips that go in between the blocks) and border – 2 yd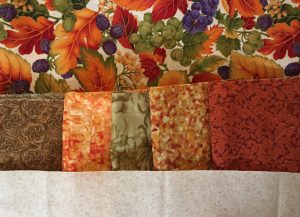 I chose a fall print for my sashing and border, and a variety of coordinating fat quarters to make scrappy blocks.  For the background, I used different cream prints, so it's also a scrappy background.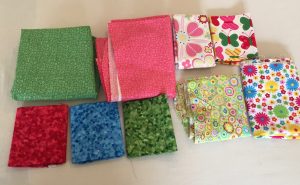 G2 chose bright colours.  The tone on tone fabrics work like solids.  At this point, I'm not sure what she'll use as sashing, so we'll see what happens.
This is not a mystery quilt.  You can see from this layout exactly what blocks we will be doing.  You could make a nice quilt even if you just made twelve copies of the same block.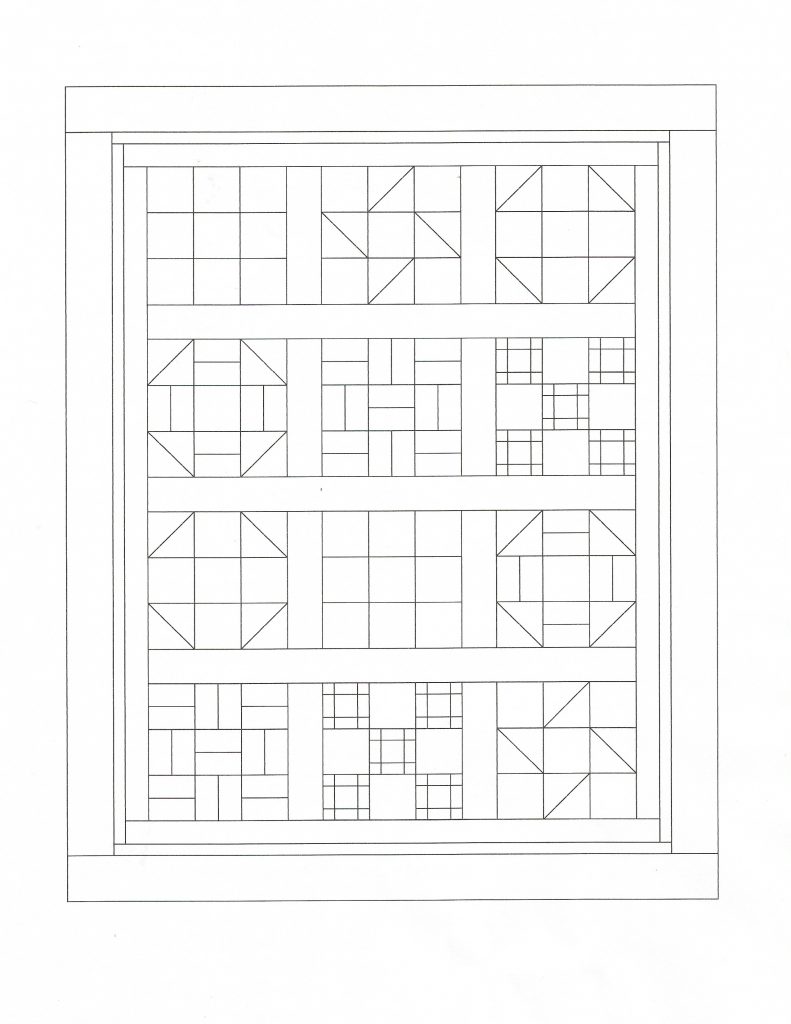 You can print out the sampler layout and colour it to get an idea of how you want it to go. It's a lot easier to change your mind with pencil crayons than it is once you've sewn fabric.
These requirements are for a quilt approximately 56″ x 70″, depending on border choices. We will be making two blocks per week. If that seems like too much for you, you can easily change it to one block per week and you will get a 39" x 56" quilt.
Here are some variations for inspiration.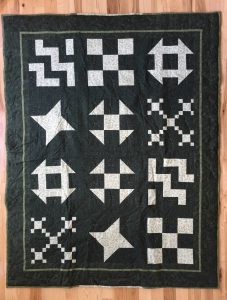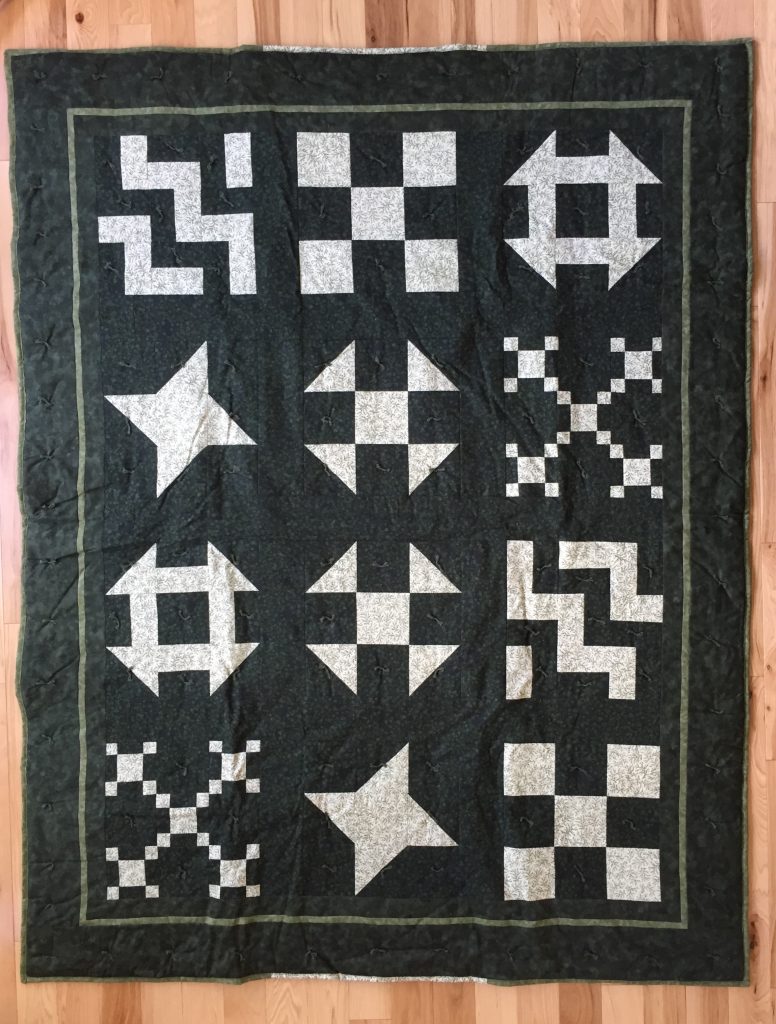 As you can see from the sample pictures, you could match the background with the sashing and border or make them different. You could have a scrappy background or a single colour. The background could be dark and the accent light. You just need contrast between the background and the accent fabrics – one light and one dark. If you are a beginner and you happen to know an experienced quilter, they will probably have fabric in their stash that they would donate to your cause.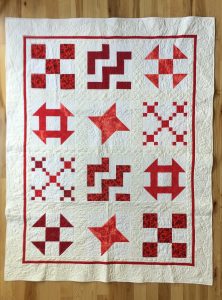 Cutting and sewing will begin next week, so gather your fabric and get ready!
Other requirements
Besides fabric, you will need some basic tools:
thread (beige or light gray work well for piecing)
sewing machine in working order that you know how to use (nothing fancy required, you only need to sew straight lines)
new sewing machine needle (Trying to use an old needle can cause all kinds of problems. A universal needle is fine.)
rotary cutter and mat (It is possible to quilt without this, but it will make your work exponentially more difficult.)
Cutting ruler (If you only have one, get a 6" x 12" rectangle. You can do a lot with it. If you can afford it, invest in a 6" x 24" as well. I use these two for 90% of my cutting.)
---
---