You're invited to join the Inventory Quilt Project! This great idea began on the Just Wanna Quilt podcast and has grown into something big.
This project encourages people to make inventory quilts.
What in the world is an inventory quilt?
In simple terms, it is a pattern or project that gets you to look at and use your fabric inventory in new ways.
It began with people making quilts using a small piece from every fabric in their collection (aka inventory or stash). Jessica Quilter made an amazing hex quilt. This caught the attention of the great people at Just Wanna Quilt. Then others wanted to make one, and it snowballed from there.
If you want to make an inventory quilt, there are no rules that you have to follow. It can be whatever you want. You can choose to make a quilt using all your fabric, or you can use all of a specific colour or style.
There is no rule to say that you can't buy new fabric, but you are encouraged to look at what you already have in a different way.
There's also a Facebook group where others are sharing their projects. That's a great way to get inspiration.
Elizabeth Townsend Gard invited designers to participate in this project by donating patterns for quilters to use.
At first I hesitated because I don't have any "scrappy" patterns. But then I realized that modern pojagi might be a great project.
Lots of people have batik fabric but don't know what to do with it. Sometimes it is difficult to use with other fabric in regular quilting projects.
I donated the pattern "Glimmer". If you join the Facebook group, you could get a free copy of the pattern to participate in the project. This pattern as written uses six fat quarters of batik fabric. I looked at my batik fabric collection and made another version of Glimmer using 24 different fabrics in the window hanging.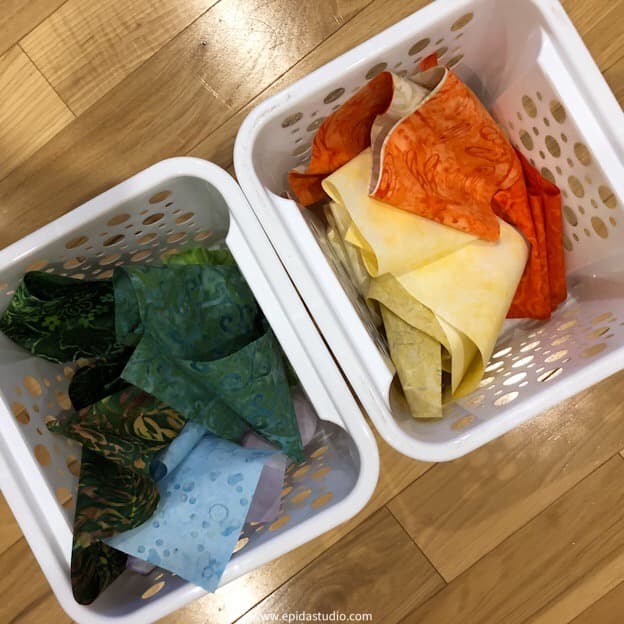 I sorted yellows and oranges in to one group and blues, greens and purples in another group. The result is spectacular.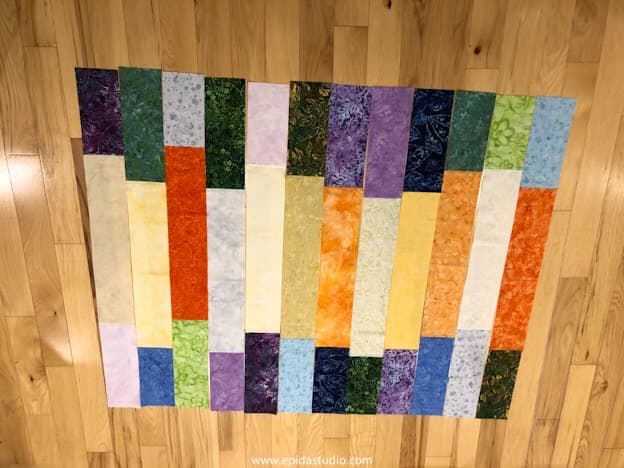 As usual, sunlight is the magic ingredient.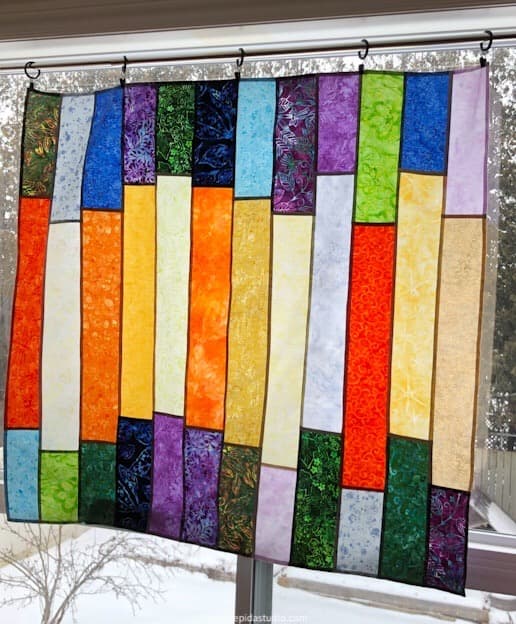 I can't wait to see what others make.
This is a fun exercise to look at what you have and try new things. Head over to the Facebook group to join. You'll get lots of ideas and maybe even a free pattern!
[mailerlite_form form_id=3]
---