Matchstick quilting is a fun design as long as you keep a few key things in mind:
Stock up on thread
Be prepared to spend a lot of time sewing long straight lines.
Use a walking foot, and set your stitch length slightly longer than usual. I'm assuming that your quilt is fully prepared and basted with spray or pins. If you don't know how to do that, there are a lot of great tutorials around.
Begin by sewing lines from one end of the quilt to the other one inch apart. This is probably about the width of the walking foot. Depending on your quilt, you may need to mark the design with chalk. On my Pojagi Inspiration Quilt (the sample quilt in the pictures), most of the blocks had one inch and two inch wide pieces, so I used those as reference and marked with chalk where needed as I went.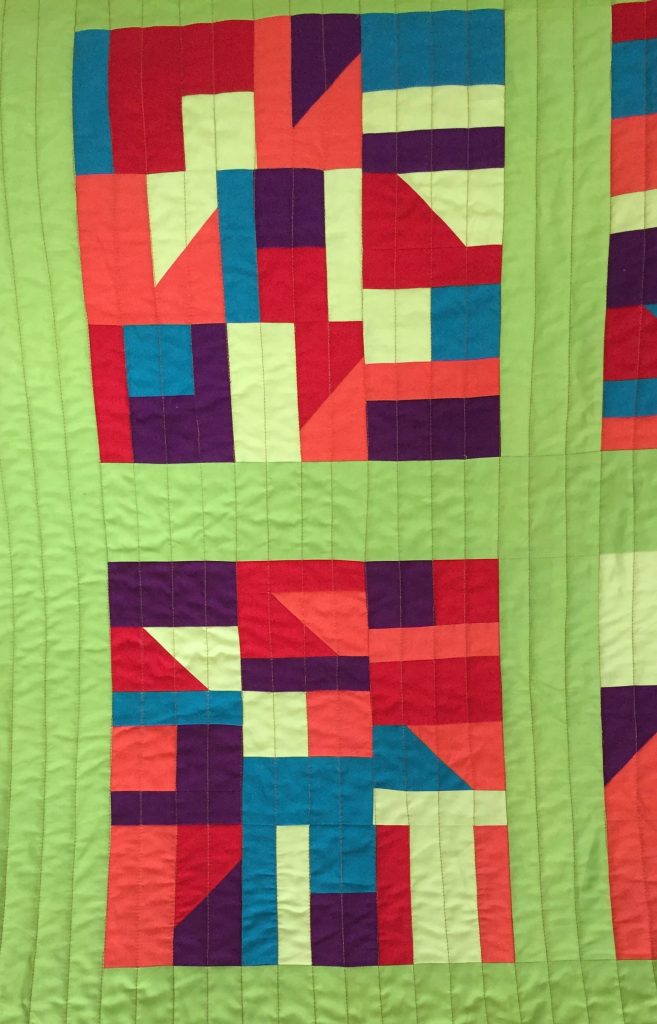 It is tempting to put the pedal to the metal and go screaming down, but don't do it. Go at a relaxing stroll pace and take a break to stretch every once in a while.
If you like how the 1″ spaced lines look, you can stop there. It would be more broomstick than matchstick, but that's okay. Remember that the more lines you have, the less conspicuous they will be. Ironically, as you get many lines, they fade into the background.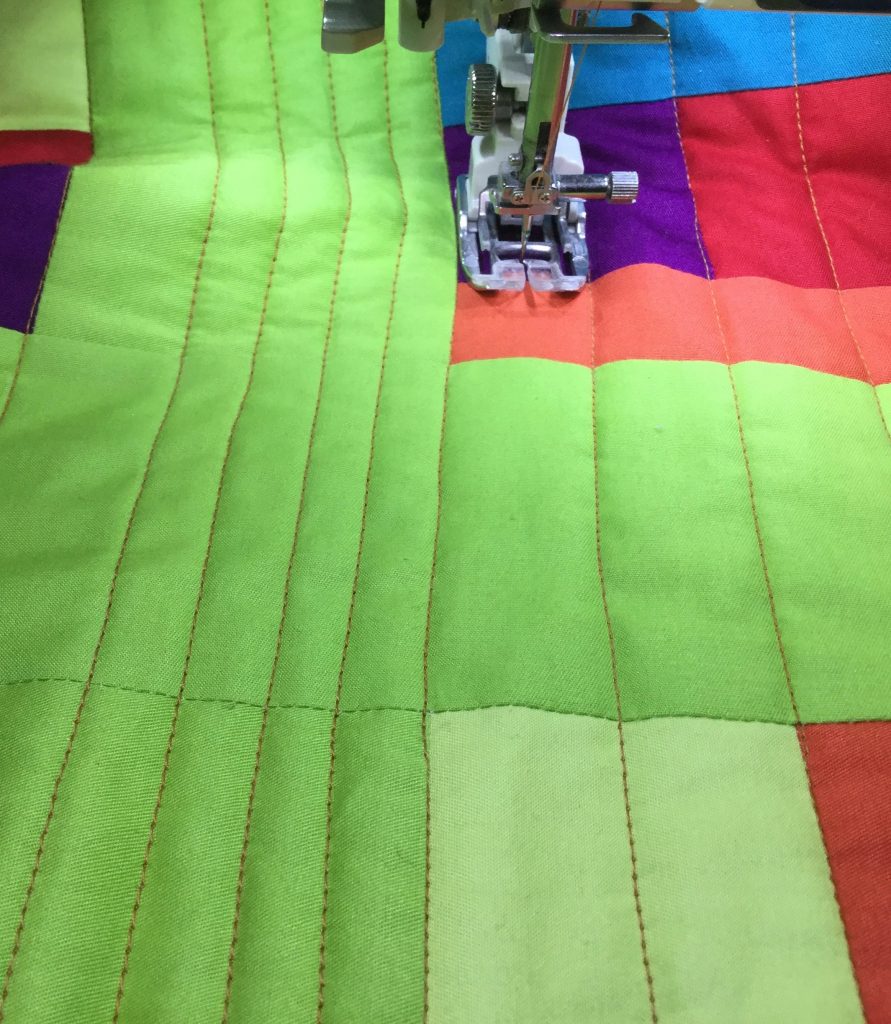 Next, sew lines halfway in between the one inch lines. Your walking foot is probably 1″ wide, or close to it, so you should be able to eyeball the middle. If you are OCD and need perfectly straight lines all the time, this is probably not the technique for you. Try in the ditch or free-motion, or better yet, hire a long armer.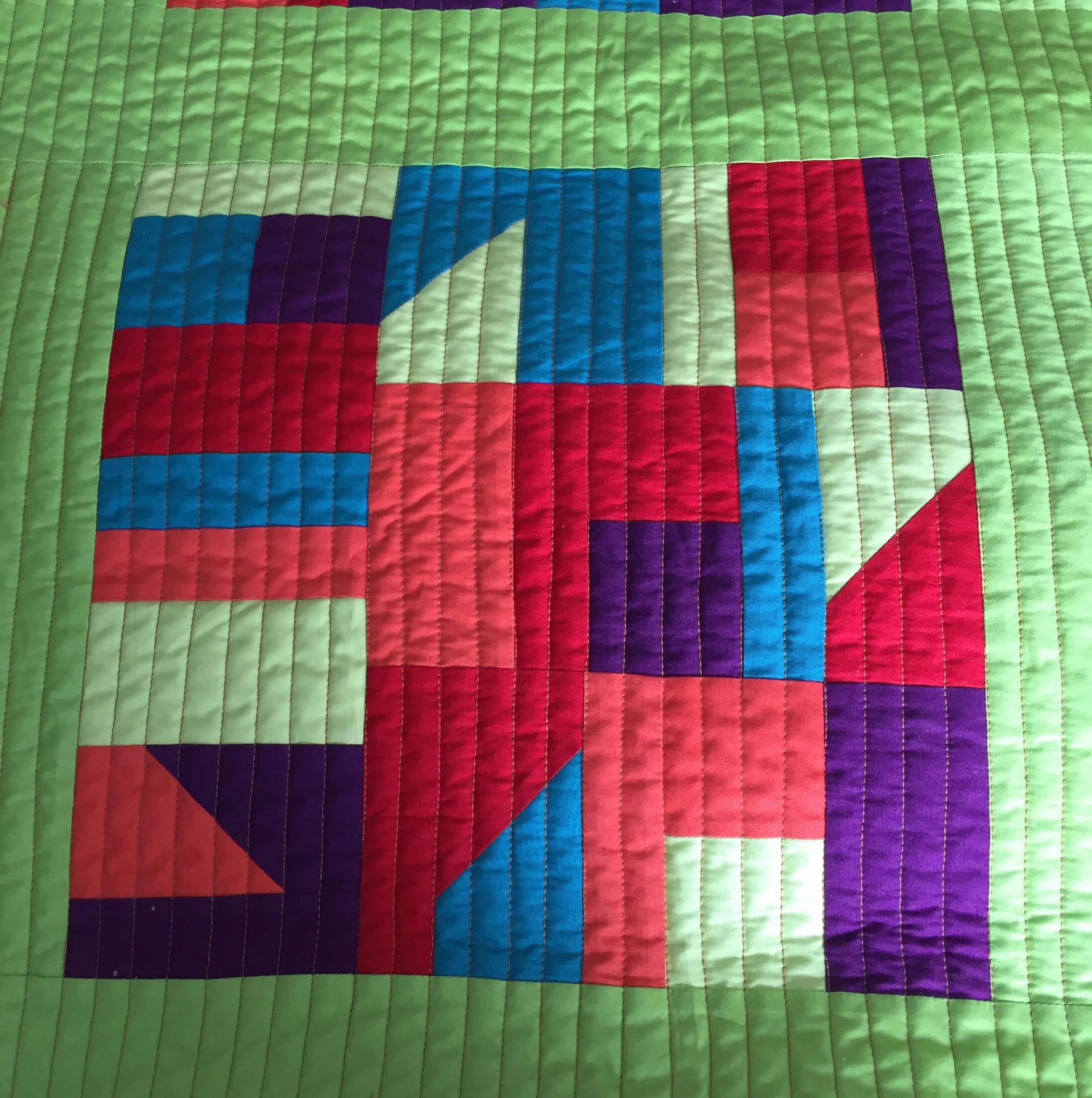 After you have the half-inch lines done, it is just a matter of going back and stitching in between those to get quarter-inch lines.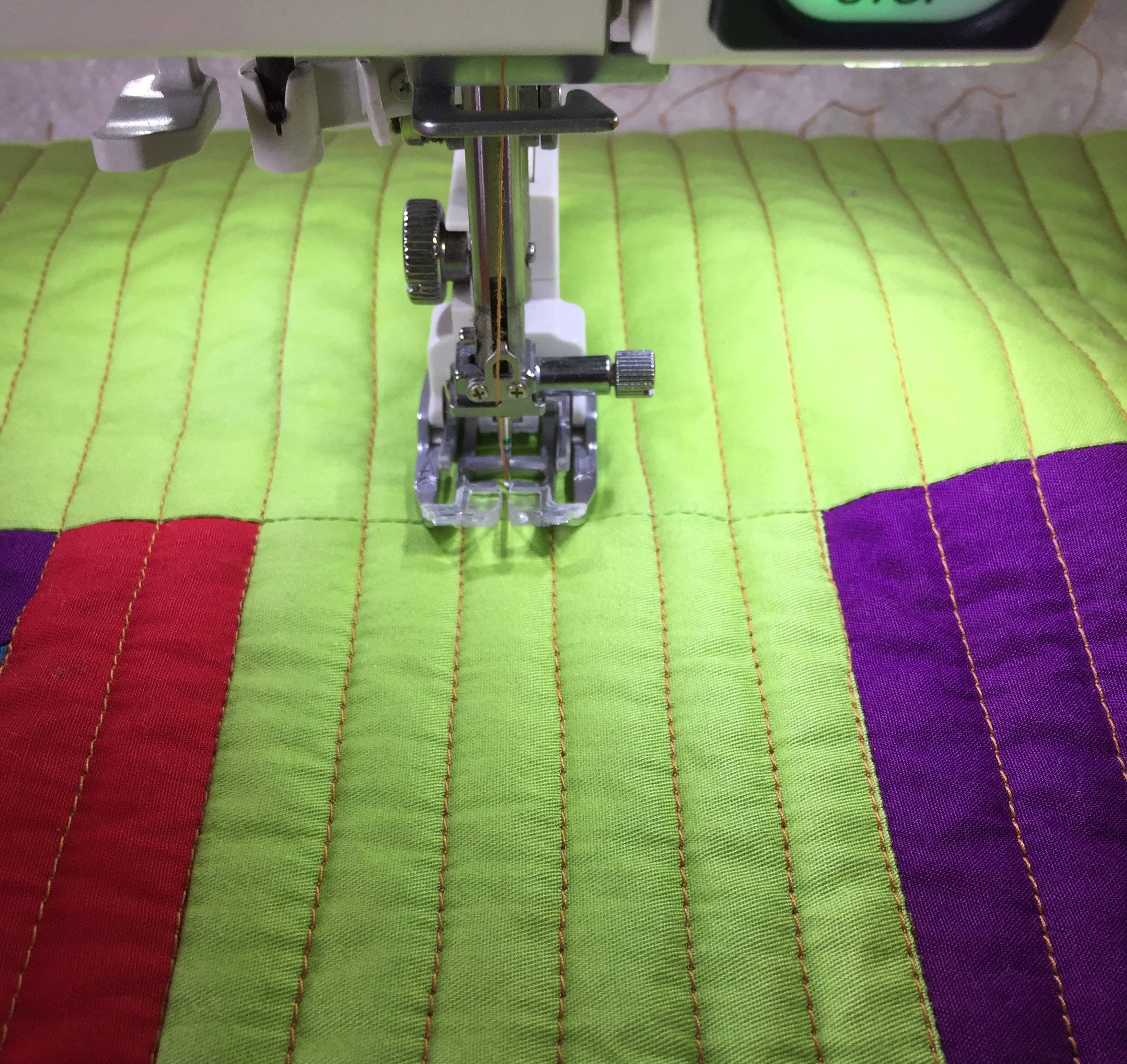 When I finished my quarter inch lines on my Pojagi Inspiration quilt, I really liked the look of it.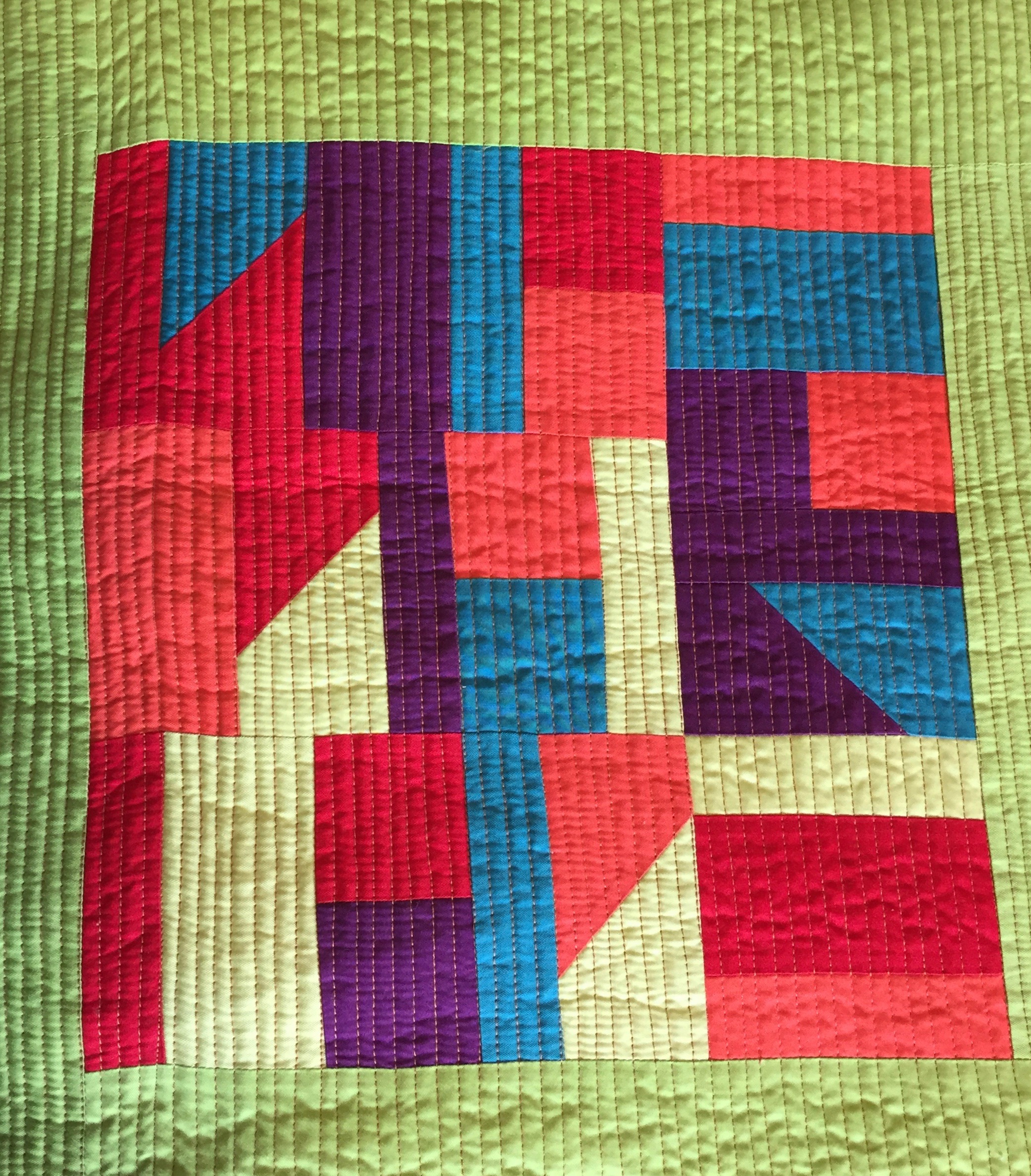 I let it sit for a while so I could think about eighth-inch lines before I committed. In the end, I just jumped in and went for it.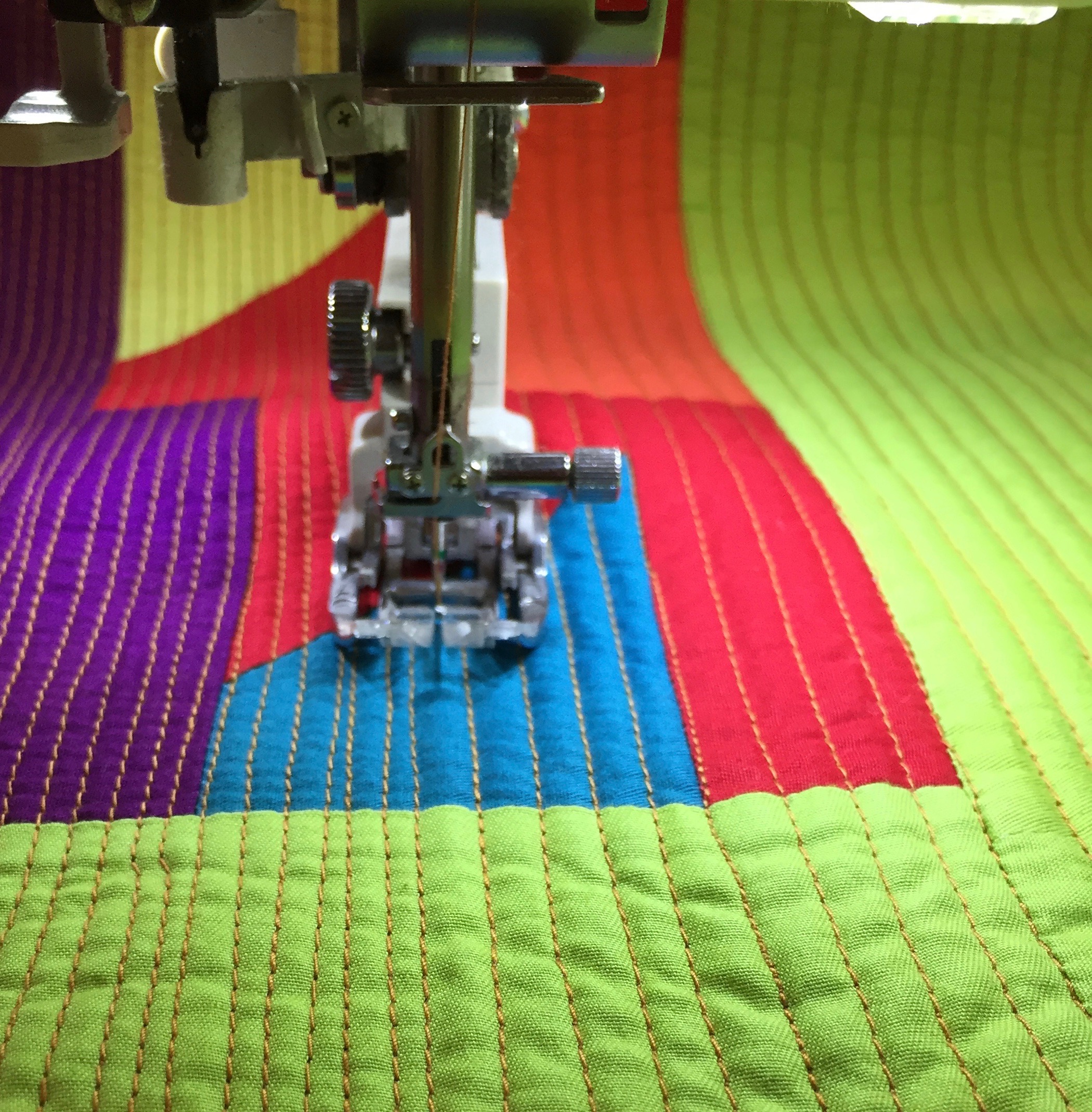 Theoretically, you could go on and do sixteenth-inch lines but by then you probably won't be able to see your quilt top. If you really just want lines of thread, maybe try weaving.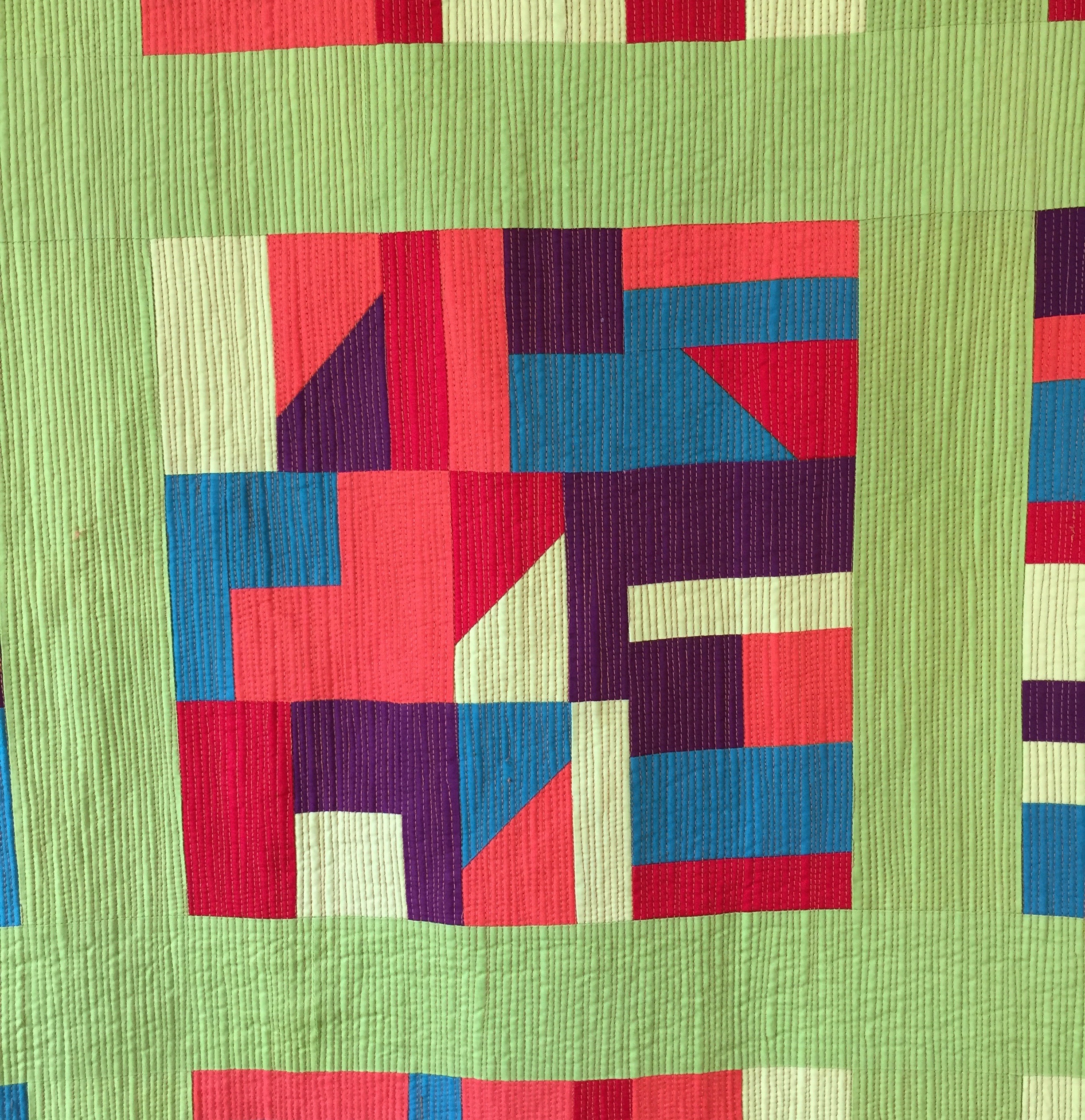 Remember – Each time you are going down a size, you double the number of quilting lines that are on your quilt. One inch – one line per inch, Half inch – two lines per inch, quarter inch – four lines per inch, etc. That also means that sewing the lines for the eighth inch will take as much time as one inch, half inch and quarter inch COMBINED. Think about that if you're in a hurry.
This technique is easy for beginners and great for placemats and table runners. Also, you don't have to have the lines even across the quilt. You could have 1/8″ lines in one section and 1/4″ and 1/2″ lines in other sections. Play around and have fun with it!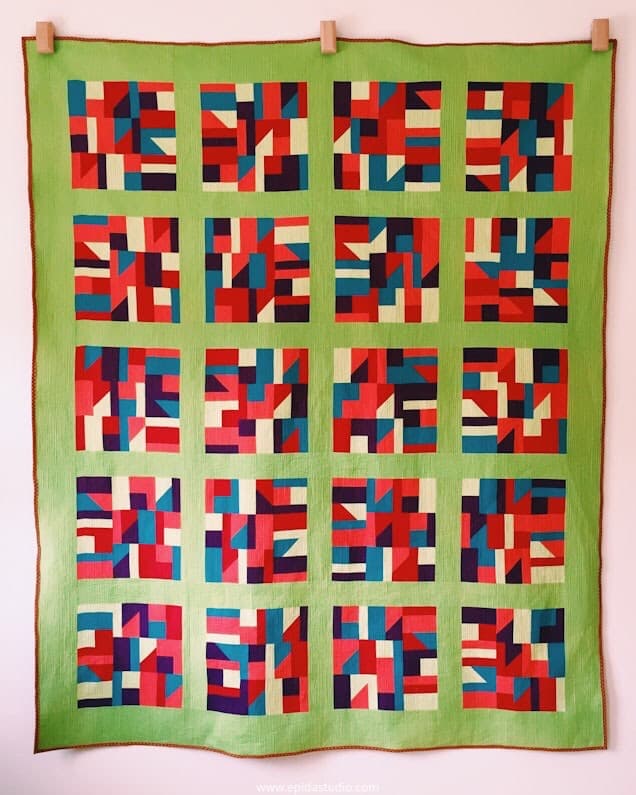 This is the full quilt that has been quilted in 1/8″ lines. From a distance, the quilting is not obvious, even though it was done in a contrasting colour. It adds texture.
One last note – all that thread makes the quilt very heavy. Keep that in mind if you want it on a bed. Some people will like that, but others won't.
---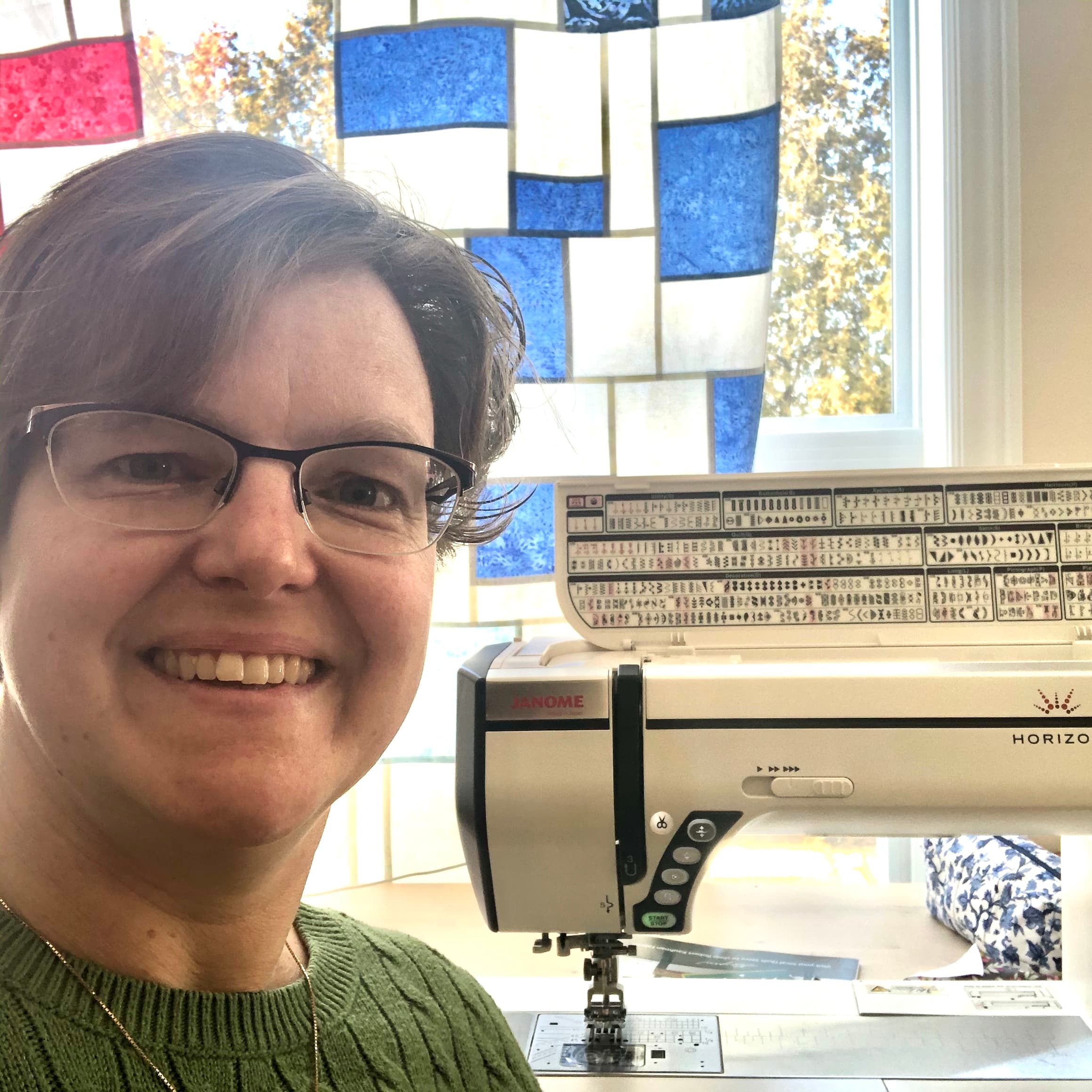 Elizabeth DeCroos
designer, teacher, speaker
Elizabeth enjoys doing all types of sewing and needlework and teaching others new techniques. For more information or to have her speak to your group click HERE.