This easy placemat is great for learning and practicing Simple Quilting designs. The squares mimic blocks in a larger quilt, so you can get an idea of how the quilt designs look.
Placemats are the perfect size for practicing, because they don't use a lot of materials, they are quick to finish, and they give a useful product, even if they are not perfect.
If you don't use placemats, they make great gifts. Many organizations like Meals on Wheels take them as donations to brighten someone's day.
These placemats are 12″ x 15″, but if you like a different size, you can use the same procedure and just change the measurements.
Fabric requirements
One placemat requires two 3-1/2″ wide width of fabric strips in two contrasting colours. Light and dark or two different colours are good combinations.

If you want to make more than one placemat, just remember that you need two strips for each placemat.
Any fabric or pattern will work, but if you want to see the quilting designs, it will be easier if you use a solid instead of a print.
As well as the strips for the front of the placemat, you need ;
a piece of fabric 15″ x 18″ for the back
a piece of batting 14″ x 17″
two 2-1/4″ strips for the binding.
Assembly
Sew the two strips together with a 1/4″ seam allowance to make a strip set.

Press the seam towards the darker fabric.

Cut the strip set in half lengthwise. Be sure that each piece is at least 18″ long.

Join the two halves together so that colours alternate. On this seam, press towards the lighter fabric so that all the seams are pressed in the same direction.

Cut this strip set into 3-1/2″ pieces. You will need five pieces for one placemat.

Rotate two of the pieces so that the colours alternate. Join together with a 1/4″ seam.

Having the fabric pressed in one direction will help them line up and join easily. It will also make it almost impossible for you to sew them the wrong way.

Once all the pieces have been joined, give a final press. Using starch will help the quilting be even easier.

Basting
Lay out the backing fabric, right side down.
Layer the batting and placemat top.

Use your favourite method to baste the three layers together.
Because of the small size, a placemat is easy to baste. It only takes a small spritz of temporary adhesive spray or a few safety pins.
Once all the layers are held together, you are ready for quilting.
Quilting
The purpose of these placemats is to us them to experiment with new quilt designs and expand your skills.
Check out these Simple Quilting designs. They are great for beginners or anyone who has quilt tops that they want to finish quickly and beautifully on their domestic machine.
Binding
Join the 2-1/4″ strips together to make one long strip. Fold in half and press.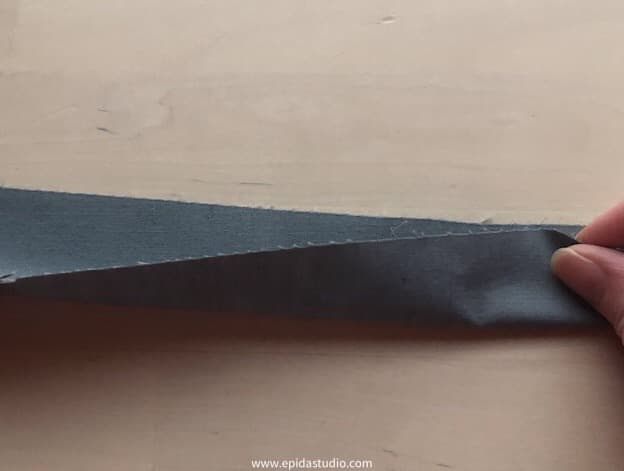 Feel free to use your favourite method to bind the placemat, but I recommend binding by machine.
Placemats will get a lot of washing, and they need to be able to stand up to the handling. Most people will handle a bed quilt with care, but placemats will get thrown in the laundry with washcloths and dish towels.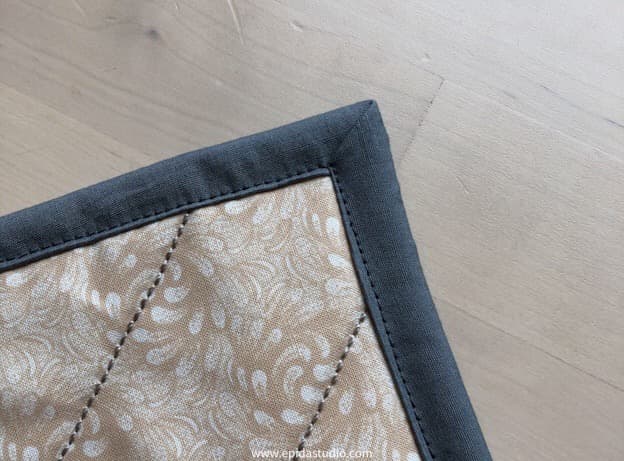 Here's a tutorial for binding by machine.
You're done!

Share your placemat #simplequilting so everyone can be inspired!
---
---