Many quilters have a stack of quilt tops that they haven't turned into finished quilts. What is the best way to finish them?
Free motion quilting is beautiful, but it takes time and practice to develop the skills and a domestic machine might have limited throat space.
Long arm quilting can be cost prohibitive, even if you do it yourself.
Hand quilting is very time consuming.
So what is the best alternative?
If you want to finish your quilt tops quickly and beautifully, Simple Quilting is the solution.
Simple quilting involves quilting on a domestic sewing machine with clean lines that support the piecing and fabric in the quilt top, rather than competing with it for attention.
Simple quilting is perfect for beginners or anyone making quilts that will be used on a regular basis.
These nine things are the foundation for Simple Quilting and will ensure success with your project.
1. Press Well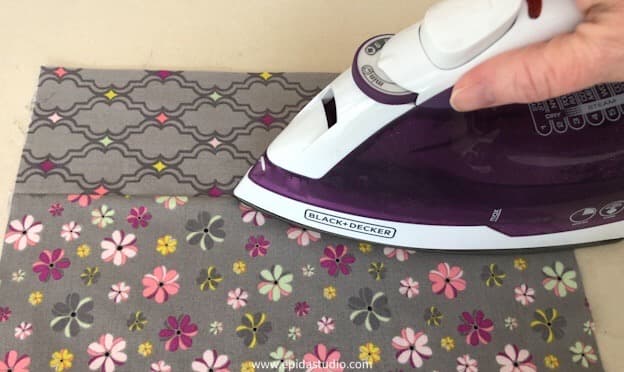 Press your quilt top and backing fabric well so it is as flat as it can be. Using spray starch will help make your quilting even easier.
If you are a beginner, try to have your backing fabric as a single piece of fabric or with as few seams as possible. It is fun to have a pieced back, but this can add extra challenges so save that until you've done a couple of projects.
2. Basting
Basting is the way to hold the three layers of the quilt (backing, batting and top) together temporarily while the quilting is being done. The quilting will hold the layers together permanently.
There are many different methods for basting, and all of them will work with these quilt designs. Feel free to use your favourite method.

My preferred method, especially with small quilts, is spray basting.
Layout the pressed quilt backing on a large table or the floor wrong side up. Secure the edges of the fabric to the surface with masking or painters tape. Make sure the backing is flat and smooth, but not pulled super tight.
Working a bit at a time, spray the backing fabric lightly with temporary basting spray, then smooth the batting onto it. Don't spray the batting as that will require a lot more spray.
Again working a bit at a time, lightly spray the back of the quilt top and lay it smoothly onto the batting.
If it is a very large quilt, you might want to add a few safety pins for added security, especially around the edge of the quilt.
Before you start quilting, flip the quilt over to make sure there are no folds or creases on the back. With the basting spray, you can easily lift and adjust it.
3. Marking
One of the things that is great about these simple quilting techniques is that they don't require a lot of marking. Many can be done with no marking at all. Sometimes you can use the quilt pattern itself as a guide for stitching, and sometimes you can quilt freehand.
But if you are more comfortable with a line to follow, you can easily mark it on your quilt top before quilting.
The best way to mark simple quilting lines is with a Hera marker.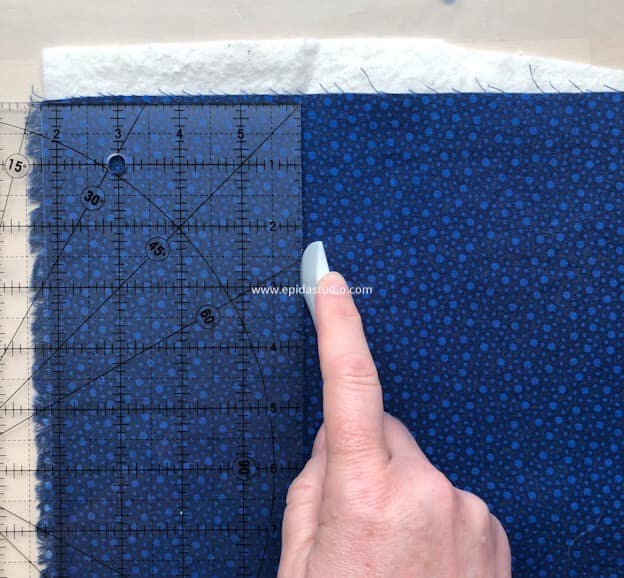 After you have basted your quilt, press the Hera with a back and forth motion (like a saw) along the line. You can line up with a ruler for straight lines or draw curved lines free hand.
The Hera will leave a clear crease line on your fabric, but will not damage it in any way. After a while, it will fade away.

If you prefer another option chalk or water-soluble pens are also good ways to mark quilting lines. Just be sure to check on a scrap of fabric first to be sure that they will come out.
Many people like water soluble or heat soluble markers. These are fine, but be sure to test, test, test. There is nothing more disappointing than finishing a quilt top only to have the marks not come out.
4. Walking foot
If you have a walking foot for your sewing machine, this is the time to use it. A walking foot has feed dogs on the top so that the fabric is being fed through the machine from the top and the bottom. This helps everything stay together nicely.
If you don't have a walking foot, you can still use these designs. Just take your time and stitch slowly. If you do a lot of quilting, it is worth investing in a walking foot.
5. Stitch length
You can stitch these designs with whatever stitch length you like. I prefer something a little larger than the stitch length I use for piecing.
Try a couple of samples and see what length you like the best.
Once you decide, make a note of what you are using. Write it on a post-it or take a picture on your phone. That way if you take a break mid-project and come back to it later you will easily remember.
6. Thread
There are lots of different options for quilting threads. They all have different weights and finishes.
The thread you choose will be determined by how visible you want the stitching to be. If you don't want it very visible, use a fine thread in a matching or neutral colour. If you want your stitches to stand out, use a bold choice.
An odd phenomenon is that the more quilting that is on a quilt, the less the stitching stands out. For example, with matchstick quilting, even if you use a contrasting colour, it fades into the background.
Quilt snobs might tell you otherwise, but there is nothing wrong with using a good quality general purpose sewing thread for finishing your quilts, especially if you're just getting started. If you want to learn free motion quilting, you will probably want to expand to more specialty threads, but it's not required for these simple designs.
Warning – don't use bargain thread from discount stores. They might easily break, the colours might run when washing and they might damage your machine. It's not worth taking that chance for the little money you save.
7. Needles
Replace your sewing machine needle regularly. They easily become dull or bent, even if it is not noticeable when you look at it.
Use a good quality brand name needle. If in doubt, check with your sewing machine dealer or look up on the manufacturer's website to see what is recommended for your machine. A quilting or top stitching needle will give you best results.
Make sure the needle you use matches the thread weight. If you have a thicker thread, you will need a larger needle. A finer thread will need a smaller needle.
8. Equipment
Other than your domestic sewing machine, there is no special equipment required for these designs, but these optional items might make your life easier.
Extension table
If you have an extension table, or if your machine can be recessed into a table, this helps hold some of the weight of your quilt especially if it's large.
Grippy gloves
Having gloves with a bit of grip on them will make it easier to guide your quilt through the machine and relieve some of the stress on your shoulders.
You can buy specialty quilting gloves at quilt shops, or use gardening gloves from a discount store. Some people like to cut the pinky and ring fingers off for ventilation.
I've had the same pair of quilting gloves for twenty years and they are still in good condition, so it's worth the investment.
9. Practice
It's always a good idea to practice new techniques. Before quilting on a special quilt, try stitching on some scraps to make sure your thread choice and stitch length look nice and your machine is working well.
If you want more practice, placemats are a great project to learn on. They are small and they give you a usable finished product. You can make great placemats with solid pieces of fabric or these Simple Quilting Practice Placemats.
Don't use placemats? They make great gifts or donate them to charities like Meals on Wheels to brighten someone's day.
---
---
---