This method of making half square triangle units has been around for a long time. It is very popular, and for good reason. It is pretty simple and eliminates the waste that occurs when doing one unit at a time.
---
---
This video steps through the technique. If you prefer written instructions with pictures, keep reading.
Cut fabric squares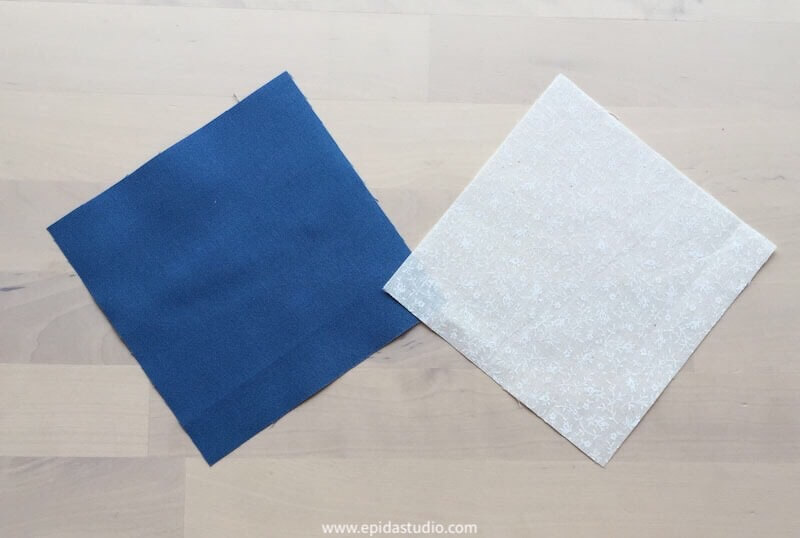 For this method, you need two squares, each an inch larger than the finished size you want. For example, if you want 4″ units, cut 5″ squares.
If you are VERY accurate, you can get away with only adding 7/8″, but this doesn't leave you any room for error. Most people prefer to make it a bit bigger, and trim off the extra later.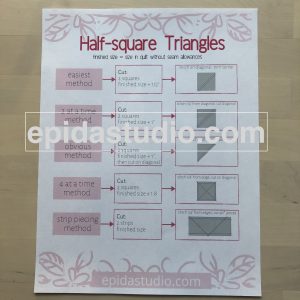 Mark a diagonal line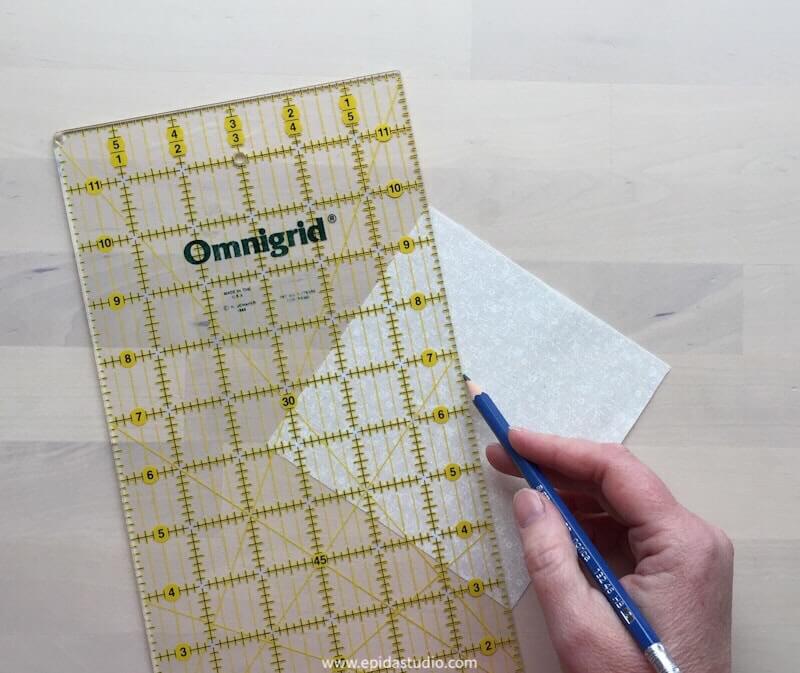 Place the two squares right sides together. On the back of one side, mark a line from corner to corner on the diagonal.
Stitch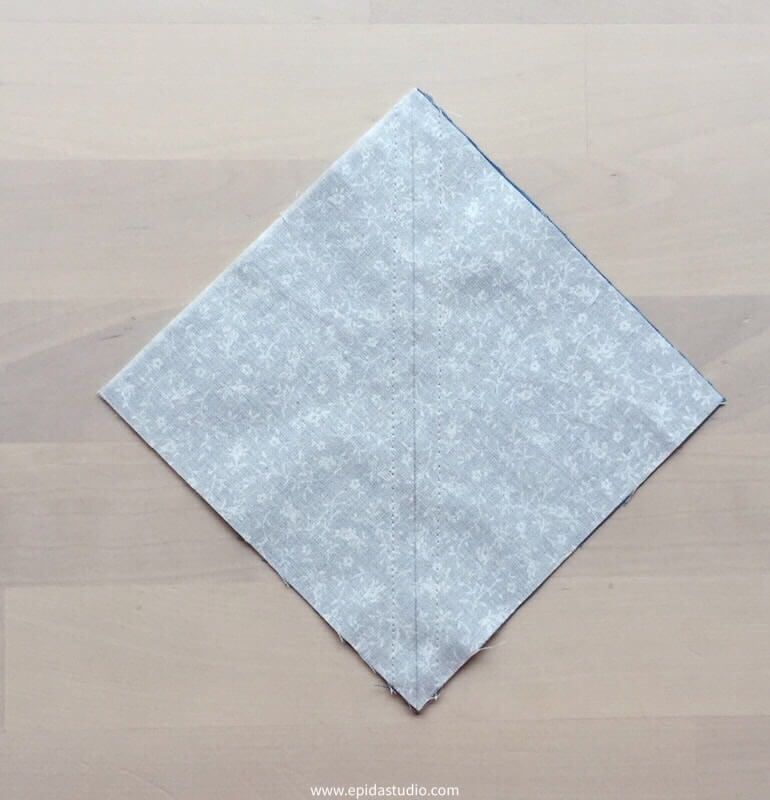 Sew 1/4" away from the diagonal line on each side.
Option 1: If it is easier, you can mark the lines 1/4" away from the centre diagonal and then sew right on the lines. This will help sewing be more accurate, but you have to mark twice as many lines.
Option 2: If you don't want to mark any lines, you can always mark a 1/4″ line on your sewing machine with tape or a laser light and align the centre of the square with that line while stitching. It is best to do this only you have some experience.
Cut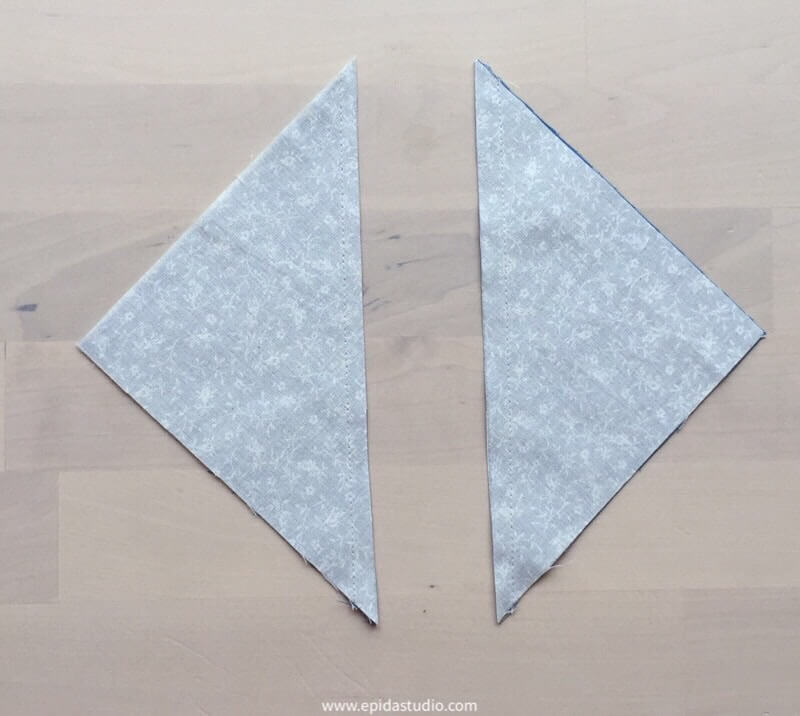 Cut between the lines. The cutting doesn't have to be 100% accurate, since the sewing is already done.
Press
Open and press the seam allowances to the dark side.
Trim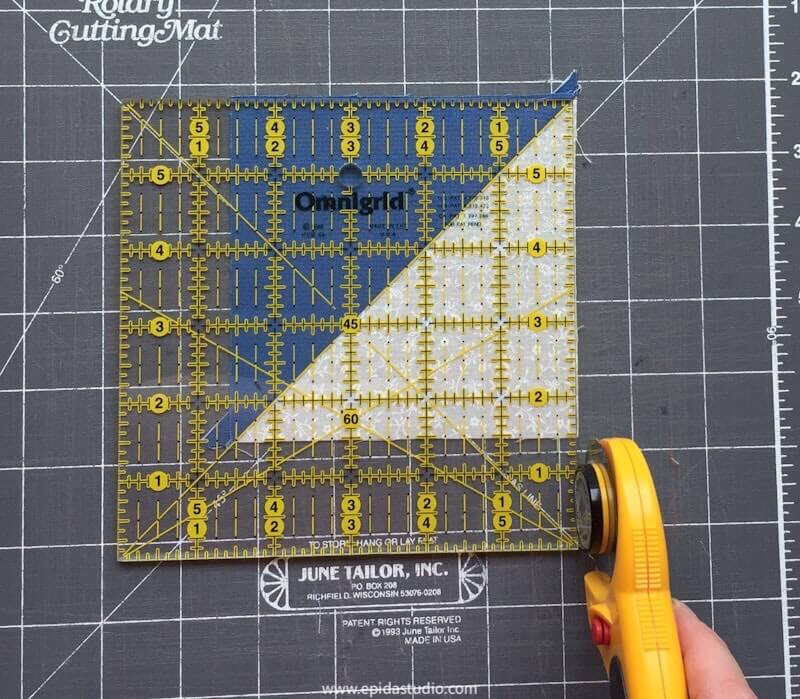 Lay your ruler on top of the square, making sure the diagonal line lines up with a 45* line on the ruler. Shave the edges off the sides to get it down to the size you need. In this case it's 4-1/2" (finished 4" square plus 1/2" seam allowances".
This is called "squaring up" since it gives you a chance to compensate for any potential stretching that happens when you sew along the bias. You end up with a perfectly square piece with the diagonal in the centre.
If you do a lot of half square triangles, there are specialty rulers you can get to help with this step, but I've never tried them. I have no problem with my regular rulers.
Trimming also removes the dog ears. Here they are – two perfect units.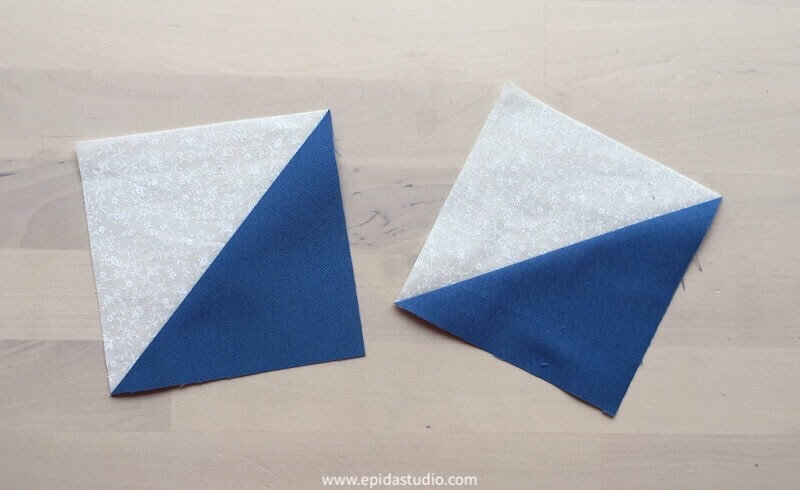 What's Good
easy math to calculate cutting size
simple to do – it makes sense
makes two units at a time
little waste
perfect result
What's Not Good
drawing lines is tedious
squaring up is more tedious
When to use this method
If you are using pre-cut squares
You need a lot of HSTs
You need an odd size
Rating: 4 out of 5
This is one of my go-to methods for making HSTs. It is a forgiving method. Even if your cutting and stitching is not totally precise, you can still get a perfect result.
I used this method in my Rolling Meadows quilt. It is easy enough for beginners, but experienced quilters still use it.
---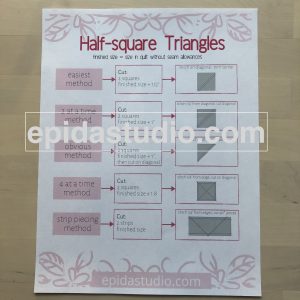 ---
---