This week brings us our newest block for the nine patch sampler.  Like the other blocks, it has three squares across and three squares down, but it has a new challenge – triangles!  In quilt language, a square that is made up of two equal triangles that are connected with a seam going from one corner of the square to the other is called a half-square-triangle.  There are many different methods to make them, but here is one that is straightforward and consistent.
The squares will be 4″ in the finished block (without seam allowances), so we cut two 5″ squares – one light and one dark.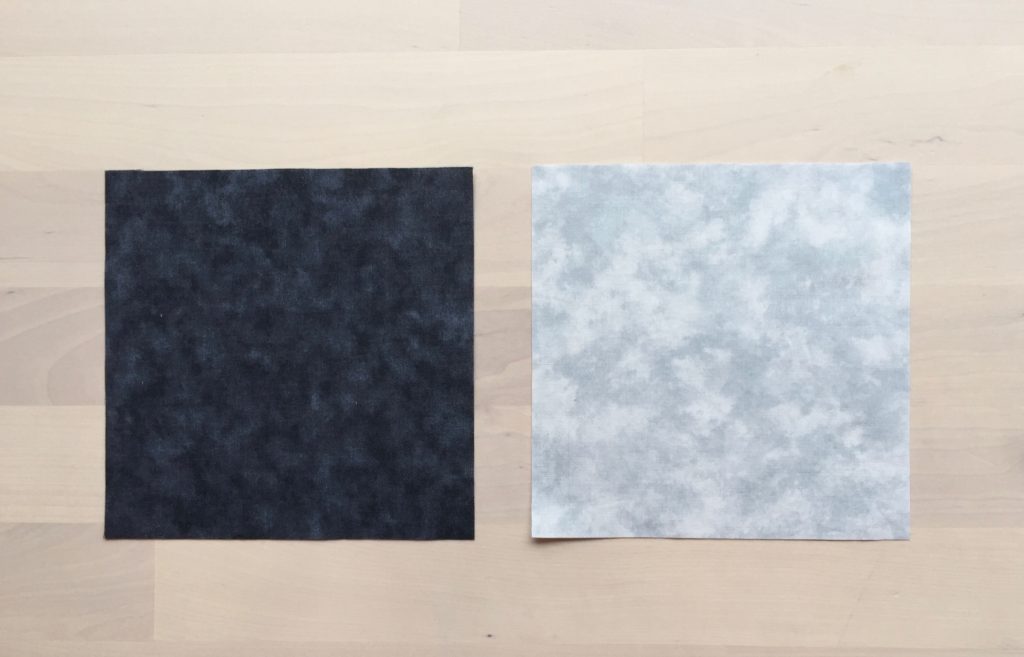 On the wrong side of the light coloured square, draw a line 1/4″ from the diagonal.  Notice that the 1/4″ line on the ruler goes through both points on the square.  Then turn the square around and draw another line 1/4″ from the diagonal parallel to the first line.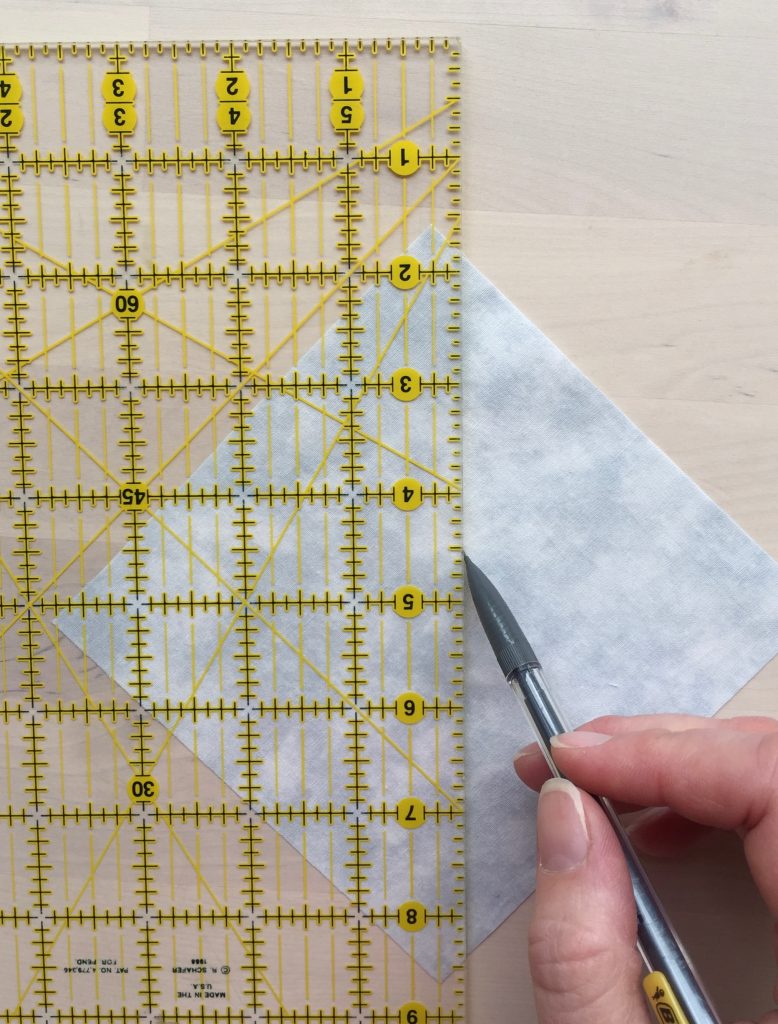 You should see both lines clearly on the square, but use something light so that they will not show up later.

Put the two squares right sides together, and sew ON the lines that you drew.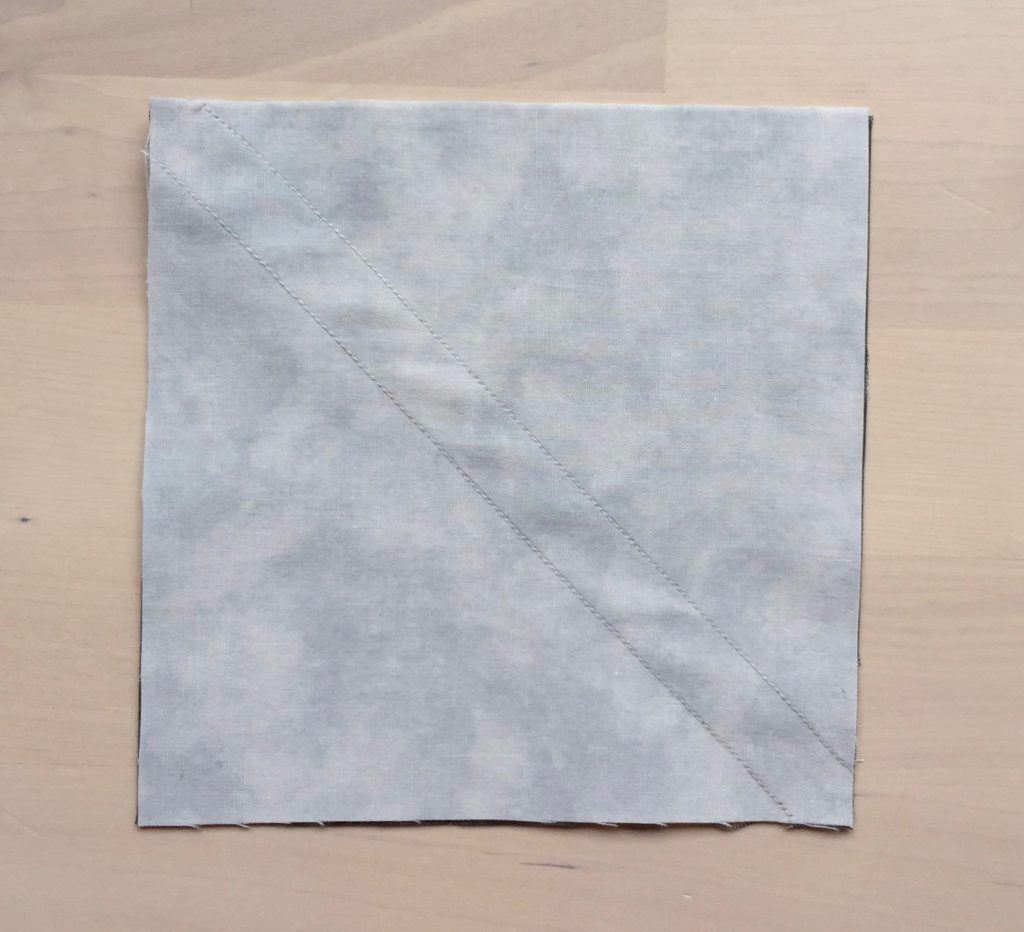 Cut between the lines to separate the square into triangles.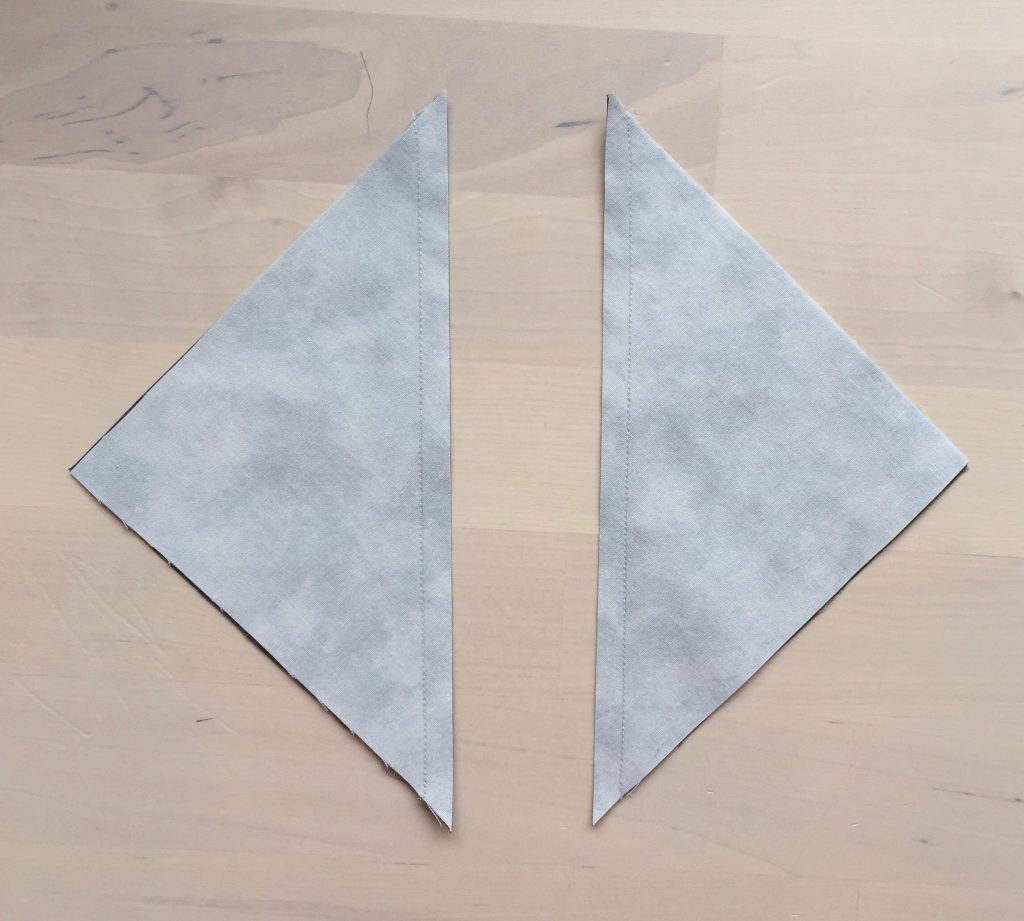 Press the seam and unfold them.  You now have two squares that are each made up of half square triangles.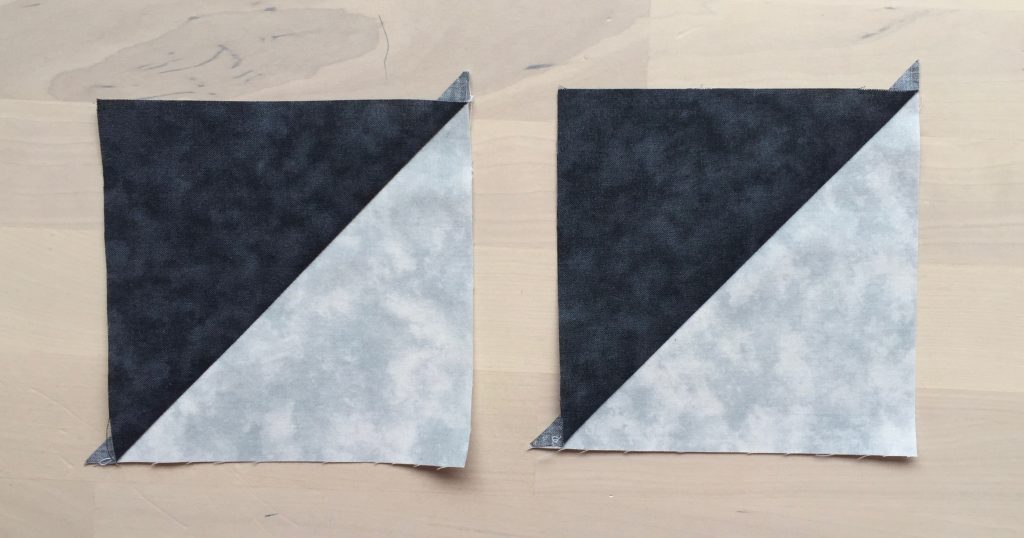 The size that you need for the blocks is 4 1/2″ square (4″ plus 1/2″ seam allowance).  As you can see, this is close, but not exact.  It should be too big.  That's on purpose.  Now you need to use your ruler and trim it down to 4 1/2″ square.  Line up the 45* line with the seam to make sure that you are keeping it in the centre of the square.  Trim the sides to get down to 4 1/2″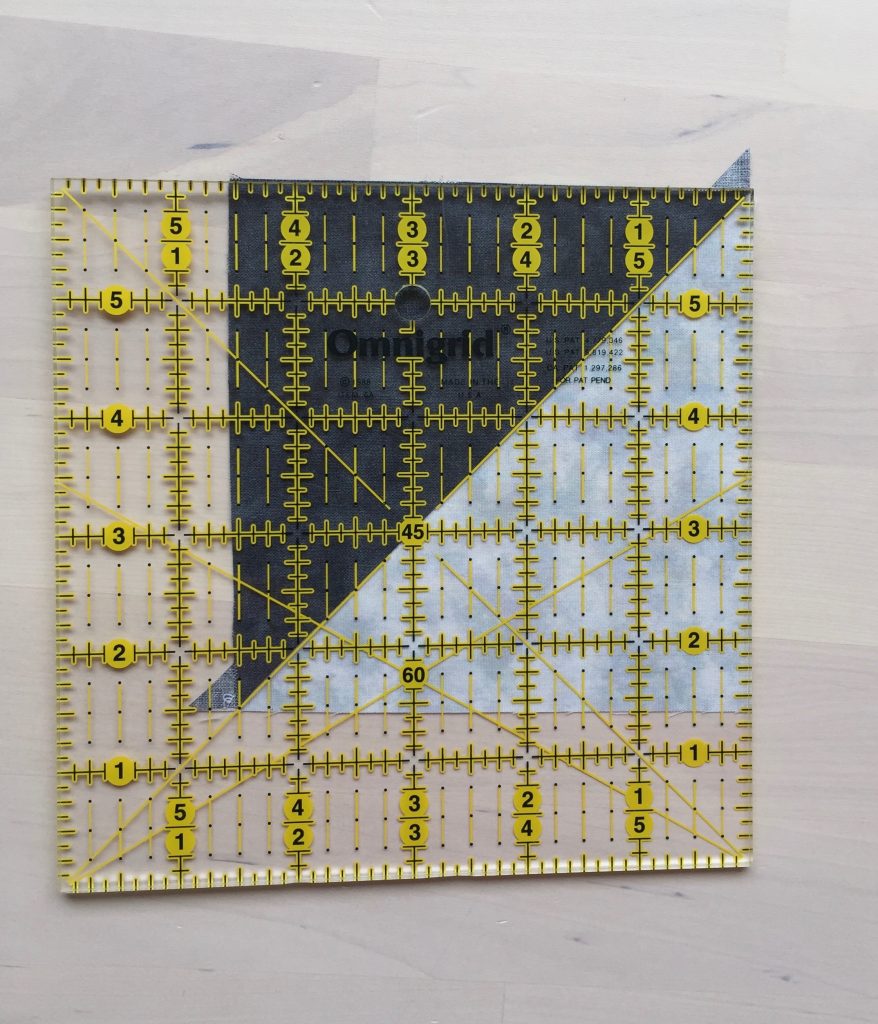 Now you have perfect squares.  This trimming also removed the small triangles sticking out from the seam, which are called "dog ears".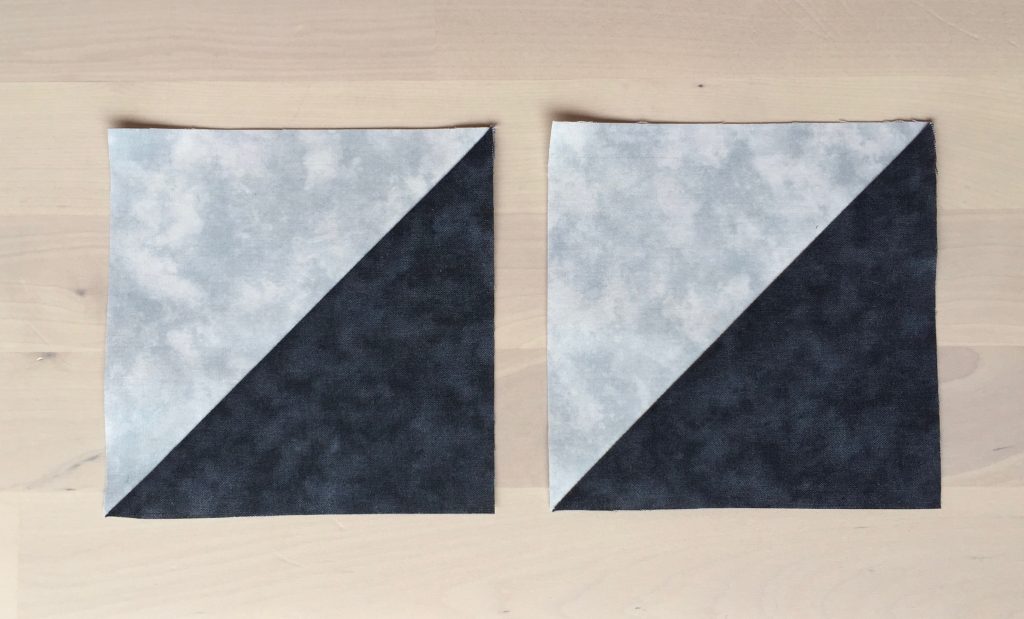 Repeat this process, because for the shoo fly block, you need eight of these squares for the large quilt and four for the small quilt.  You also need two (or one) dark 4 1/2″ square and eight (or four) light 4 1/2″ squares.
Lay them out with the triangle squares at the corners, with the dark triangles pointing in to the centre block.  The centre block is also dark, and the rest are light.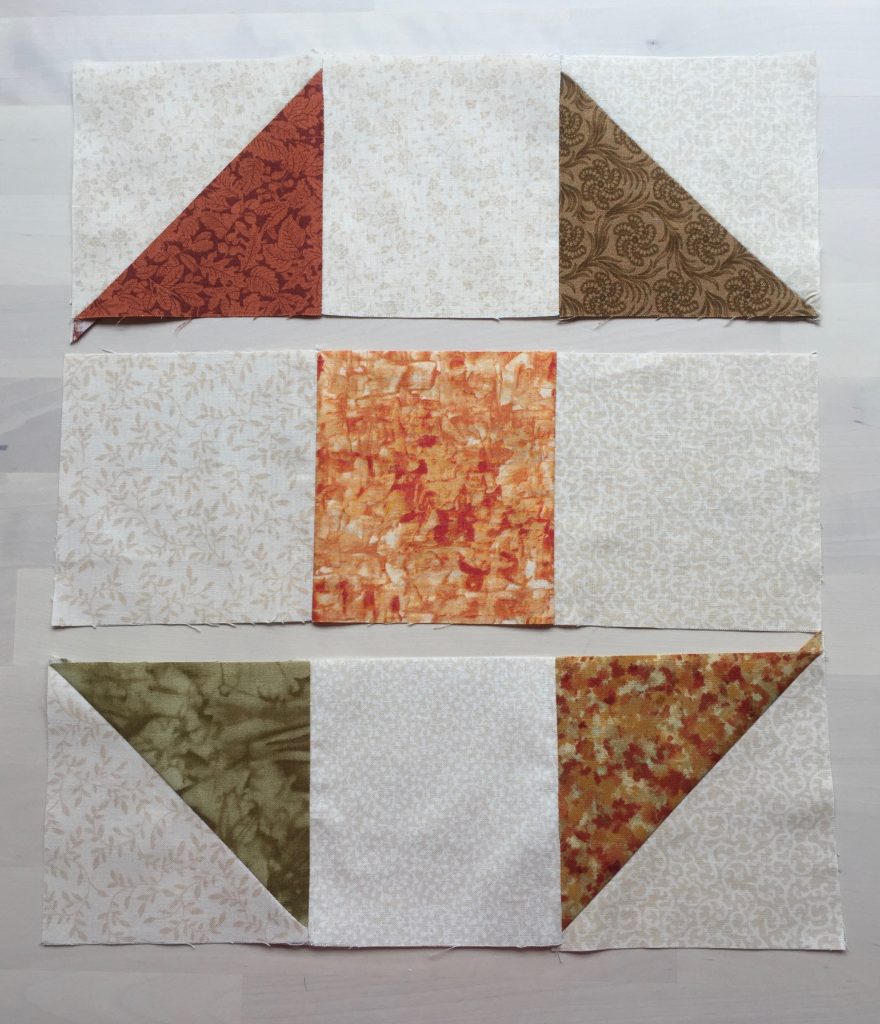 Join these squares into rows, and then the rows into the block, in the same method as the last blocks.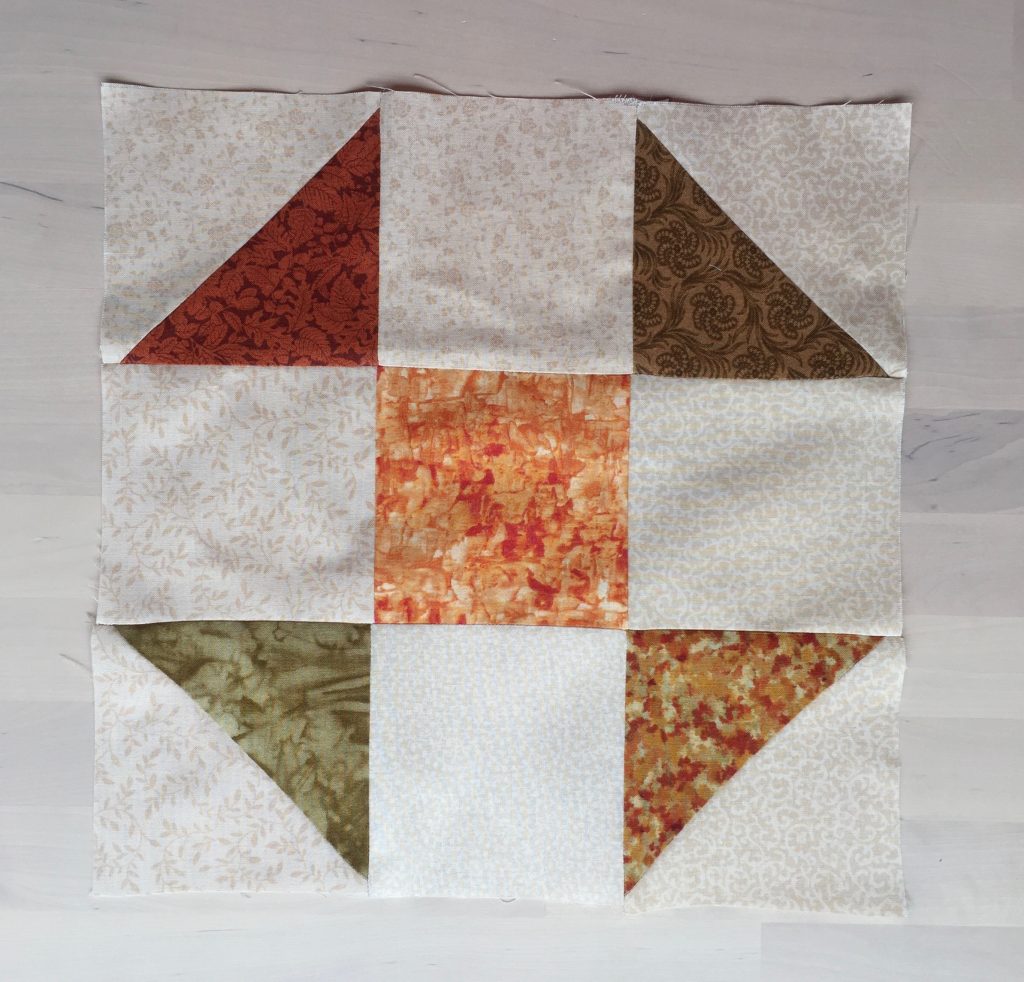 There it is!  A nice Shoo Fly block, which has been appropriate this summer.
If you want to go back and check out the fence rail block, you can do that here.
---
---