Often in embroidery, you want to transfer the design to fabric so you have lines to use as reference for stitching. That is the first step for embroidering this house picture. There are a few different options for this. Use your favourite technique or try out a new one.
These techniques work if you are transferring the design to a smooth surface like cotton or lightweight linen. There are other techniques if you want to transfer to something like fluffy wool.
This house design is available to my newsletter subscribers in a collection of bonus resources. Sign up at the bottom of the page to get access.
We want to trace the design onto the fabric so that we can use those lines for embroidery. If you are using white fabric, you might be able to trace the design just laying on a table. If you can't see it, you will need a light table.
A light table is just a clear surface with a light behind it. You can purchase light tables, but for occasional embroidery, this isn't necessary. You can use a glass table, a window or a clear plastic container just as well.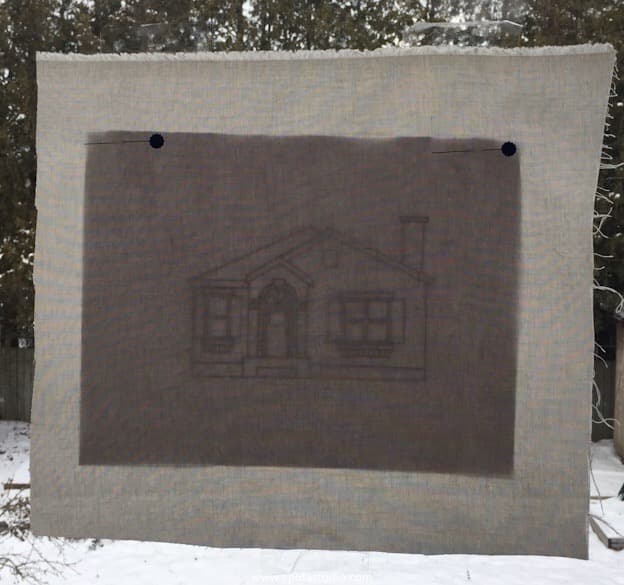 Print the design and place it under the fabric and trace with one of the following options. Always test the method you are using with your fabric to make sure the marks will erase or not run.
Option 1 – water soluble marker
This is my go-to method for marking fabric for embroidery. I like the blue markers, and have not had any issues with them in the past.
Water soluble markers come in different thicknesses. For this design, you will probably want a finer marker.
---
Option 2 – permanent marker (var. Frixon pen)
Since the lines will be covered with embroidery, you can always use an ultra fine permanent marker. The ink will not run, so once it is covered with embroidery you will not notice it.
Another pen option is a Frixon pen. This ink will erase when touched with heat (like an iron). I don't have any personal experience with these, but some people love them. I have heard that in extreme cold, the marks will come back and you will have to erase them again.
---
Option 3 – pencil
Old school pencil is a good choice. Use a mechanical or a sharpened pencil to get a fine line. Just test with your fabric that you can erase it or treat it like permanent marker.
Be careful when embroidering because sometimes it can smudge or rub off onto your hand.
Option 4 – carbon paper
Placing carbon paper on the fabric, and the design on top of that makes tracing very easy. However the lines don't always come out.
I don't usually use this method, but it's available if you have trouble tracing.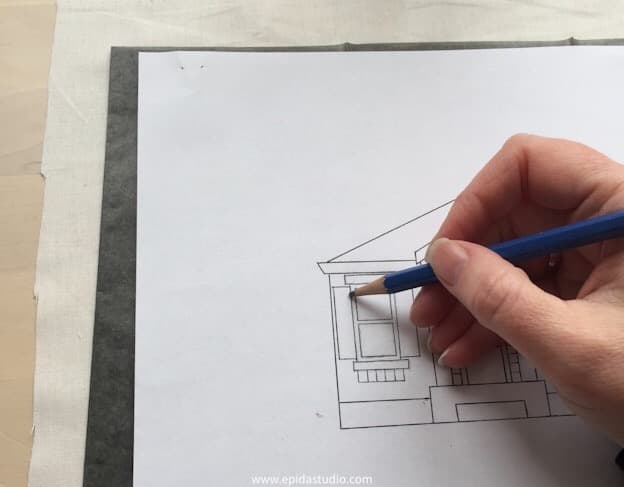 ---
Option 5 – stabilizer
This option is adapted from machine embroidery. The embroidery design can be easily traced onto wash-away fusible stabilizer. This can then be ironed onto the right side of the fabric.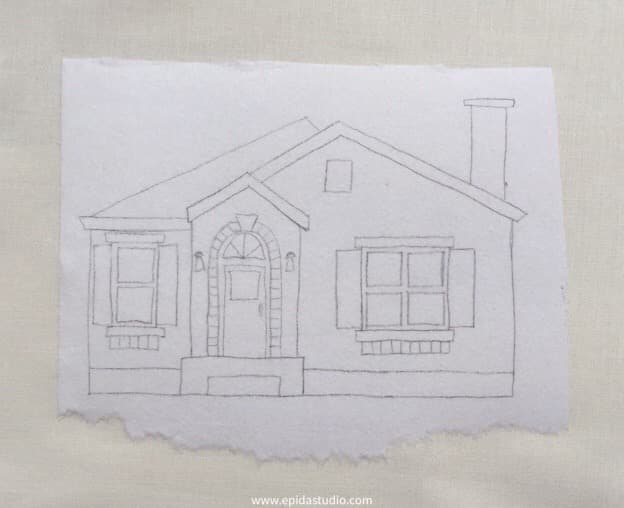 Embroidery is done through the stabilizer and fabric, and then removed after the stitching is done. This might seem weird at first, but the stabilizer also adds support to the fabric.
It will take a bit more effort at the end to remove the excess stabilizer, but there will be no marks on the fabric. Just be careful that the stabilizer is water soluble and not cut away stabilizer. That is meant to be on the wrong side of the fabric and not removed.
---
Option 6 – chalk
Chalk is great for marking fabric, especially dark fabric, but for an embroidery design like this one, you will have to be very careful. The lines will fade and be brushed off by your hand when you are working, so you will probably have to re-mark regularly.
---
Option 7 – air soluble marker
This option is okay if you finish the project quickly. Air soluble marker is designed to disappear over time, so if you put your embroidery aside for a bit, you might come back and find the design gone.
---
No matter which transfer method you choose, trace carefully and double check that you got all the details.
Once the design is transferred, place the fabric in a hoop and you are ready to begin stitching!
---
---