If you struggle with keeping your vertical lines straight, wavy lines are the perfect solution.
Like the kid who says "I meant to do that", take something that others think is a mistake and make it a design choice. It looks great!
Things to consider
1. How wavy will the lines be?
You want the lines to have enough motion so that it looks purposeful and not just like a bad job at keeping the lines straight. Keep 1/4″ – 1/2″ between the edges of the waves.
There is a lot of room for variation. Lines can have a lot of waves close together or they can have long, smooth waves. The choices will be determined by the size and design of the quilt top.
2. Are there natural lines on the quilt to follow?
If your top has blocks set in rows, there are probably some vertical lines to follow. Looking for lines within the piecing can also help you decide on spacing.
3. Do I want exactly parallel lines?
It IS possible to have all the wavy lines exactly the same. This gives a precise and exact look, but requires a lot of time and attention. It's probably not worth the effort,
Non-parallel lines look more organic and natural and work well with any pattern. You don't want it so perfect that it looks like it was stitched by a robot.
Design options
Any of the designs for Straight Vertical Lines can also be used with wavy vertical lines.

You can see wavy vertical lines used in the quilts Fancy Forest and Wacky Stars.
Helpful tips
Use seams and other straight lines on your quilt top as reference points. If there aren't straight lines, you can easily mark some with a ruler. Don't worry about marking wavy lines.
Avoid sharp turns and movements when you are stitching. The quilt doesn't turn in the sewing machine, it is always feeding straight through. As it is is feeding, just gently drift slightly right and left across the reference line.
If you want parallel lines, stitch one line as reference, then use a seam guide to stitch the rest. (But I don't recommend this – see above).
Sample
This sample is a small placemat, but the procedure would be the same for a quilt of any size.
Make your own quilting practice placemats with this Simple Placemat tutorial.
Design Option – Centred Waves
Waves are stitched along the seams and in the middle of the squares in one direction.
Marking
Mark the centre of the squares with a straight line.
Even though you will be stitching wavy lines, still mark a straight line. Don't worry about marking wavy lines.

Stitching
Stitch along the seam lines first. Using the seam as a guide, gently move the quilt left and right over the seam as it is stitching.

Avoid sharp and sudden movements. The quilt shouldn't turn. It should always be feeding straight through the machine.

After the seam lines, go back and stitch the centre lines in the same way.
Try to add some variety to the direction so they are not parallel.

---
Once the quilting is done, just trim and add binding to finish it off.

Be sure to share a picture #simplequilting to inspire others.
Video
Inspiration
See wavy vertical lines used in quilts.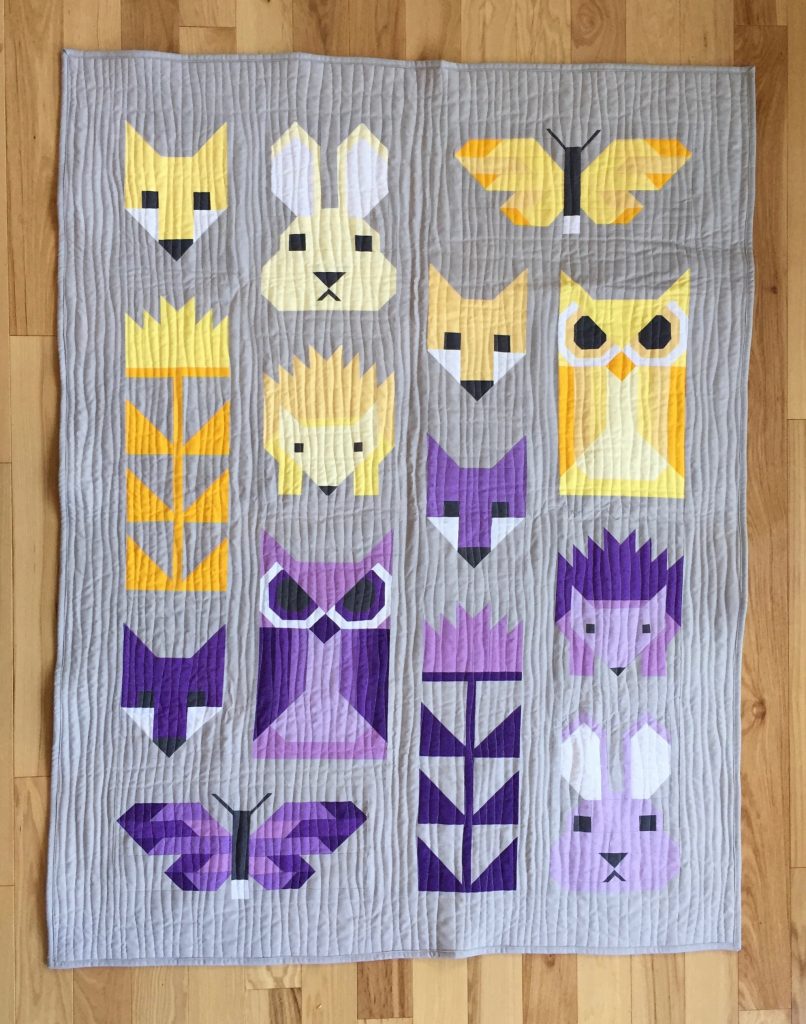 ---
---