Now that the top is done, it is time to put it all together into a finished quilt.  There are a lot of options for doing this, so I will share a few.
There are three parts to a quilt.  The top is the pretty part that you worked so hard to piece together.  There is batting in the middle, and on the back is a solid piece of fabric.  You can use something else on the back, but if it is your first quilt, I wouldn't recommend it.  If you don't have a piece of fabric large enough, take two large pieces and sew them together with a straight seam.
basting
The first step is to layer the three parts together and hold them temporarily while you are working on it.  This is called basting.  This can be done with large loose stitches, safety pins or straight pins, but I usually use glue.  505 Basting Spray is an aerosol spray glue that gives a good hold, and is designed for fabric.  If you don't feel comfortable using this, there are many other tutorials for different basting methods.
Lay out the backing fabric wrong side down.  Make sure it has been pressed, and doesn't have any creases.  It should be larger than the top (about 3″ on each side). Lay the batting onto it.  The batting should be about the same size as the backing.  When it is smooth, fold back half the batting onto itself.  LIGHTLY spray adhesive onto the backing fabric, then carefully unfold the batting back onto it.  This time it will stick, but it is easy to lift and adjust if you have to.  It is the stickiness of a post-it note, not crazy glue.  Repeat for the other side.
Then lay the top, right side up.  When it is smooth, fold half of it back and spray it with glue.  Carefully open it back onto the batting.  Repeat and it is done.
quilting
Now that the layers are temporarily stuck together, it is time to attach them permanently.  Here are a few options:
For the green quilt, I went old school.  I tied the three layers together with little pieces of yarn.  Cut yarn into about 6″ lengths, and then using a sharp needle, take a small tacking stitch, then knot the ends on top.  Do this all over the top.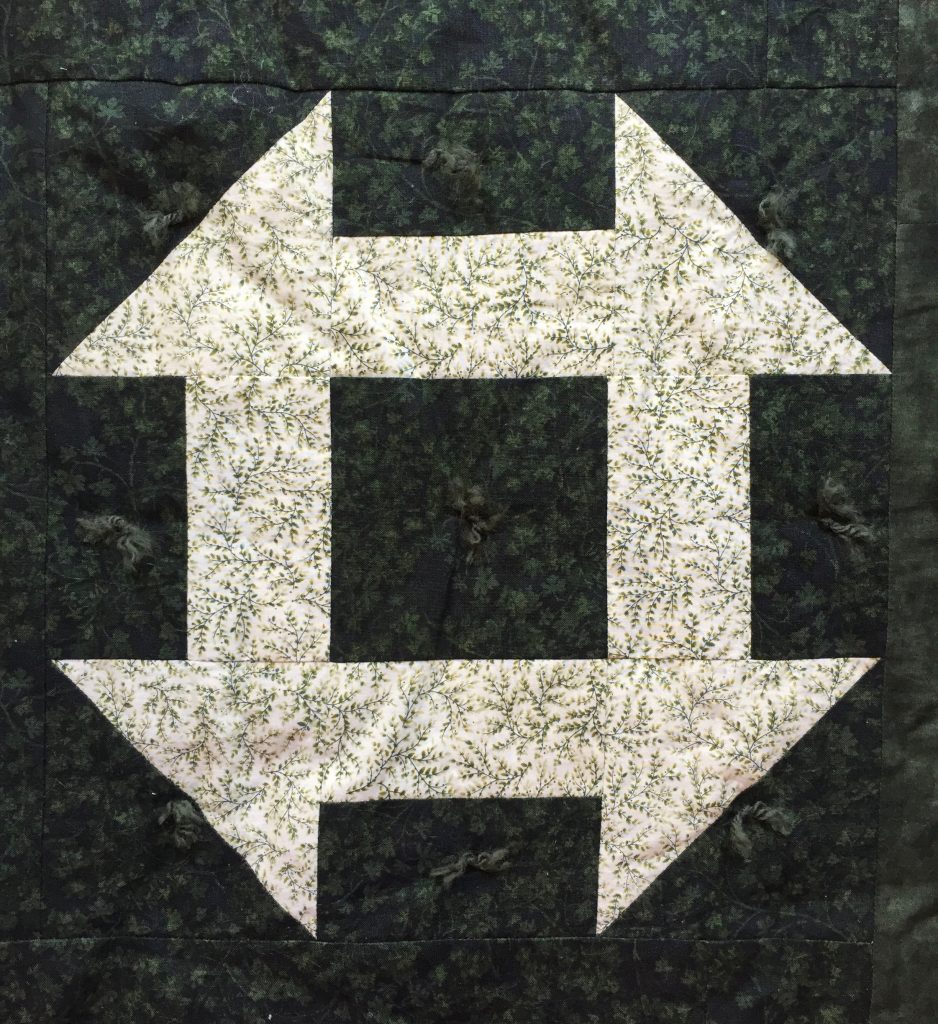 This method is quick and easy, and if you want a puffy quilt, you can do this with a puffy batting and it will look good.
For the pink quilt, I did a method called "in the ditch" quilting.  I sewed right on the seam lines of the piecing, outlining the shapes.  This can be done with a regular sewing machine, but it is helpful if you have a walking foot.  It takes a bit of effort, because the quilt is so big to move through the machine, but take your time and it won't be too hard.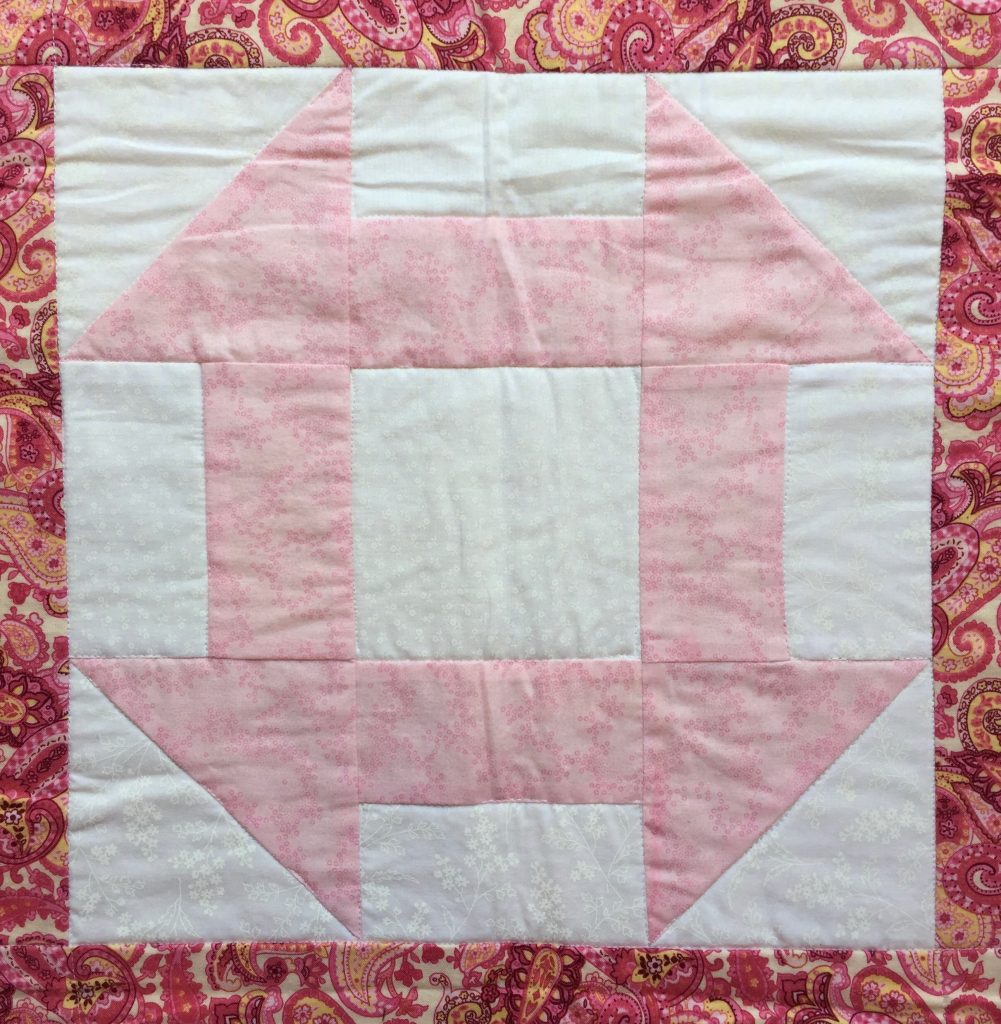 The term "in the ditch" is a bit misleading.  It is called that because your stitches are supposed to go right in the little ditch of the seam, and disappear.  In real life, not many quilters can do that perfectly all the time.  I've heard quilters that call it "near the seam" stitching instead.  When you are sewing, don't get too stressed about little "imperfections".  Remember that unless it is for a competition, no one will be looking at it with a magnifying glass.  Hold it four feet away, and it will probably look fine.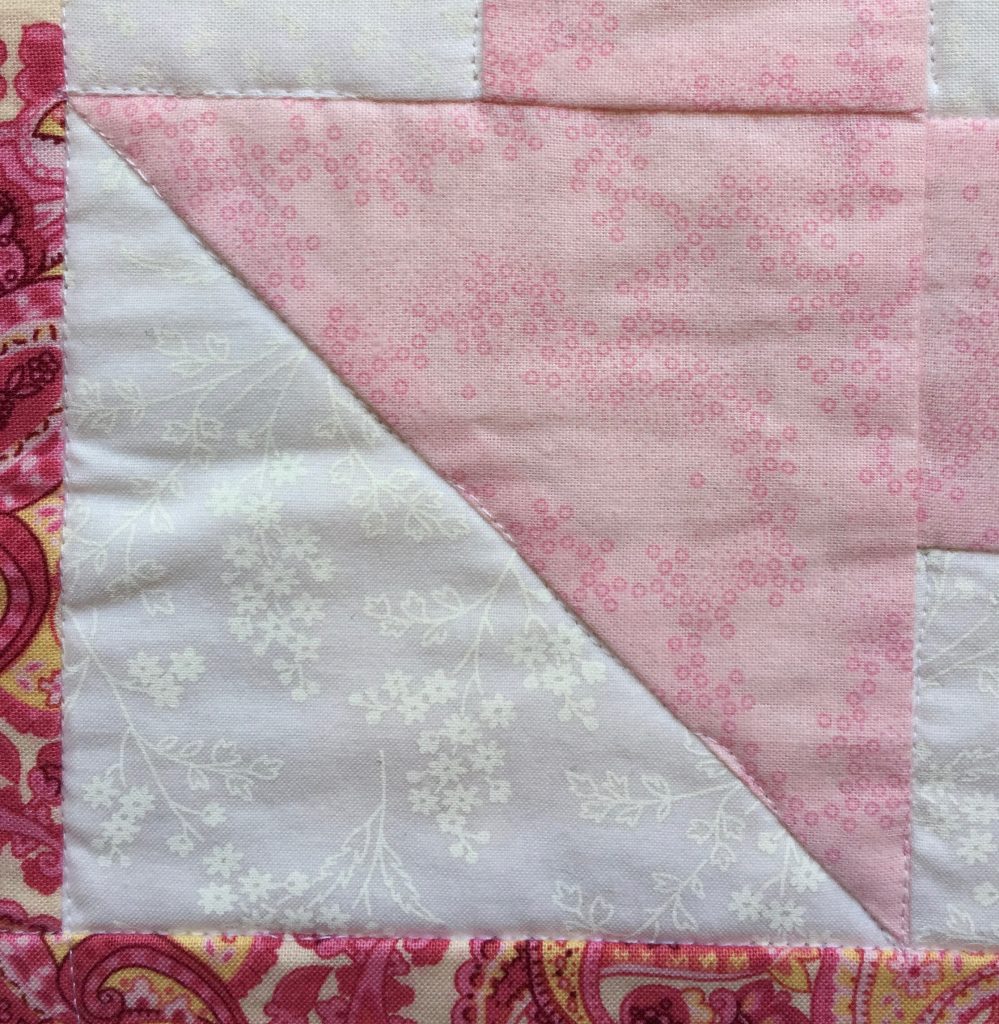 For the fall quilt, I did a variation of "in the ditch".  This one I just did an all-over grid using a decorative stitch.  I had a stitch line at the edges of the blocks and at 4″ lines in the middle of the blocks, across and down the entire quilt from end to end, right through the borders.  Using a decorative stitch adds interest, and also fixes the problem of trying to stay in the ditch.  Your stitches are more visible and become part of the design.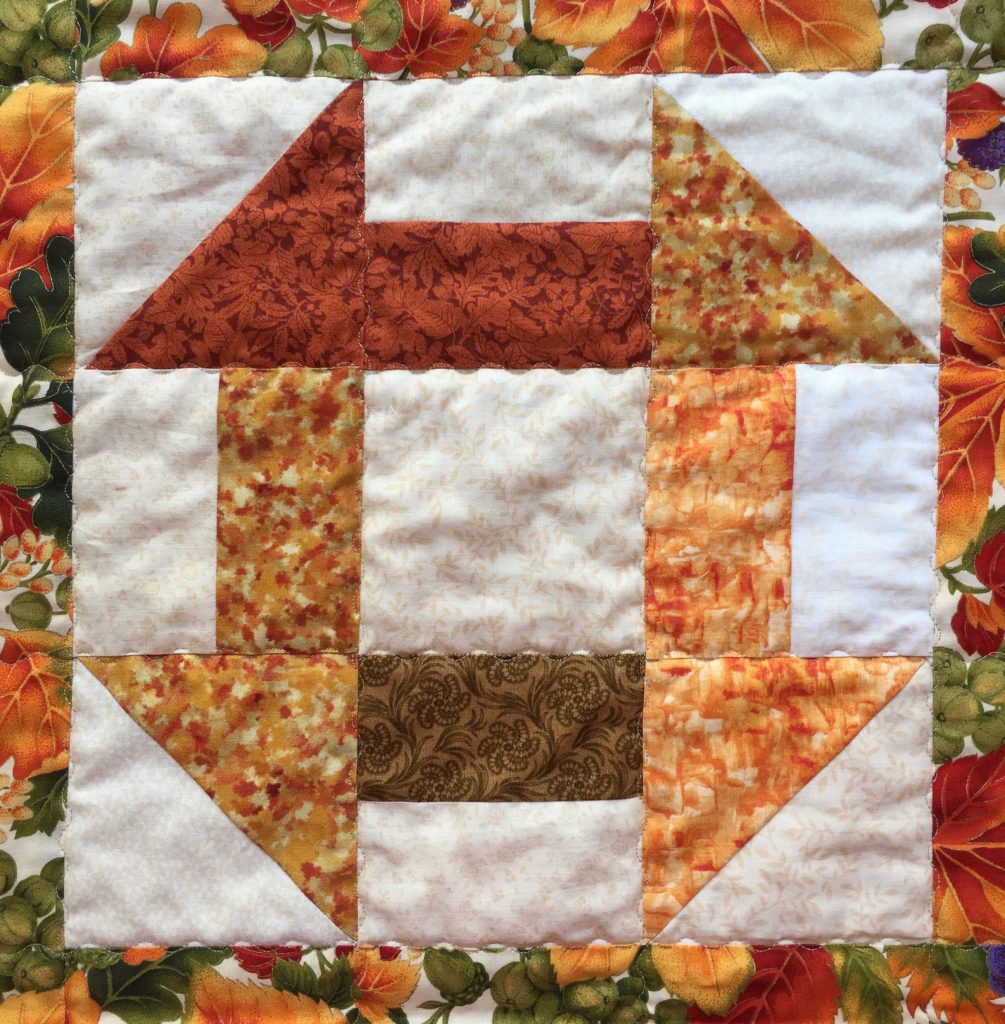 As long as you keep your stitches pretty centred on the seam line, it looks great.  This method is the fastest and easiest.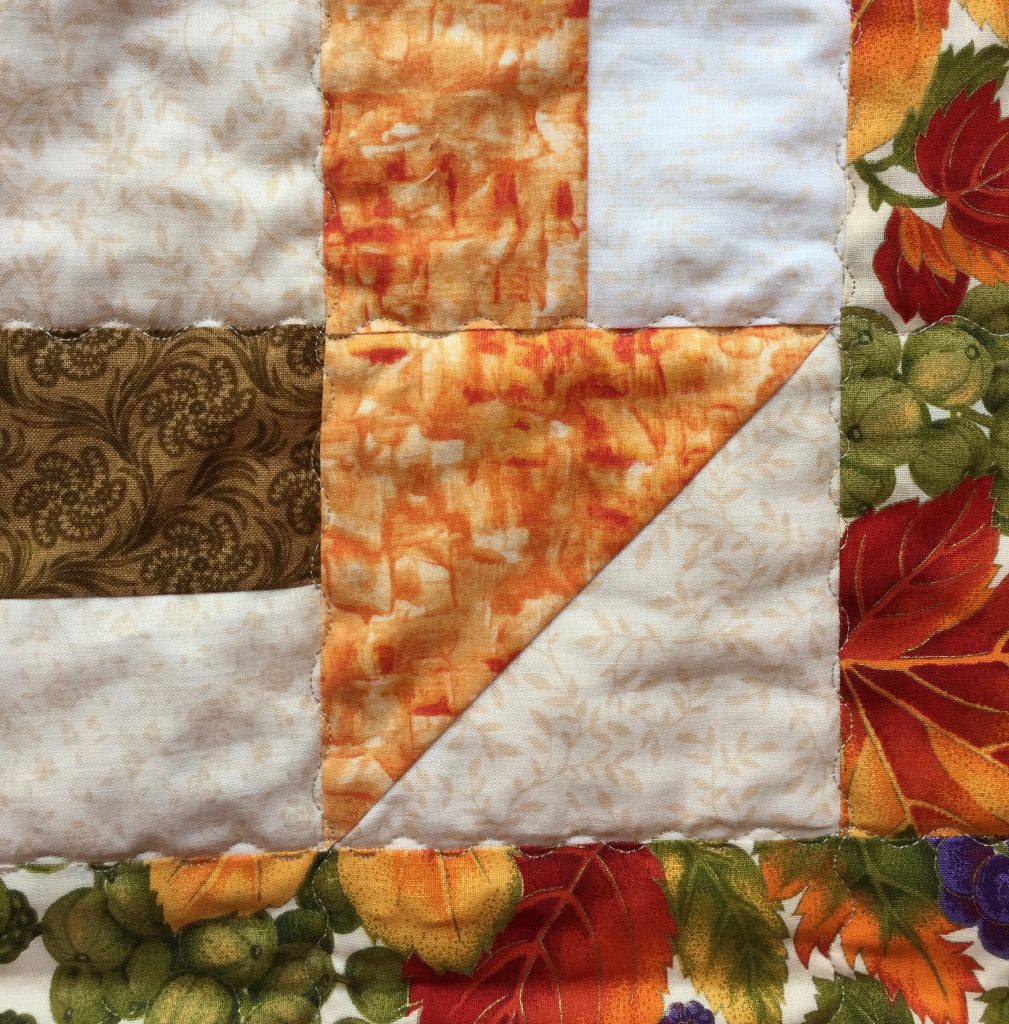 For the red quilt, I did free-motion quilting.  In this method, you lower the feed dogs of the machine, and move the quilt manually to get the stitching designs.  If you have never done this before, I would recommend that you take a class.  If you call a local quilt shop, I'm sure they will have a class to get you started.  In person is the best, because you can get immediate feedback from a teacher, but if you don't have that option, there are a lot of great classes you can take on-line.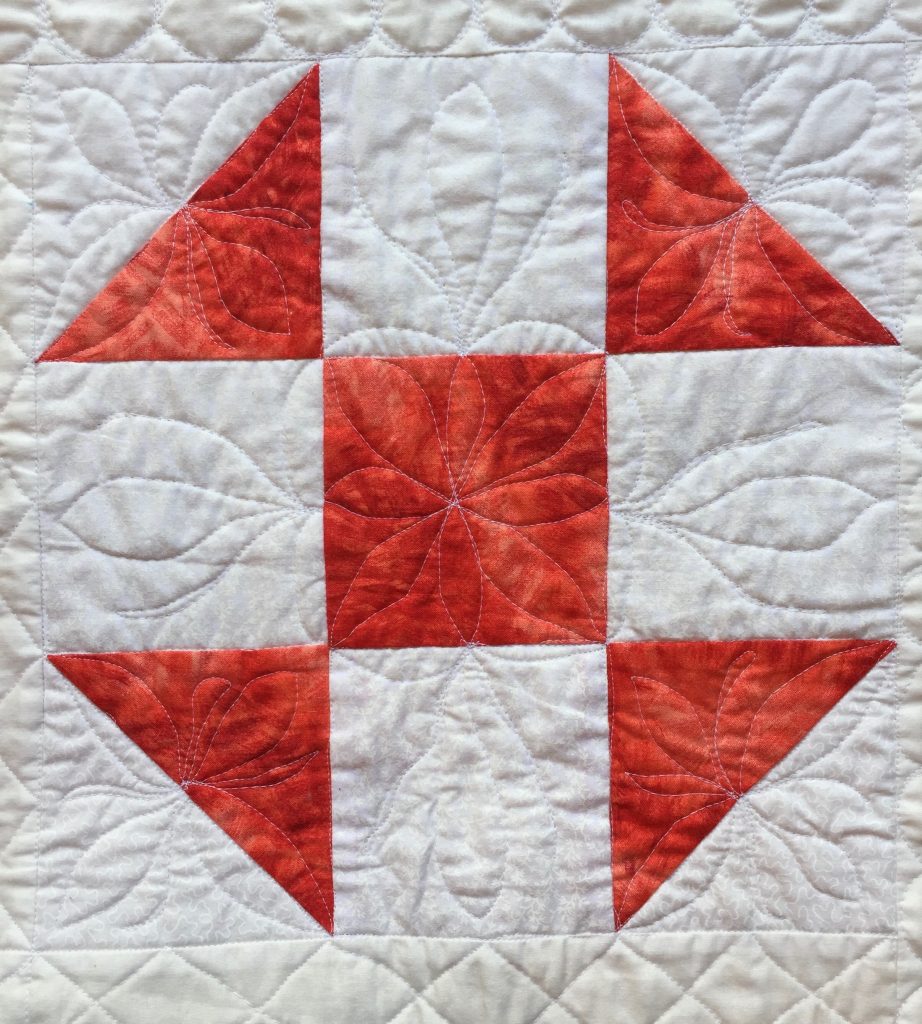 This method is fun to do, but I recommend practicing on smaller projects before attempting a quilt this size.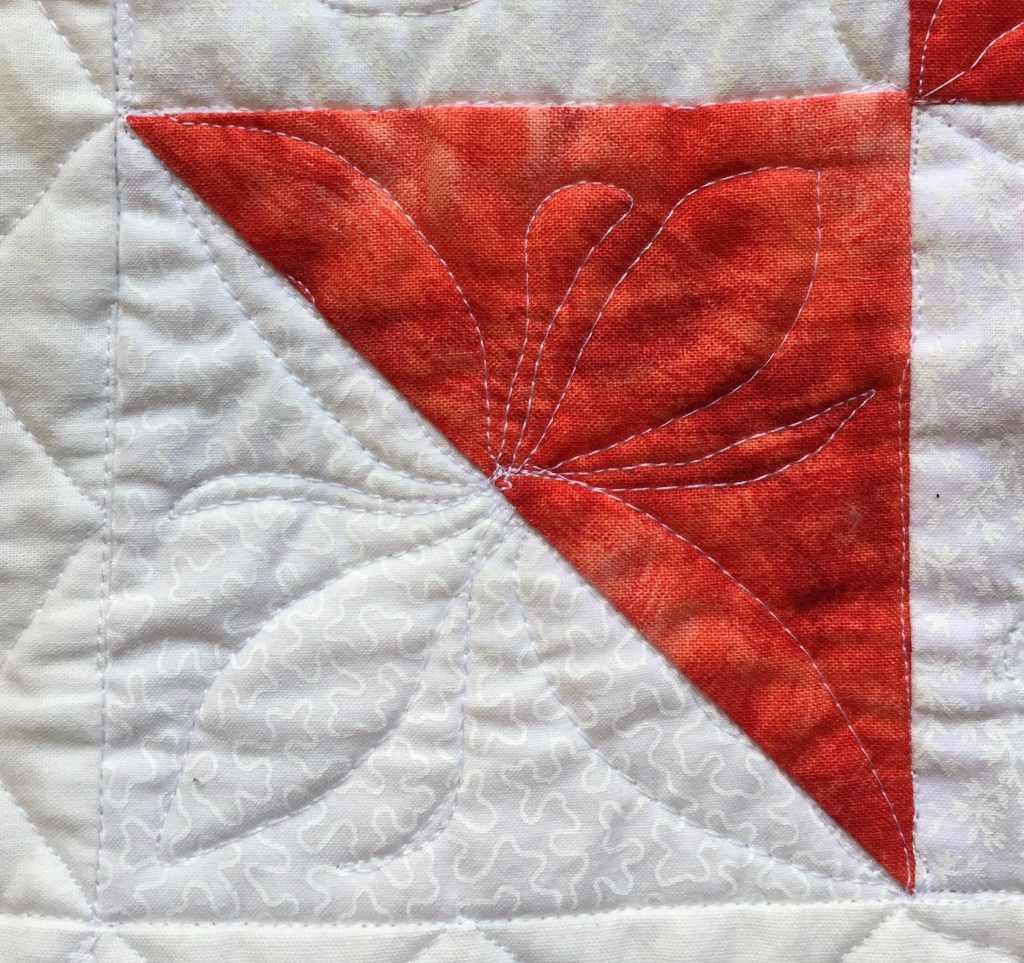 There are two other options that I didn't use.  You can pay someone to do this for you.  Some people have long-arm quilting machines and have businesses finishing quilts.  This is a beautiful option because most do a great job, but I have never done it because I can't afford it.  You could also hand quilt it.  I love hand quilting, but it takes a long time.  If you want to try this, there are a lot of tutorials on-line to help you.
All that's left now is putting a binding around the edge.
---
---