The first block of the Log Cabin Sampler quilt is the corner block. It is not called that because it goes in the corner of the quilt, but because it looks like a corner.
Traditional log cabin blocks have a centre square with bars going around it.  The corner block has a square, but bars only go around two sides so the square is in the corner, not the centre.
For the Log Cabin Sampler, you will do this block in two different colour ways.  One has a dark square and medium and light bars and the other has a light square with medium and dark bars.  You will need five with a light square and six with a dark square.  Eleven blocks might seem like a lot, but this is a simple block and won't be very time consuming.  There are 49 blocks in the entire quilt, so when you finish these blocks, you are over 20% done!
If you are making the mini sampler, there are only four blocks with a dark square, so you can ignore the other colour way.  Cutting requirements are in [ ].
Cutting
All the pieces in this block are 3-1/2″ wide, so begin by cutting 3-1/2″ strips.  Cut the longer pieces first to conserve fabric.
Dark fabric:
five 3-1/2 x 9-1/2
five 3-1/2 x 6-1/2
six [four] 3-1/2 x 3-1/2
Medium fabric:
eleven [four] 3-1/2 x 6-1/2
eleven [four] 3-1/2 x 3-1/2
Light fabric:
six [four] 3-1/2 x 9-1/2
six [four] 3-1/2 x 6-1/2
five 3-1/2 x 3-1/2
Assembly
Layout the pieces for your blocks.  When you lay them out, it might not look like they will fit together, but that's because of the seam allowances.  If you cut accurately, they will go together.


My blocks are scrappy and chosen randomly, so the fabrics in the pictures might change.
Begin by joining the 3-1/2″ squares.  If you have an accurate seam allowance, the piece should be 6-1/2″ long to join up to the next bar.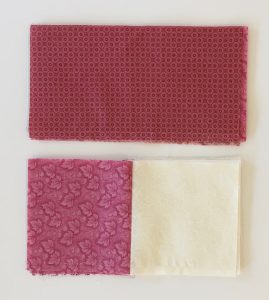 Join the medium bars.  You can see the corners forming.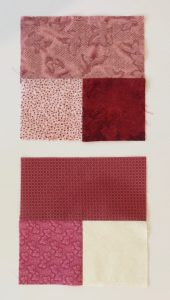 Next, join the 6-1/2″ bars.  Be sure that the dark bars go on the blocks with the light square, and the light bars go on the blocks with the dark squares.  In this block, light and dark fabric do not touch.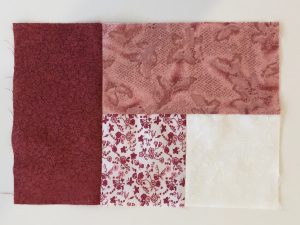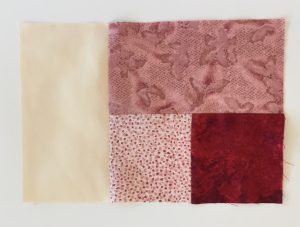 Lastly, join on the 9-1/2″ bars.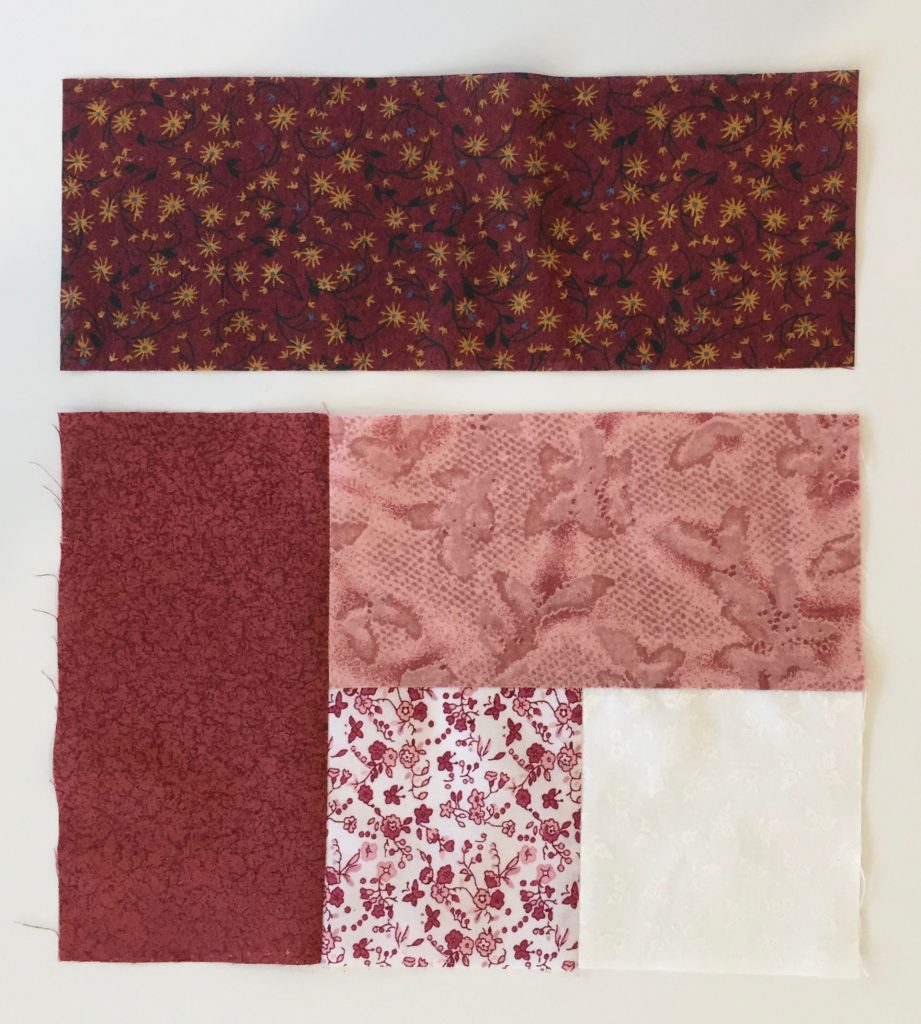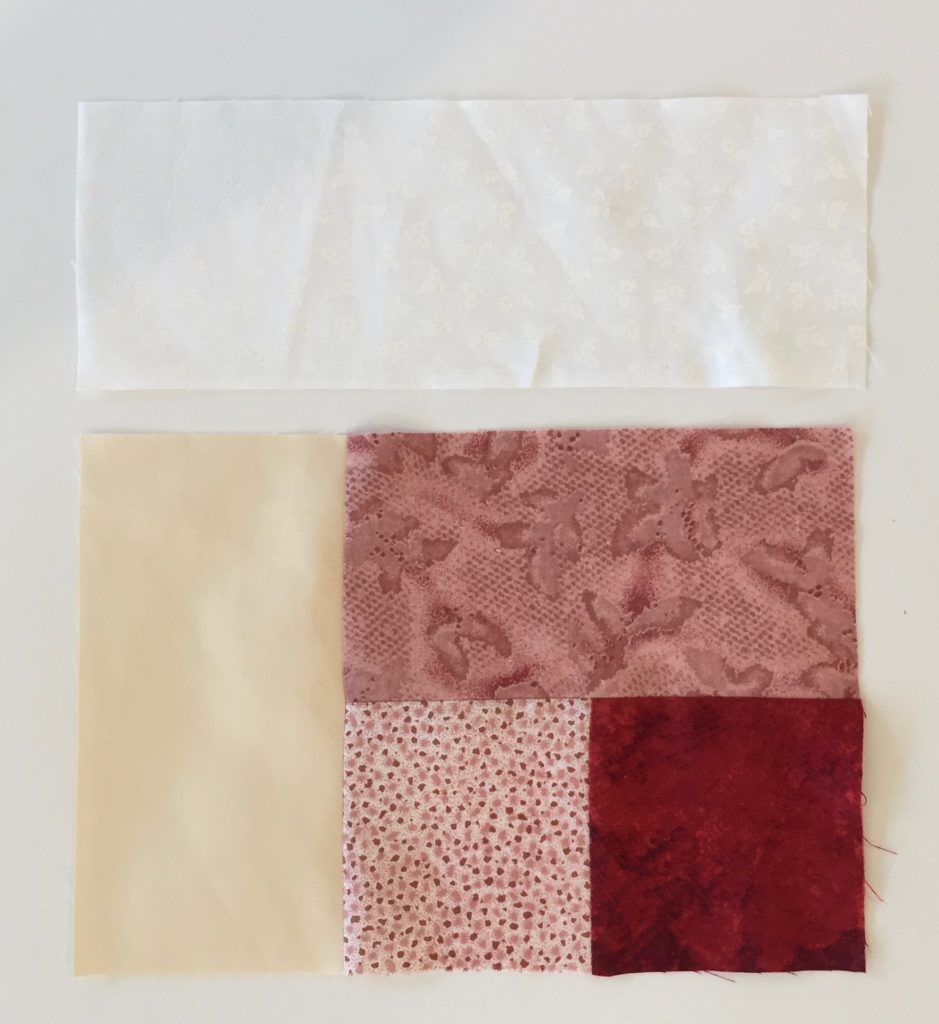 That's all there is!  You should have six of these:

and five of these: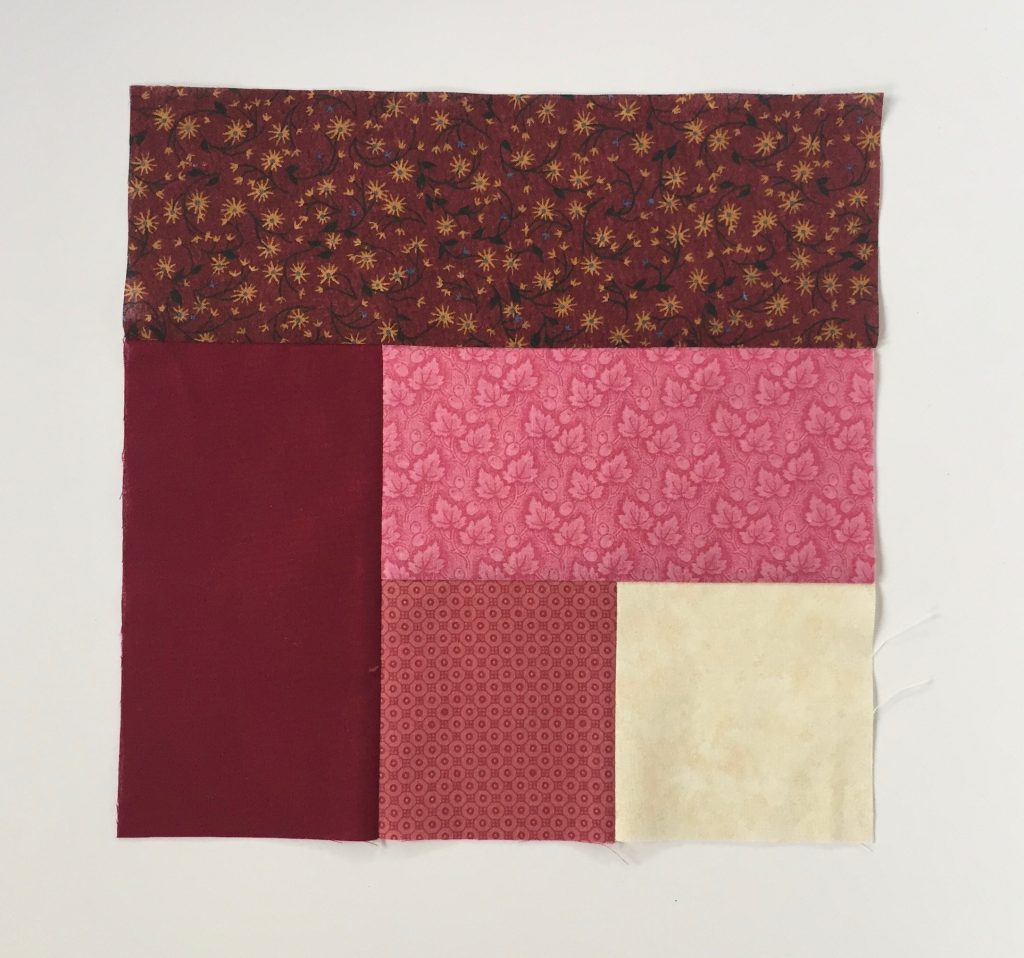 What a great start to a quilt.
---
---