I made this quilt for my younger son. He was about 9 years old when I made it, and I wanted something that could grow with him. With quilts for children, it can hard to make the choice between a cute, fun quilt they will love immediately or a more mature design they can grow into.
I don't know if this counts as a success, because he's never really LOVED the quilt. Even now, as a young man, he is pretty indifferent.
It doesn't really matter in the end because I like it. It's 58″ x 81″, so a nice size for a twin bed.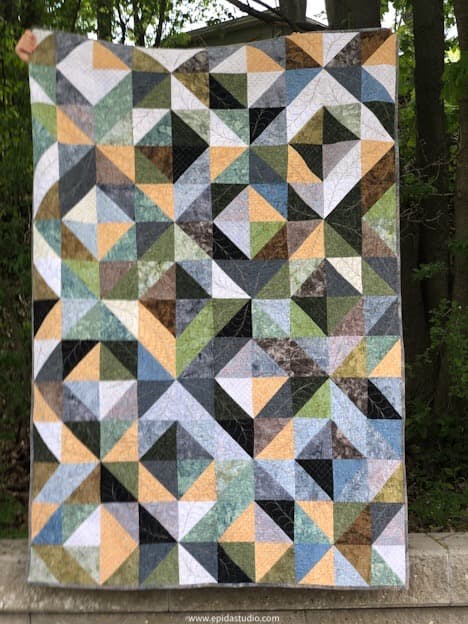 The quilt was made with a combination of pre-cut 6″ squares and some other fabric that was bought by the yard to augment the pre-cuts.
I made half-square triangle units by randomly picking one light and one dark fabric.
The layout arranges the blocks to have a diamond design. A few of the fabrics are medium, so I assigned them to either the dark or light pile. Having these in the design adds more depth and interest.
The free motion quilting accentuates the diamond pattern. I quilting long feathers over the three light or dark triangles that form the side of the diamond. The feathers form a border.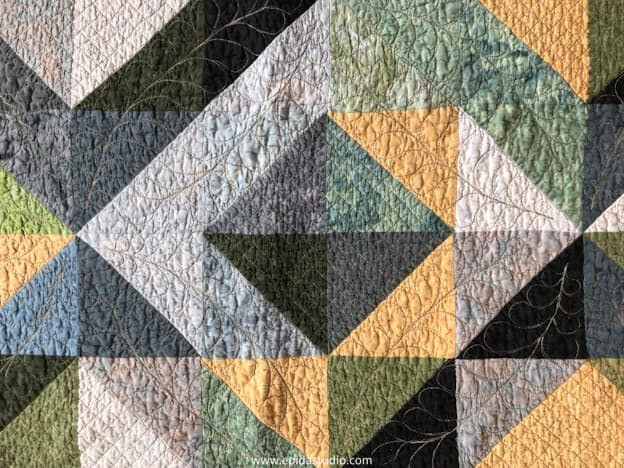 The inner diamonds contain a grid that I did free-motion without any marking. At a very close-up look, you can see that the lines are not all perfectly straight and there is not the same amount of space between them. But it still looks great, especially now after it has been used and washed for many years.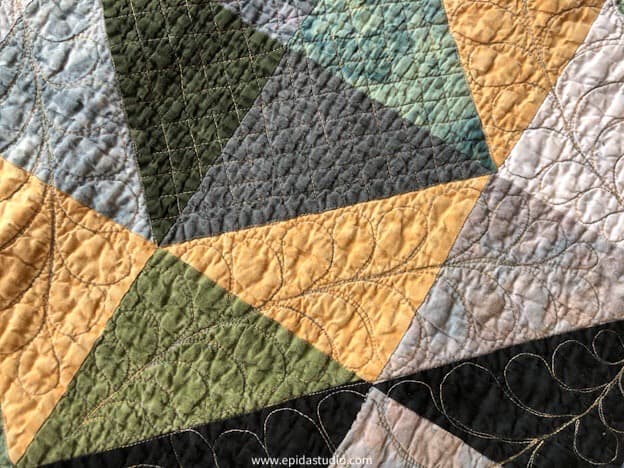 The back of the quilt is a mottled grey / brown fabric. The quilting was done with variegated thread, so it blends in with the backing.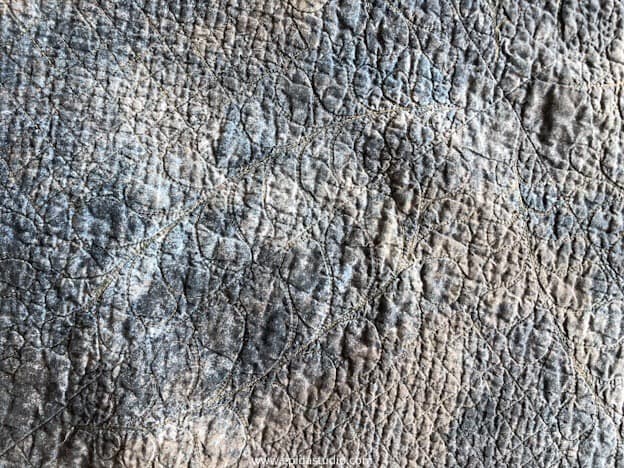 This was one of the first large quilts that I did with free-motion quilting. It is encouraging to look back at. When I was quilting it and studying from 3″ away, I could see all the glaring mistakes – inconsistencies with stitch length, wobbly lines and uneven feathers. But I pressed on and finished it.
Now that it is soft and crinkly with wear, I have a harder time finding the problems. I still love it and think it's beautiful.
[mailerlite_form form_id=4]
---
---