The basic block is made up of nine squares – five dark and four light. Since we want our blocks to be 12″ square in the final quilt, we need it to be 12 1/2″ to include the 1/4″ seam allowance on all sides.  That means our squares have to be 4 1/2″, because they will be 4″ square in the finished quilt. To make the large quilt, cut 10 dark square and 8 light squares. For the small, cut 5 dark and 4 light.
Lay them out in a checkerboard pattern, three across and three down, alternating light and dark.  Take the light and dark pairs on the right side, and sew them together with a 1/4″ seam.  If you need help to get a 1/4″ seam, check out the week one bonus lesson – Getting an Accurate 1/4″ Seam.

After sewing the seam, press the pieces.  To do this, lay on an ironing board with the dark piece up before opening.  Gently press a hot iron onto the seam.  Lift and press, don't run the iron back and forth.  This will set the seam.  Fold the dark piece back and then press again.  This will make sure that the seam allowances are pressed under the dark piece.  This is called "pressing to the dark side".  If all seam allowances are pressed to the dark side, that means that they won't show in the finished quilt, and it will make piecing the rows easier.
Layout the pieces again to make sure the block doesn't get mixed up.

Add the third square to the row in the same way.

Sew the bottom two rows together.  Since you pressed the seams to the dark side, they should be in the opposite directions at the point where the seams meet.  This will help everything lay flat and go together easily.  The seams should naturally nest together, but pin them if it helps.  After some practice, you probably won't need pins.

Attach the third row and you're done!

If everything was done properly, the block should measure 12 1/2″ square.

Repeat with the other squares so that you have two blocks.

The block has a totally different look when you change the fabric.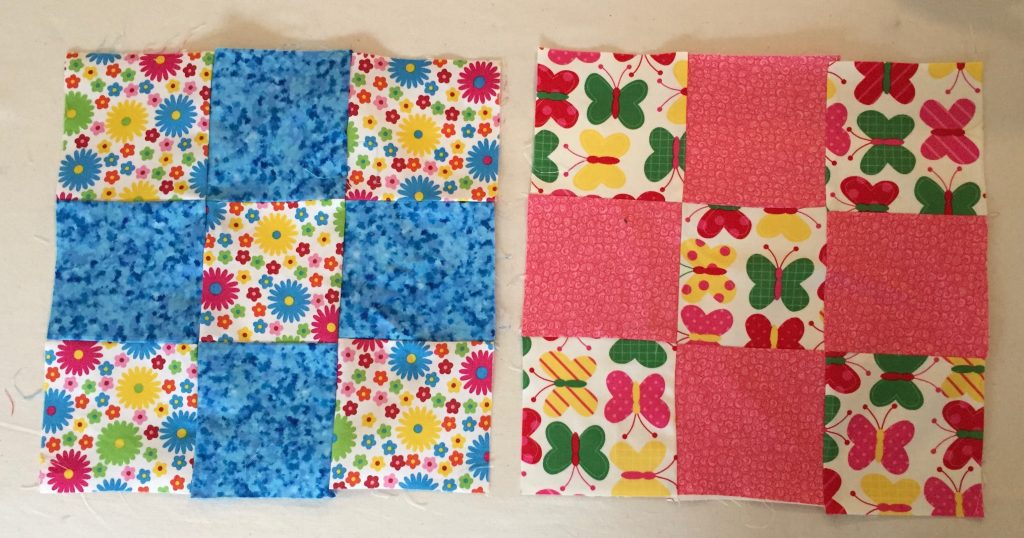 If you missed Week One, get it here.

---
You might also like …
---
---