Paper piecing makes some quilters nervous. It can be tricky to paper piece intricate designs and pictures. But paper piecing flying geese units is not only easy – it gives a perfect result.
There are many different paper options available for making flying geese. A quick google search will give you choices.
But making your own foundation paper is simple, and can save you money. It is also helpful if you want an unusual size.
---
---
Create the foundation paper
You can use any type of paper, but graph paper will be the easiest. (Make sure that the grid is 1/4″!)
Draw the exact finished size that you want your flying geese unit to be, without seam allowances.
I want my unit to be 3″ x 6″ in the quit, so that is what I've drawn. Flying geese are traditionally a 1:2 ratio.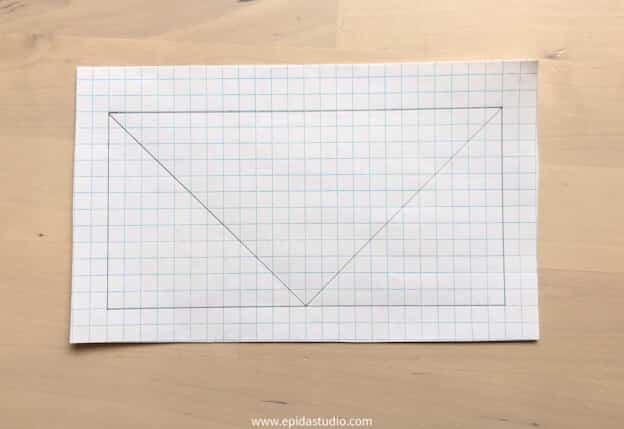 Once you have the template, you can photocopy to get as many as you need. Just make sure that the copier is at 100% and isn't scaling the copies to another size.
Prepare main fabric
Your main fabric needs to be larger than the main triangle shape, and extends at least 1/4″ around all edges. You don't need to worry about cutting a triangle shape at this time.
Place this fabric wrong side down on the back of the foundation paper. Hold in place with a pin or a dab of glue.

Accent fabric
The accent fabric has to be bigger than the smaller triangle. It doesn't have to be a triangle shape, but it has to be large enough to fill the shape including seam allowances.
It is better to use a big piece and trim down than to try to cut it close and end up too small.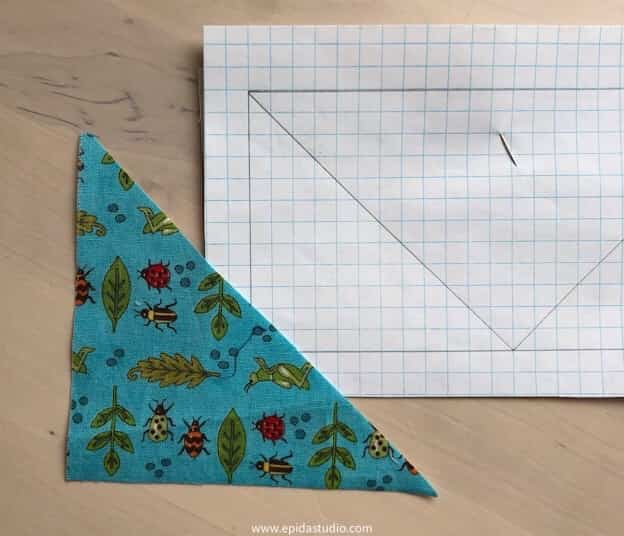 Align the shape right sides together with the main fabric. Remember that you are going to stitch and then fold back the triangle, so you need to overlap the triangle for your seam allowance. Make sure that when you fold it back, you will cover the triangle shape.
Hold in place with a pin.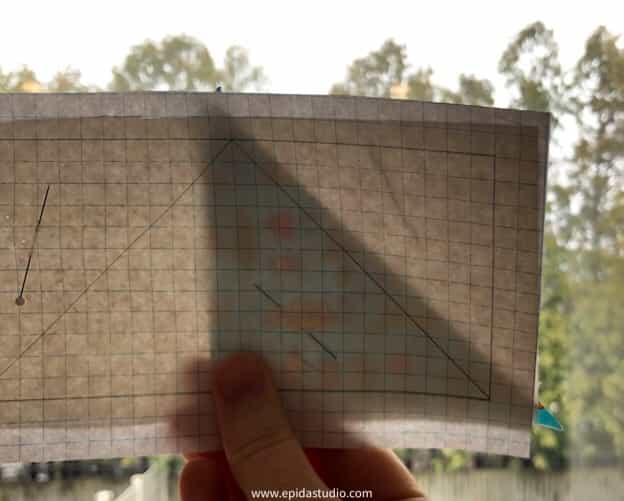 Stitch
Put this in your sewing machine fabric side.
Stitch exactly along the drawn line. It's okay if your stitching line extends past the edge of the rectangle.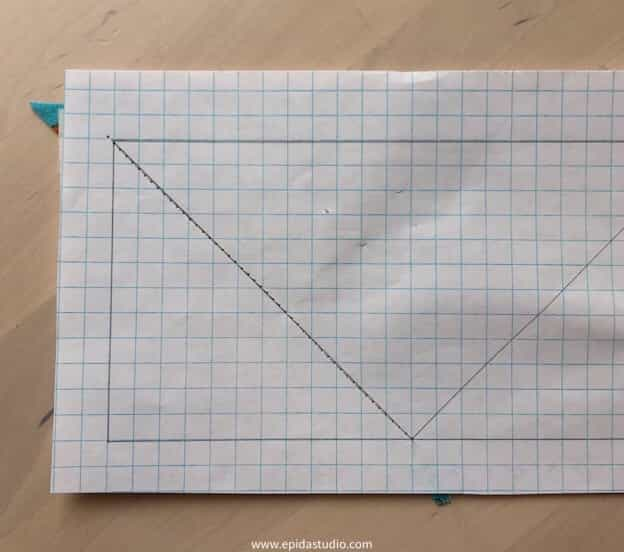 Trim seam allowance
Before opening the piece, fold back the paper and trim the seam allowance.
You can use either scissors or rotary cutter for that.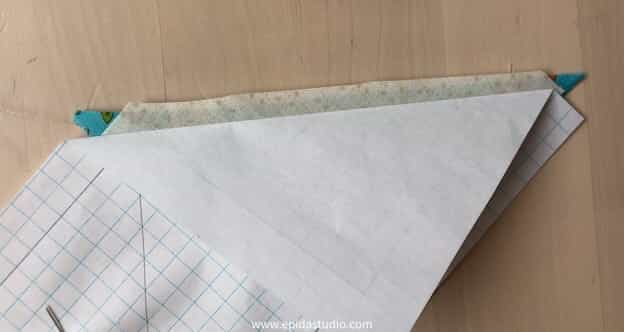 Press and Open
Once the seam allowance has been trimmed, unfold the paper and flip the whole piece over.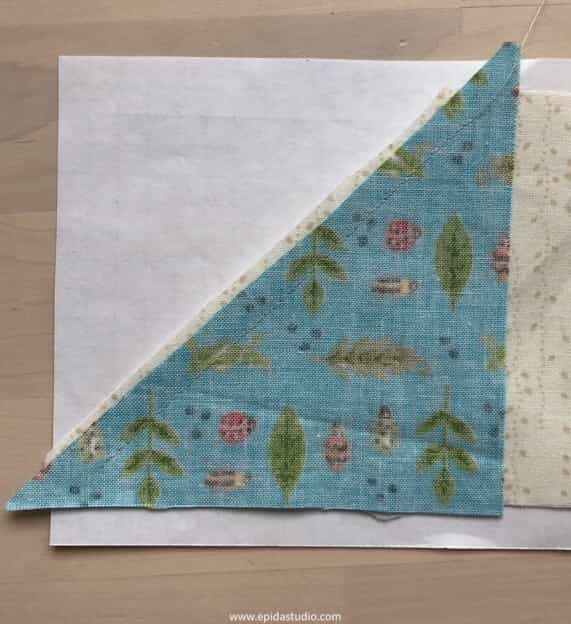 Press the small triangle piece back. It's starting to look like a flying geese unit!

Add second accent piece
Pin the second accent fabric piece, aligning in the same way as the first piece.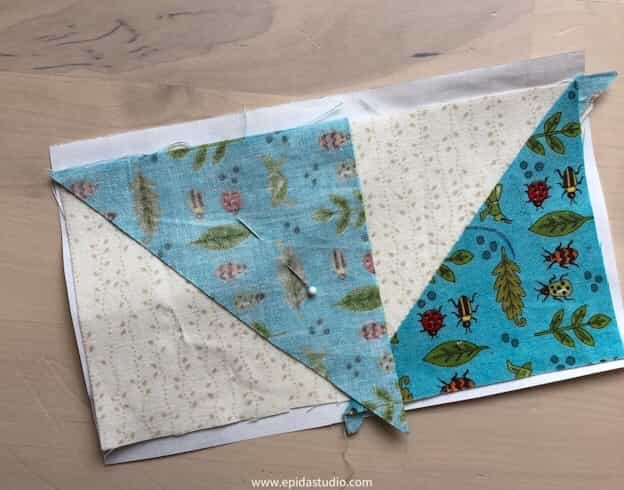 Stitch along the second line.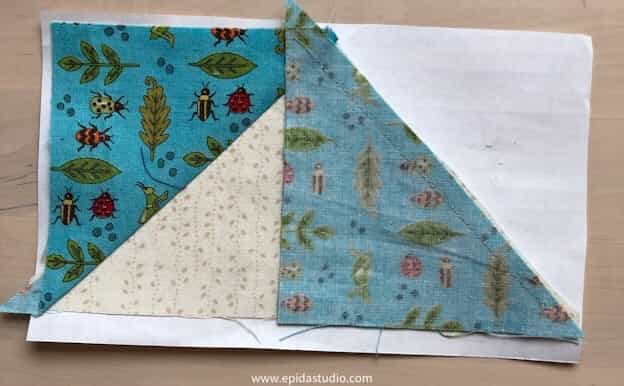 Trim seam allowance, open and press.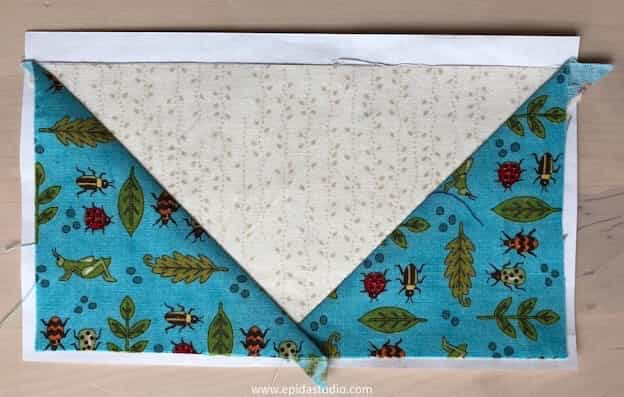 Final trim
The last trim is the outer edge. Be sure to leave a 1/4″ seam allowance. If you used graph paper, that will be easy. Trim 1/4″ away from the drawn line.
This is easiest if you use a rotary cutter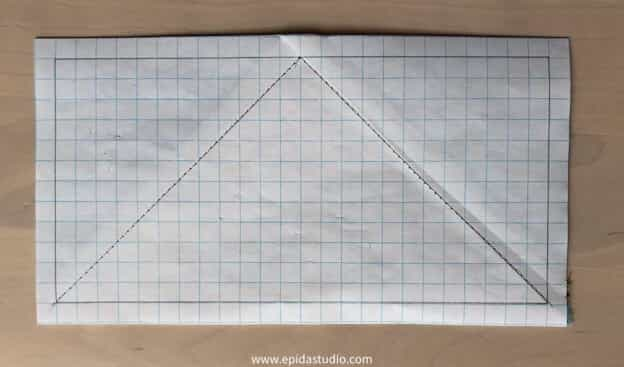 Gently remove the paper.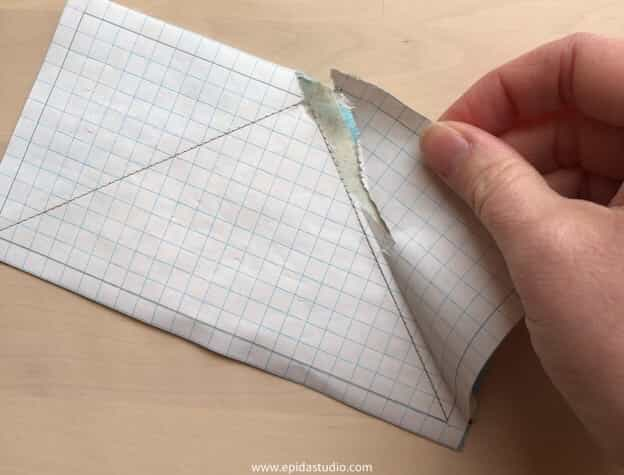 You're done! It's a perfect flying geese unit.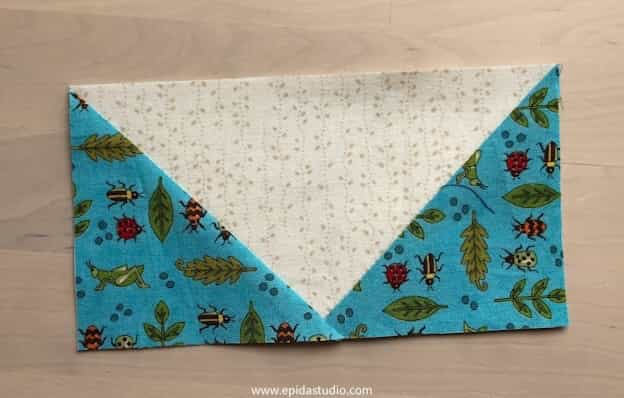 The nice thing with this technique is that you can make any possible size and shape of flying geese unit. The two smaller triangles don't even have to be the same size.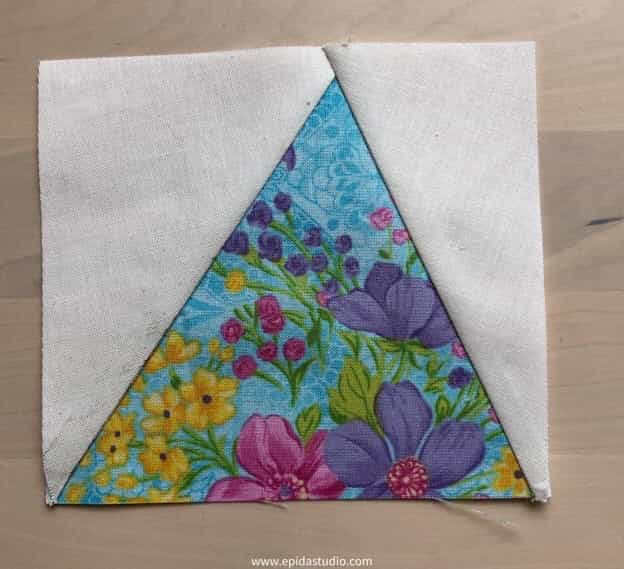 What is good about this method
makes perfectly accurate units
no trimming to size
fast
What isn't good about this method
paper is one-time use
takes time to remove paper
can have fabric waste
Rating: 4 out of 5
If you need to make a lot of units quickly and accurately, this method is a good choice. It is also great for using up scraps.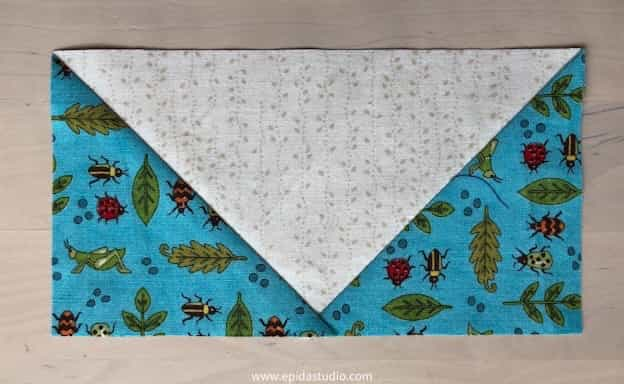 ---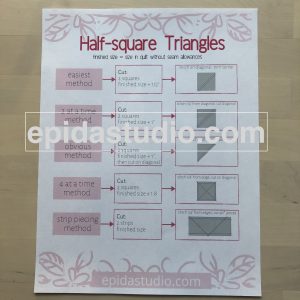 ---
---