If you're looking for a special touch for your embroidery project, knots are a beautiful embellishment. They add lots of texture and interest to otherwise two-dimensional pieces.
Knots are fancy and elegant. They are like the perfect piece of jewelry that finishes off an outfit.
When to use knots
Once you start playing with knots, you will find a lot of places to add them to your embroidery projects. Here are a few ideas to get started:
polka dots
flowers
snowflakes
little bursts of colour
eyes
candy
jewelry
filling in areas with texture
curly hair (eg. person or sheep)
bugs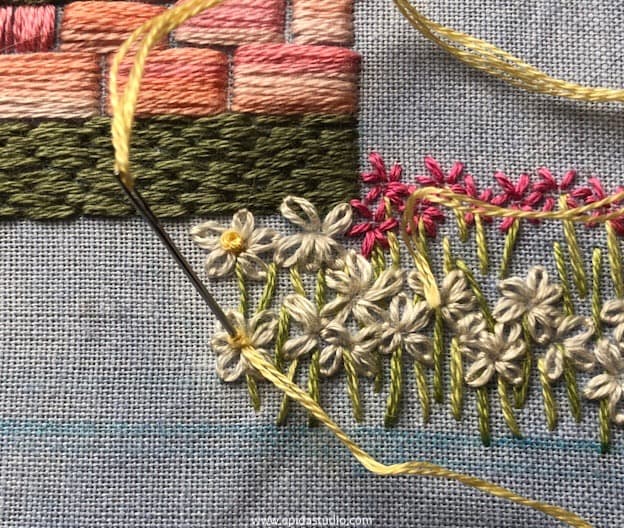 Types of knots
French Knot
The most common knot used in embroidery is the French knot.
This basic knot can be tricky for beginners, but once you get it, it's easy to do. If you have challenges, try wrapping the needle around the thread instead of wrapping the thread around the needle. This is often helpful.
French knots can be made larger or smaller by changing the number of strands of thread you are working with or changing the number of wraps you make.
---
For variation, French knots can be stitched on a stem.
---
Bullion
aka: worm stitch, caterpillar stitch, coil stitch, roll stitch, post stitch, knot stitch
Bullions are another classic and versatile. embroidery stitch. They can be straight or curved, alone or in groups, as fillings or as raised lines.
These are easier to stitch if you use a needle that is long and thin, like a straw needle.
They are commonly used in groups to make roses and rose buds.
---
Colonial knot
aka: candlewicking knot
The colonial knot is larger than a French knot. It is usually used alone as an accent, or in a row to give the impression of a line.
Chinese knot
aka: Peking knot, forbidden knot, blind knot
This knot is sometimes used as filling. It is flatter than a French knot.
Scroll stitch
aka: single knotted line stitch
This stitch is made up groups of knots on a line. It is great for borders.
Coral stitch
aka: knotted stitch, German knot stitch, beaded stitch, snail trail
This stitch is also a group of knots on a line, but the knots are more predominant than on the scroll stitch. It has the impression of beads on a string.
Spanish coral stitch
aka: crested chain stitch
This stitch has lots of texture. It is made by combining a chain and a row of coral stitches. It is great for wide borders.
Double knot
aka: Palestrina stitch, tied coral stitch, Smyrna stitch, old English stitch, single Danish knot
Double knot is a row of knots worked closely together.
Knots in Embroidery Projects
Check out the knots in these embroidery projects.
Be sure to #epidastudio when you share your own embroidery projects on social media!
---
---
---