Strip piecing half square triangle units is not intuitive, but great if you have strips of fabric to use up. In this method, you can use fabric that would be too narrow to use with most of the other methods.
Cut fabric strips
Cut fabric strips the same size as the finished piece that you need. For example, if the finished unit will be 4″, then cut 4″ strips, one of each colour.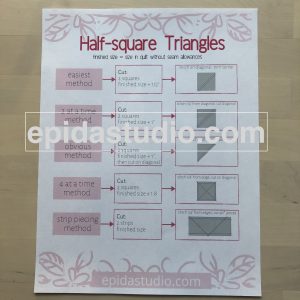 Stitch
Lay them right sides together and sew a 1/4″ seam on both edges of the strips.

Cut the triangles
Cut triangles using a triangle ruler or the 45º angle line on your basic ruler.


Open and press
Gently pop out the stitching at the tip of the triangle.

This is where the technique gets problematic. If you have a stitch length that is too short, then you need to be very careful unpicking the stitching or the fabric will pull and distort. If you have a stitch length that is too long, then the ends of the seam might pull loose.
Unfold and press.

Trim
Trim to size if necessary.
Align the the 45º line from the ruler with the seam line, and trim the edges to the size that you need.
Remember that if you want a finished size of 4″, you need to cut the square 4-1/2″ to allow for a 1/4″ seam allowance.
The triangle units are finished, but treat them gently, as they have bias edges and the tip might be fragile where the stitching was pulled out.
What's Good
quick to stitch
easy for small squares
great for jelly rolls
What's Not Good
accurate cutting can be tricky
bias edges
lots of trimming
When to use this method
you only have narrow scraps left, but need a bunch of HST units
you want to use jelly rolls
you are careful with the bias edges
Rating: 2 out of 5
This method is handy if you want to use a jelly roll or some other narrow fabric. Other than that, I wouldn't recommend it. There are lots of other HST methods, and they are all better than this.
---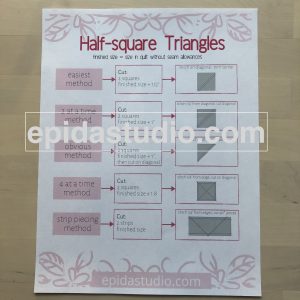 ---
---