There are different methods to making flying geese units. Making the units by stitching triangles together is the most obvious method of construction.
---
Cut the fabric
To make two flying geese unit that finish at 3″ x 6″ (3-1/2″ x 6-1/2″ with seam allowances)
cut two 4″ squares of "wing" fabric
one 5-1/2″ square background fabric
Cut all the squares on the diagonal.
The small triangles will fit along the small sides of the large triangles.
Stitch
Stitch the first side on, right sides together.
Take care not to stretch the side of the larger triangle as it is a bias edge and easily distorted.
Fold the small triangle back and finger press. Then press with an iron, being careful not to move the iron in a back and forth direction.

Add the second side in the same way.
Measure the finished piece and trim to size if necessary. Be sure to allow 1/4″ beyond the tip of the background triangle for seam allowance.
You're done!
What is good about this method
cutting is simple
construction is intuitive
little fabric waste
What isn't good about this method
cutting an stitching must be exact
bias edges easily stretch
Rating: 2 out of 5
The good things about this method don't out weigh the bias edges. Unless you are very careful, they will easily distort. Once they stretch, you can't correct.
---
---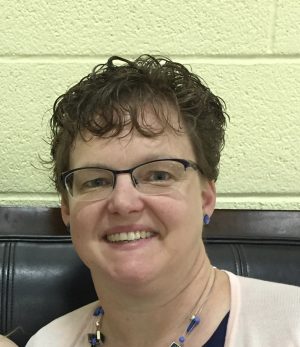 Elizabeth DeCroos
designer, teacher, speaker
Elizabeth enjoys doing all types of sewing and needlework and teaching others new techniques. For more information or to have her speak to your group click HERE.