This method of making half square triangle units is the most obvious – cut two triangles and then sew them together on the diagonal. To non-quilters, it might seem like the only way. It was probably the first method tried in quilting history.
---
---
It seems almost silly to include a tutorial on this method, but there are a couple of things that will make it easier. The first is cutting the triangles from strips of fabric.
Cut strips of fabric
The width of the strip will be determined by the ruler that you use. There are many different triangle-cutting rulers on the market, and I am not an expert. Ask someone at your local quilt shop and they can certainly explain the differences and point you in the right direction.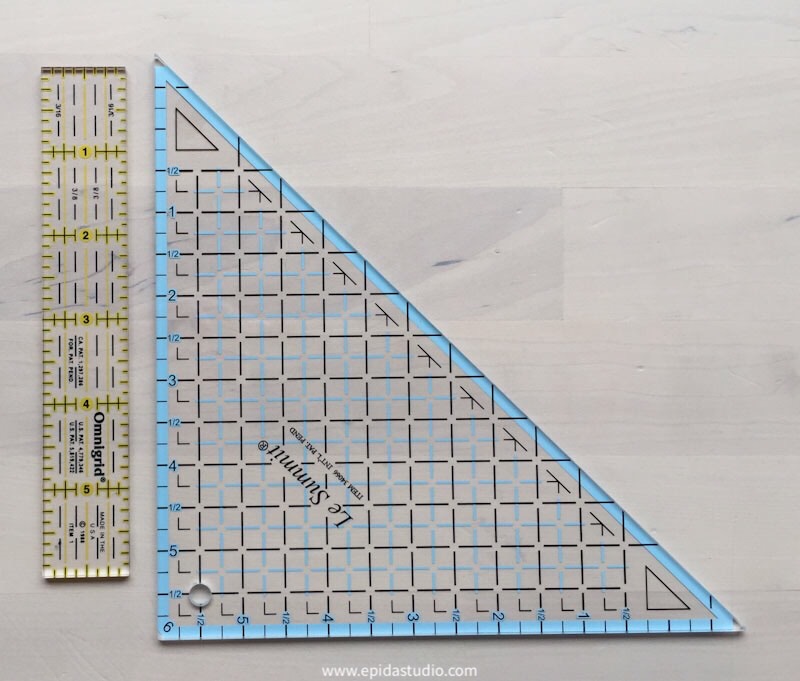 This is my ruler. The numbers on the black lines indicate the size of the finished piece. So you can see that to make 1/2″ finished HST units, you need to cut 1-1/4″ strips.
This makes it a bit easier to do the math. Also, the point of the triangle is cut off, and that is where the edge of the fabric is lined up. This helps for alignment and saves extra fabric from the dog ears.
Cut strips into triangles
To cut, place two strip right sides together. Line up the ruler, and then cut with a rotary cutter.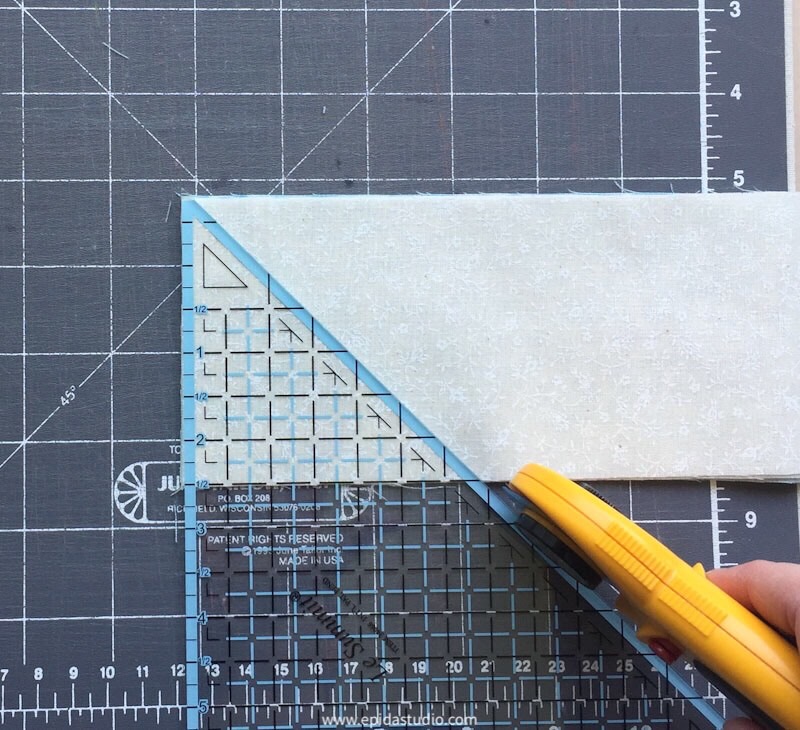 After the first triangle is cut, you can turn the ruler around, and cut the next triangle from the point that was left by the first cut. Don't separate the fabric pieces, keep them together for sewing.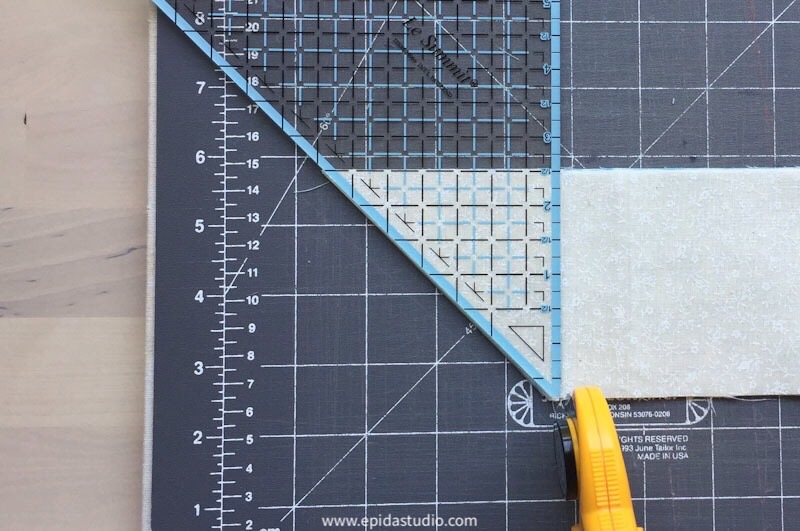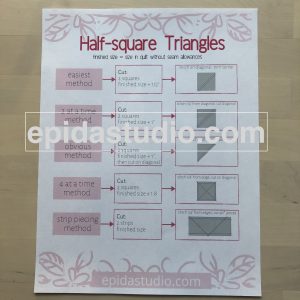 Stitch
Sew with a 1/4″ seam along the long edge. In math, that is called the "hypotenuse". This stitching line is on the bias, so treat it gently. It will stretch out of shape very easily. Starching before cutting helps.
Press
If you are careful and all the stars are aligned, you will end up with the perfect size square. In real life, sometimes they will need trimming because they are not exactly right, especially if the stitching line is stretched.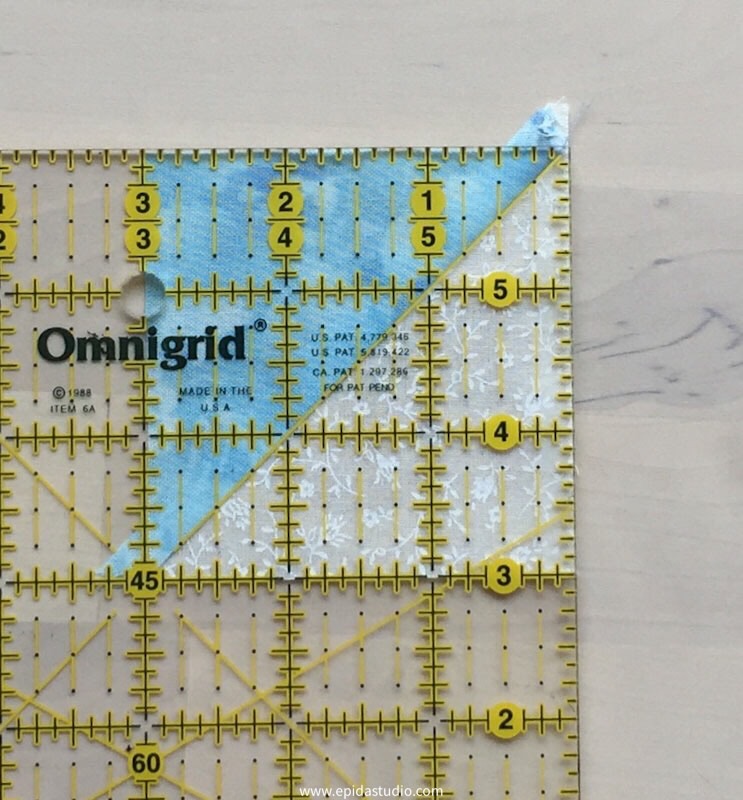 Even if it works out, you might want to trim the dog ears. I don't always do that. (GASP! Don't tell the quilt police!)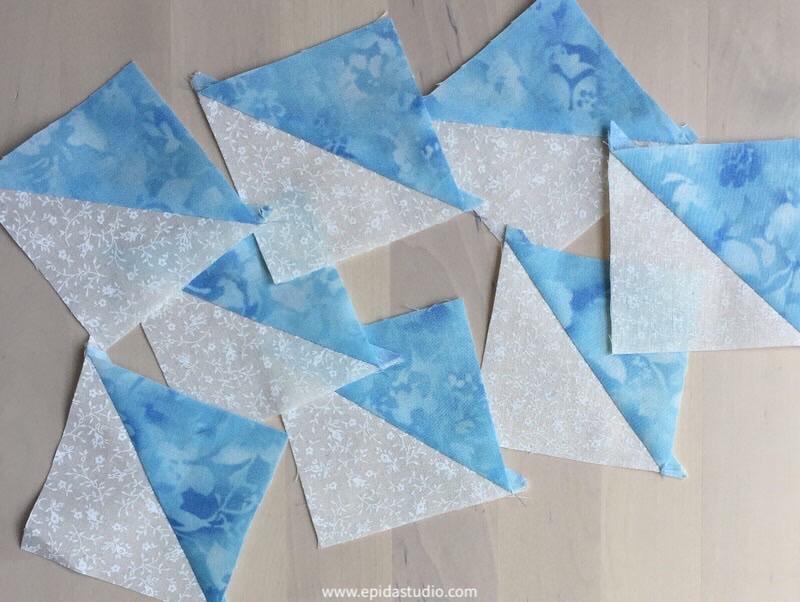 What's Good
great for using up scraps
quick to sew
no marking
no trimming
What's Not Good
sewing on bias seams
cutting is time consuming
When to use this method
scrappy quilts
work is careful and precise
Rating: 4 out of 5
I think this method is great for people with some experience or those with the personality to be careful and exact. For beginners or those who just want to bunches of HSTs without taking care, it might be frustrating. Cutting, stitching and seam allowances must be exact, but when they are you will get great results.
---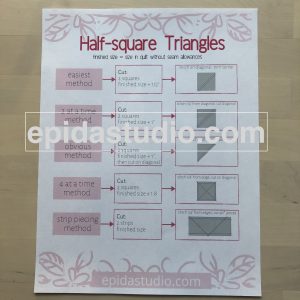 ---
---