Cross stitch is a popular embroidery form. A pattern is followed to make the design, and you can find patterns for anything you can imagine. It is economical, creative and relaxing.
Supplies
There are only a few simple supplies that you need for cross stitch. Some people like to gather everything together themselves, and others like to get kits that have everything together in one place. Either option works well.
Cross stitch fabric
It is usually stitched on Aida cloth, an even weave cloth with regular squares. Each square holds one of the x-shaped cross stitches. Aida cloth comes in a variety of colours and sizes.
Aida cloth is described by its "count". That is the number of squares per inch. The most common sizes are 14 – 18 squares per inch. A larger number means that the squares are smaller (more per inch).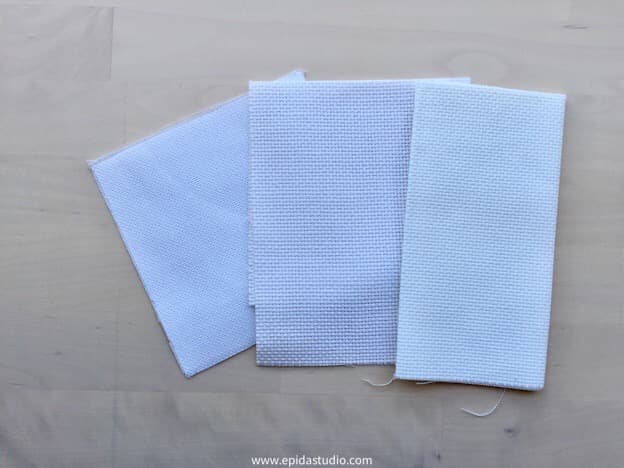 Stitching a piece on a different count fabric will result in a different size. For example, if a picture is 100 stitches wide, on a 14 count fabric, it will be just over 7″ wide. On a 20 count fabric, it will be 5″ wide.
The stitches in the design work like pixels to make up the picture. Just like in photography, the more pixels, the more detailed the design can be.When they are larger, there will be less detail.
Some patterns have a lot of shading and detail, and these will have a lot of stitches. Patterns normally recommend a fabric count size or give the stitching dimensions for multiple count sizes.
---
Thread
Cross stitch is stitched with six-strand embroidery floss. This is the perfect choice because it is easy to obtain, reasonably priced and comes in hundreds of colours.
There are a few big manufacturers of embroidery floss. Choose a brand and stick with it. The advantage to this is that you will be able to match colours easily if you run out in the middle of a project. Just be sure to label your floss so you know what the colour number is.

When I lived in Korea, I could go into a shop and get DMC floss that perfectly matched the floss I had brought with me from Canada.
Embroidery floss will feed nicely from one end of the skein. If it is pulling and knotting, try the other end. Many people like to wrap floss onto bobbins or clothes pins for storage.

Even though floss comes in six strands, you will not use all six strands for stitching. Most patterns will specify either two or three strands. More strands will give a more "solid" appearance and less background fabric will show through.
To use floss, cut off the length of the piece you will need. Usually this will be between 12-18″. Lengths longer than this will get twisted easily.

Separate the length into individual strands and then lay your desired number of strands together. They should lay beside each other. If you were using all six strands, the shape would be flat, more like a ribbon than a rope.
This process of separating and re-joining the strands is called stripping the floss. It will help your stitches lay more smoothly.
---
Needle
Cross stitch fabric already has holes in it for the stitches. That is what keeps the shape of the stitches uniform. This means that the needle does not pierce the fabric, it just moves through the holes that are already there.
Some needles are sold as "cross stitch" needles. These will be fine. If you can't find those available, look for a needle that has a long eye to accommodate the thread and a dull, rounded tip. The dull tip will make it easier to avoid piercing the fabric by accident.
"Tapestry" needles will work as long as they are small enough. Make sure they can go through the fabric easily without stretching the holes in the cloth. Size will vary depending on the count of the aida you are using.
"Embroidery" or "crewel" needles look similar with the large eye, but they have a sharp, pointy tip. They are designed to pierce the fabric easily, so if you end up using these in cross stitch, you need to be very careful that you keep the stitches in the holes.
---
Scissors
You might want a set of fabric scissors for cutting the aida cloth to size. But if you don't do any sewing or other fabric crafts, you can get by without them. You only need to cut aida cloth occasionally, and often craft or kitchen scissors will cut it.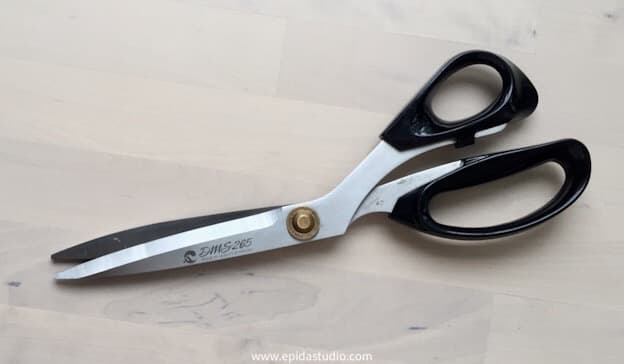 You will want a good pair of tiny thread snips. Find some that are sharp and comfortable in your hand. They do not have to be expensive, but they are an investment that you will use for many years.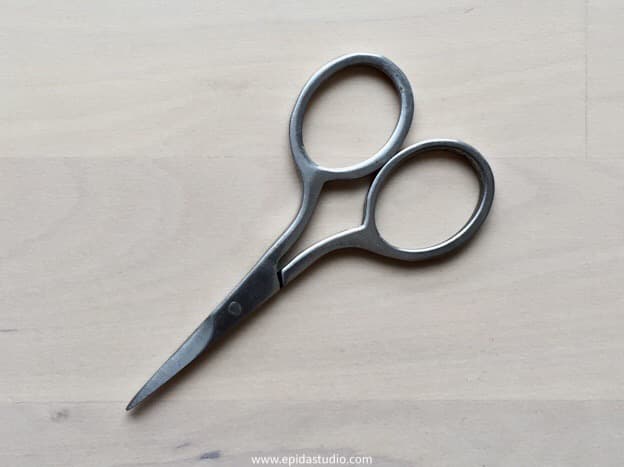 ---
Hoop
Besides aida cloth and embroidery floss, the only other supplies you need are a hoop or frame and a pair of scissors.
A hoop or frame is necessary to support your fabric and keep it flat while you are stitching.
Embroidery hoops are made up of two parts – an inner ring and an outer ring that is open and tightens with a screw.
To put your fabric in the hoop, lay the inner ring on a table, then place your fabric on top, centring the area you will be stitching. Pop the outer ring on by pressing firmly with both hands and tighten if necessary.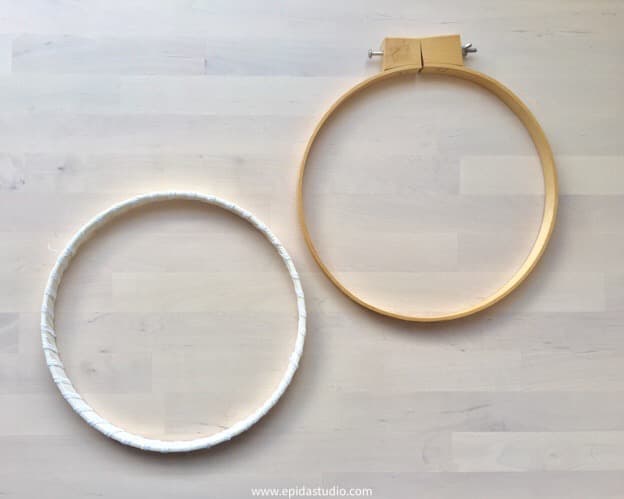 Try to avoid putting the outer ring on loose, then tightening a lot. It is easy to distort the fabric that way. Have the outer ring almost tight enough before you put it on.
If you are stitching a large piece, it might not all fit in your hoop. That is fine, you can move the hoop around to the areas you are stitching.
Be sure to take the fabric out of the hoop after each stitching session. If it is left in too long, it will leave marks on the fabric.
---
Starting a Project
Before you begin stitching, there are some things you can do to ensure that your project will be a success.
Choosing a pattern
Finding a good pattern is the first step. Here are some things to consider about your pattern:
Do I like the design?
Is this the right size for the project I want?
Is the pattern easy to read?
If you like the design, it will be easier to stick with the project and finish it.
Not all patterns are created equally. Look at the graph carefully to make sure you can decipher it. Sometimes the stitches are indicated by colour, and sometimes by symbols. Either one is fine as long as you can read it. It is also helpful if lines are bold every ten stitches to help count rows.
Patterns are available either printed or digital. Either way, I often like to make a copy so that I can cross off the stitches as I make them. That helps me to not lose my place.
One of my favourite sources for cross stitch patterns is Tiny Modernist.
---
Calculating the Size
Double check what size the final stitching will be. Count the number of stitches across and divide by the count of the fabric to get the length in inches. Choosing a different count might get you a better size, but if you are moving to a higher count, make sure your eyes can handle the smaller size.
number of stitches across / fabric count = length in inches
Knowing the size of the stitching area is only the beginning, you also need to consider the size of the finished piece. If you are framing the stitching, you will need a piece of fabric at least 3″ larger than the dimensions of the frame.
When in doubt, use a fabric larger than you think is necessary. It is better to trim it down at the end than to run out in the middle.
---
Finding the Centre
If it is not marked on the pattern, find the centre of the design.
Then find the centre square on the fabric. That is where you will start stitching.
Now you're ready to begin cross stitching!
Be sure to #epidastudio when you share your projects on social media!
---
---
You might also like …
---
---