Satin stitch is a beautiful way to stitch a motif. It is not difficult to do, but there are a few keys to remember to make the stitching look even more beautiful.
One thing to consider with satin stitch is the end use of the embroidery. If it is something that will get a lot of wear and tear like a pillow or clothing, long satin stitches might loosen or get caught on things. If it will be a framed piece, you can get away with longer stitches.
I will be turning my stitch sampler into a pillow, so this sized motif is the maximum size I would use for satin stitch since some of my stitches are 1″ long. I know there is a chance it will be too big, so I will keep an eye on it.
This stitch consists of long, straight stitches worked right beside each other. To help the stitches lay properly, begin by making a stitch in the centre of the motif. In the case of the flower, we are considering each petal to be an individual motif.
Satin Stitch
Check out a full satin stitch tutorial HERE.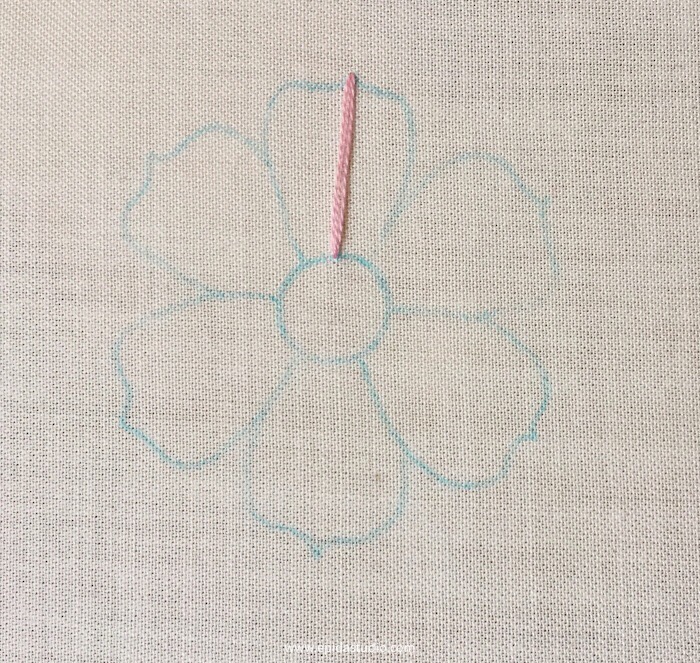 After the centre stitch is made, work out to one edge, keeping stitches lined up closely. I am using three strands of DMC#605.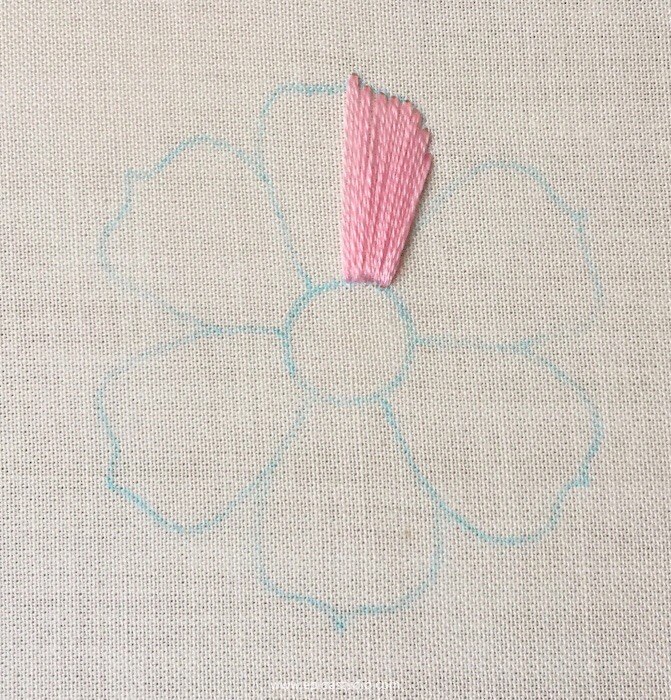 Normally in satin stitch, the stitches are all parallel, but in this case they are not exactly parallel since I am following the shape of the petal and having each stitch touch the flower centre. The stitches are slightly farther apart at the petal edge than the flower centre. This is a personal design choice, and you can certainly make your stitches parallel if you prefer.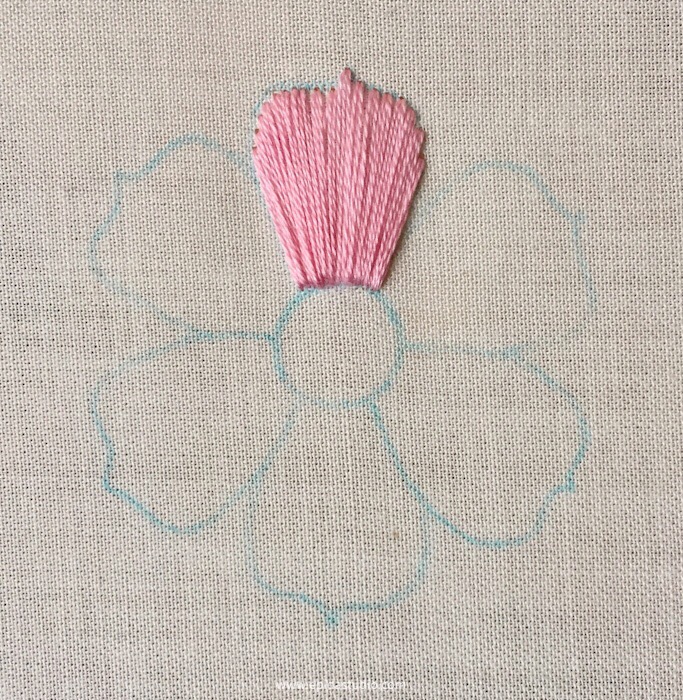 Once one side of the motif is stitched, go back to the centre and stitch out the other side. This technique is especially good for round shapes, since it is difficult to maintain a round shape if you stitch from one side over to the other.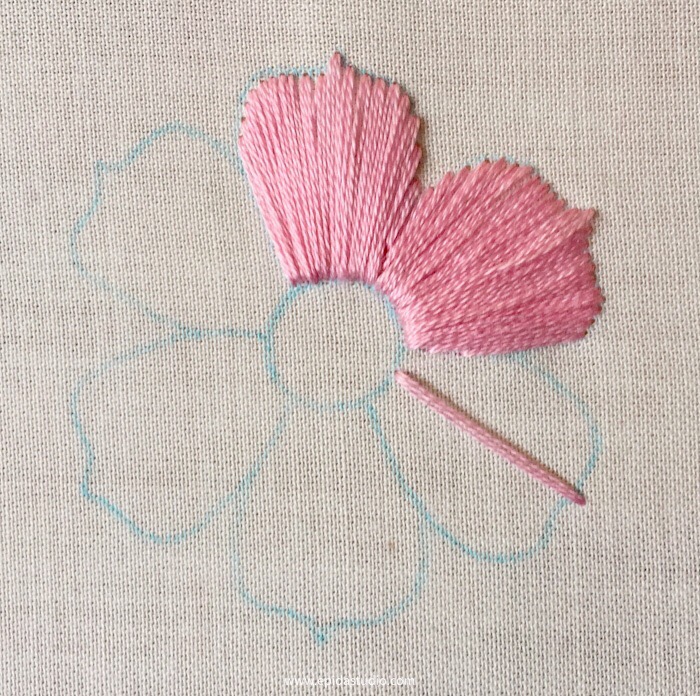 Continue working around the flower, stitching each petal individually, beginning in the centre.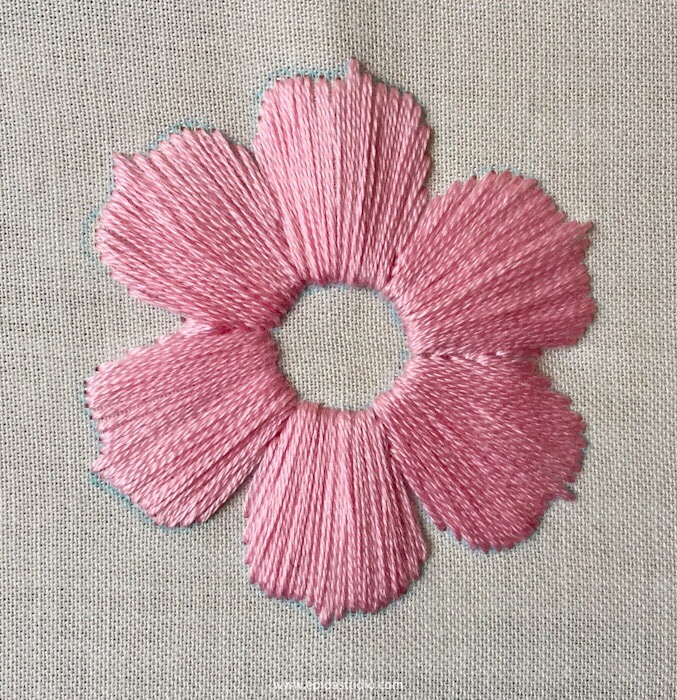 Eventually all the petals will be done. You might choose something different for the centre of the flower, but I did satin stitch because I wanted to show a motif done with just one stitch.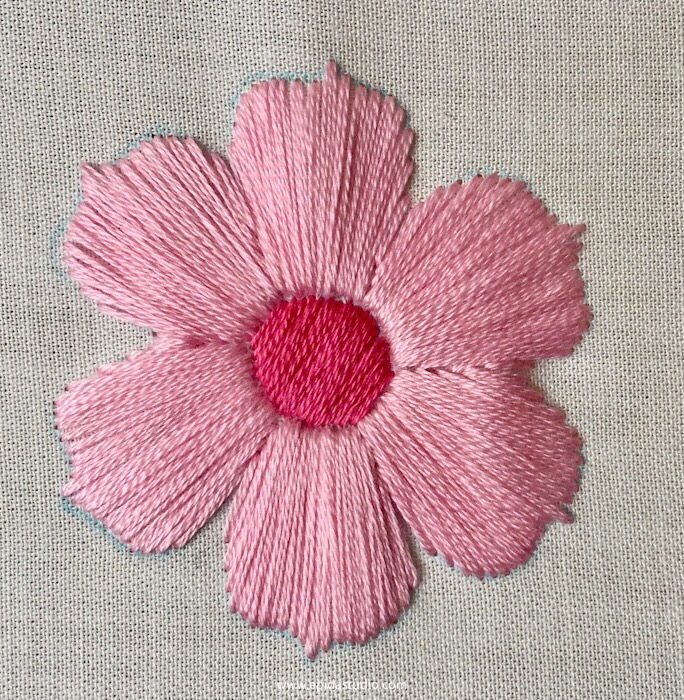 For the centre, I used three strands of DMC#602.
If you are following along with the stitch sampler, you will have three flowers done so far. Even though they use the same motif, they all look very different. If you missed the first two, you can check them out HERE.
[mailerlite_form form_id=3]
---
---