I haven't spent much time in Ohio, but I do like the Ohio star. This quilt block uses quarter-square triangles to make an unusual star block. It's not only beautiful, it's also easy to make.
Use this block in a quilt by itself or for home dec projects like pillows and placemats. It's also part of the Twinkle Sampler Quilt.
Fabric requirements
for a 12″ block
four 4-1/2″ squares background fabric
one 4-1/2″ square feature fabric
four 4-1/2″ quarter square triangle units* background fabric and feature fabric
*Use your favourite method to make the quarter square triangle units. For this block, I recommend the Most Popular method. It makes two at a time and they are trimmed to perfect size. Remember that the finished size is 4″ square, so you need 4-1/2″ pieces here.

Block assembly
Lay out all the pieces according to the picture. Pay special attention to the quarter square triangles. It is easy to get them turned around.
Making the quarter square triangles is the hardest part of this block. Once they are made, it is just a nine patch block.
Join the pieces into rows. Press the seams away from the quarter square triangles and towards the plain squares, regardless of colour.

Once the rows are made, join them together. Because of the way the seams are pressed, they will go together easily.

Be sure to double check the layout as you are constructing the block to make sure pieces didn't get turned.

Add the final row and give a final press. The block will be 12-1/2″ square.

You're done!
Video tutorial
More interesting things
---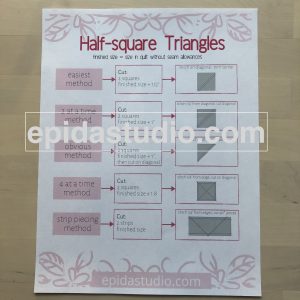 ---
---