Hardanger embroidery is a beautiful openwork design that only requires a few basic supplies to make. Once you get the right fabric, thread and tools, you are ready to embark on your hardanger journey.
Fabric
Like most embroidery, it is made up of fabric and thread. Hardanger is a counted thread style of embroidery, so that means it requires a specific fabric and thread combination. This is not a style of embroidery that you can use to embellish blue jeans.
Hardanger requires an even weave fabric. This means that the warp and weft threads in the fabric are the same size and the same distance apart. If you mark 20 thread across and twenty threads up and down, it will be a square.
The best fabrics to work with are linen and hardanger (appropriately named).
---
---
Hardanger
Hardanger fabric is a woven fabric made of pairs of thread in plain weave (over and under). The pairs of threads are treated as single threads in the embroidery.

It is a 22 count fabric (22 threads per inch) and is easily available. It most commonly comes in white and cream, but it can be found in other colours if you are willing to look around for it.
Hardanger fabric is easy to work with a give a great result. This is the best option for beginners.
Linen
Linen is nice to work with, comes in a large variety of colours and is easy to find. It is also a plain weave fabric.
The most important thing to remember is that you need even weave linen made for embroidery. Many fabric shops sell linen that is used in dressmaking and other sewing that is made with much smaller threads. You can see the difference in the picture below.

Dressmaking linen is not recommended for hardanger embroidery. The count would make the embroidery so small that it would be very difficult to do. Also, it might not be even weave.
Linen comes in a variety of counts, but most common is between 28 – 32. This is a good size for hardanger. Remember that the higher the count, the smaller the embroidery piece will be, so if you have vision issues, hardanger will be better.
It is also easy to find a lot of different colours of linen. The best place to look for it is in embroidery shops.
Aida
Aida is an even weave cloth that is most commonly used for cross stitch. The threads are woven to create little squares in the cloth that are perfect for holding the stitches.
Although at first glance, it looks similar to hardanger, it has a very different weave. The threads in the squares are meshed together, rather than having a plain weave.

The difference in the weave makes it much more difficult to withdraw the cut threads. In hardanger fabric, they slide out easily, but with aida, it takes a lot of effort.
It is possible to do hardanger on aida cloth, but I do not recommend it, especially for beginners. Removing the threads is very frustrating, and this is an unnecessary problem.
Thread
Hardanger is usually stitched with two different weights of thread. A larger thread is used for kloster blocks, blanket stitch and satin stitch designs. A smaller thread is used for needle weaving and filling stitches.
Traditionally white thread is used on white fabric, but any colours can be used. Feel free to play around with matching or contrasting threads, even different threads within the same project.
Perle cotton
The most popular choice of thread is perle cotton. This is a non-stranded thread, so you just use it as it is, not like embroidery floss. Perle cotton comes in standardized sizes, so it's easy to match to your fabric. It is usually sold in skeins or small balls.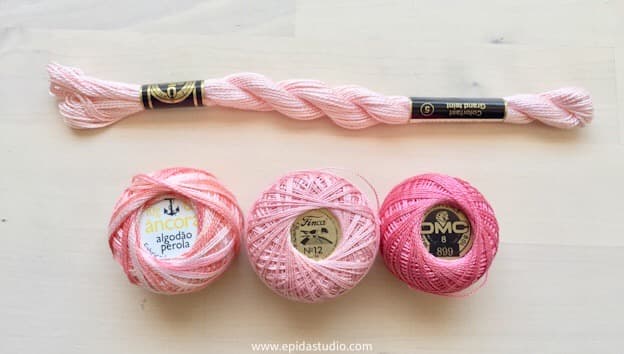 Perle cotton that is manufactured by large companies is usually labelled with a colour number. These standardized colours make it easy to match if you run out partway through a project. It also makes it easy to get the exact same colour in different weights.
Usually size 5 and 8 perle cotton are used on hardanger fabric and size 8 and 12 are used on linen. Perle cotton is easy to work with and is great choice for both beginners and experienced embroidery artists.
Dyed threads
Beyond regular perle cotton, there are beautiful hand dyed and variegated threads with similar weights. These can be used beautifully in hardanger. My favourites are from The Caron Collection, but there are many choices. Check with your local embroidery store for options.
Matching thread to fabric
The most important consideration for choosing thread is that it matches the weight of the fabric you are using. The stitches in kloster blocks should lay snugly and parallel. They shouldn't be squished together and overlapping, but they shouldn't have space in between them.
Needle
The needle used for hardanger will be similar to a cross stitch needle or a tapestry needle. It should have a dull tip and a long eye. The needle will not need to pierce the fabric, it will slide between the fibres.
Use a needle similar in thickness to the thread you are using.
Hoop
Any size hoop is possible to use, but if possible, use one large enough that the whole project visible. Sometimes a frame will be more comfortable to work with.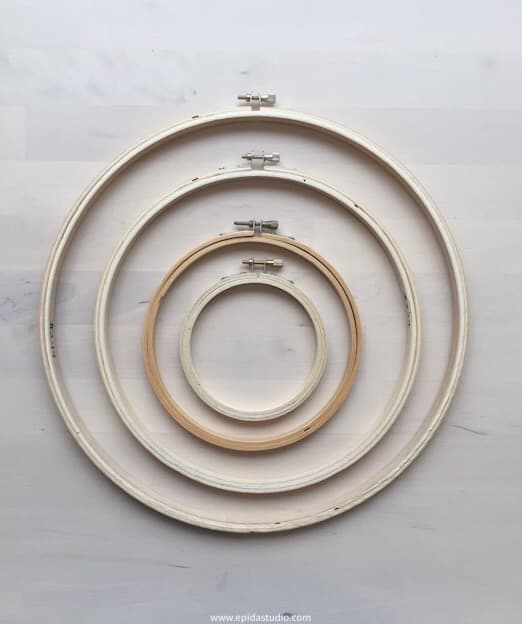 Regardless of what size hoop or frame you use, you will need to remove the piece regularly. Remove it from the hoop for cutting the threads. Don't leave the hoop in one place for long periods of time or it may leave marks.
Scissors
The cutwork in hardanger involves very precise cutting. You will need small, sharp scissors with a pointed tip. Some people like scissors with a slight bend in them to get even better visibility.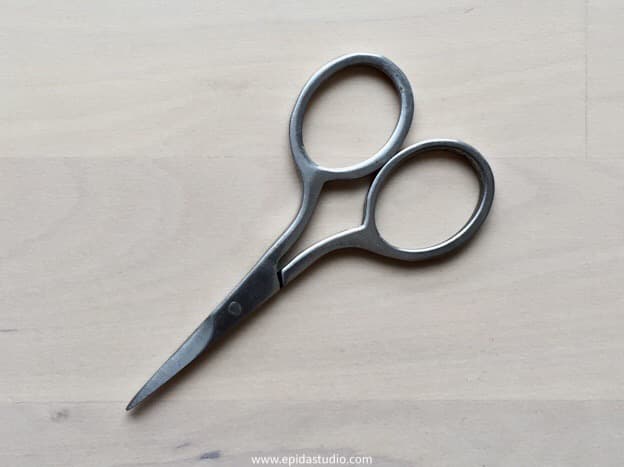 Getting Started
Once you have all your tools and materials, you are ready to get started. This tutorial series will take you step by step through an easy beginner project.

Be sure to #epidastudio when you share your projects on social media!
---

---