One of the great things about embroidery is that it can be done with almost any kind of materials.
But the unlimited options can be overwhelming, especially for a beginner. If you are wondering what to use in your embroidery, here are the best places to start.
Floss
Six-stranded embroidery floss is used by almost every type of embroiderer. It is perfect for both beginner and advanced level projects.
Floss can be used with both counted thread embroidery like cross stitch and surface embroidery like freestyle embroidery. It is normally 100% cotton.
Floss usually comes in small skeins and is available in every colour you can imagine. It is reasonably priced and is easy to use.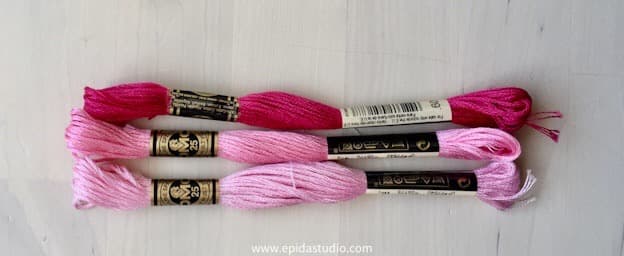 It is made of six strands of thread, but these are easily separated, so you can use the amount you need for the thickness you need. To stitch small, fine items, use only one strand or for a thick line, use all six strands. Commonly you will use two or three strands.
When you are purchasing floss, be sure to use a good quality. The most common brands are DMC and Anchor. Both of these companies have been manufacturing embroidery threads for hundreds of years.
The advantage of using a common brand name is that they are colourfast (colours won't run when they get wet) and the colours are standardized.
When I lived in Korea, I could go into a cross stitch shop and ask for colours by DMC number. It would be the exact same colour that I would get at home in Canada.
Hand-dyed flosses are also available. These have beautiful colours and are nice to use, but they are generally much more expensive. There is no reason to make the investment until you have practiced and have the skills. Work within your budget.
Don't be too cheap, though. If there is a generic brand offering 30 skeins for $1, it will be fine for crafts, but not for embroidery. Chances are it will break easily, strands won't separate without knotting or colours will run. That will just make embroidery frustrating.
---
Perle cotton
Perle cotton is another wonderful embroidery option. This thread is not stranded, like floss. You use it right out of the skein as is. It can also be used for both counted thread and surface embroidery.
It is commonly used in hardanger embroidery, cross stitch and sometimes even in big-stitch quilting.
It comes in different weights, which are standardized by number. The higher the number, the finer the thread. The most common weights are 3, 5, 8 and 12.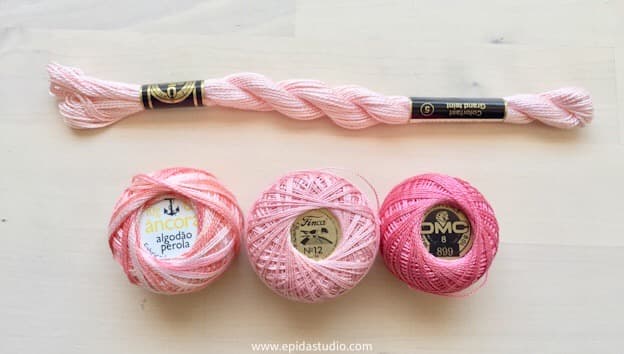 The biggest manufacturer of Perle cotton is DMC, the floss manufacturer. They sell Perle cotton either by a skein or a small ball.
DMC does not offer as many colour options for Perle cotton as it does for floss, but there are even more hand-dyed options from other companies.
Like with floss, you often get what you pay for, so if you see an amazing bargain on-line, consider it carefully.
---
Wool
Wool is a good option for certain types of embroidery. The most common type is crewel embroidery. Crewel embroidery is a surface embroidery done with wool thread.
This fibre has a different personality than floss and Perle cotton. It is more elastic and fluffy. The embroidery stitches are softer and not as defined.

If you want sharp corners and edges, wool is not the best option, but if you want full coverage it is a good choice.
Wool is not usually used for counted thread embroidery except for tapestry embroidery.
---
Specialized threads
When you get into the world of embroidery, you will discover more thread options than you ever imagined possible.
Silk is used to make threads of different weights, or even ribbon which is used for beautiful surface embroidery.
Metallic threads can add shine and can be used on their own or mixed with cotton thread.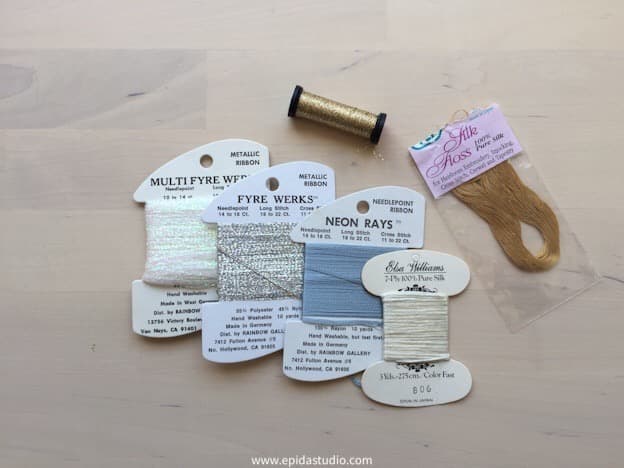 ---
When choosing threads for a project, consider the following:
What will the end project be used for?
If it will be framed on the wall, I can use delicate and fragile threads than I can if it will receive more handling and use.
What fabric am I stitching onto?
It is not always necessary to match the fibre content of the fabric and thread, but the weights should be compatible. For example, a heavy Perle cotton wouldn't work on a lightweight fabric.
Do I want any specific look?
Threads have different finishes. Some have shine, others are matte. Some are smooth, others are fluffy. You can get a variety of different looks by changing the thread.
When in doubt, choose a simple option. Your options will expand with practice.
---
---