How do you make patchwork curtains without all the raw edges?
If you've ever held a flimsy (quilt top without backing or batting) up to a window, you've probably noticed that it looks like stained glass. Using patchwork in a curtain adds an interesting decorative element and is a nice way to enjoy your stitching art.
But if you've ever tried it, you know there is one problem – raw edges.
In traditional patchwork, there is a clear right and wrong side. When you're hanging it in a window, that means you must decide. Do you want the right side facing in or facing out? There are problems with either option.
The other problem with seam allowances is the way they wear.
Even if they are perfectly clean when you stitch, over time, threads will loosen and fray. That is why you must finish the seams when making clothing.
You can always line your curtain, but that will work against the stained glass look.
The perfect solution to raw edges is a modern pojagi seam.
Pojagi is an ancient Korean patchwork form that often includes reversible patchwork. A modern pojagi seam is a method of duplicating that seam with a sewing machine and western quilting fabrics.
Dressmakers will recognize this seam as a flat fell seam. It is commonly used in blue jeans, but unheard of in quilting. When applied to patchwork, however, it opens a world of possibility.
If you use reversible fabric like solids or batiks, your entire patchwork piece will be reversible. This eliminates the problem of how to hang it in the window.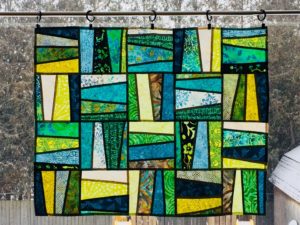 There are two methods to stitching this seam.
The first option is the simple pojagi seam method. This is like a traditional flat fell seam. This method can be used in a lot of places.
The only limitation with this seam is when you are joining pieces that already have a lot of seams in them. The pressing is very difficult.
For this, I developed another method – the regular pojagi seam method.
This is modelled after the traditional hand stitching technique. Some people prefer to use this method for all their seams.
Both methods result in the same finish, they are just different paths to get there.
My fabric of choice for patchwork curtains is batik. They are reversible, they are easily available, and the colours and designs glow.
Often you can't tell how it will look until you hold it up to the sun. Sometimes secondary colours glow that you didn't notice before.
---
Need one on one help? Get it in the Modern Pojagi Patchwork online course!
When my students hold up their first piece to the sun, the most common reaction is "Wow!"
Pieces that look nice on the table look amazing in sunlight.

If you're main priority is privacy or you want light blocked totally, you can use this technique with regular quilting cottons as well.
Solids are a nice option to have a reversible finished product.
Will it fade?
The most common question I get is "Will the colours fade in the sun?"
The short answer is "Yes".
I have a piece that was hanging in my sunny front door window for six years. When I take it down, you can clearly see where it is faded. When it is in the window, it is more difficult to see.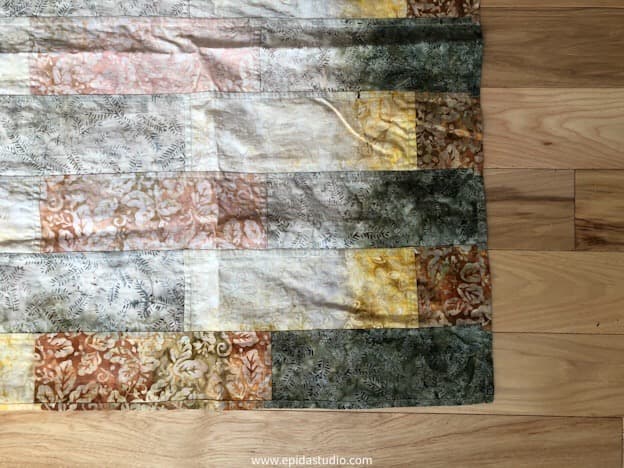 My philosophy is that if I have it in a window and I enjoy it every day for over five years, that is okay. After five years I can make another one. I would rather use and enjoy something than have it stuck in a closet to be safe.
If the fading would bother you, and you want your projects to last 100 years, this technique might not be for you.
If you want to try this technique, I have some great pattern options available to get you started.
The Gradient Panels are perfect for sliding doors or to use in groups for large windows.
The Luminosity Collection is a great use of colour and easy construction techniques.
When you make something, I would love to see a picture of it. Please send it to me or tag #epidastudio on Instagram.
[mailerlite_form form_id=3]
---
---
---