This week I continued weaving my blue and white tea towels.  I love how they're turning out.  Hopefully they wear as nicely as I've heard.  There was a minor incident when my 10yo daughter decided to "help" me.
She knows the basics of weaving, but apparently my design was too boring and needed a little something extra, so she put in the striped texture.
I was partly annoyed with her for messing with my design and partly proud of her for being so creative.  I shared this with a weaving facebook group and everyone was very positive.  People told me to definitely keep it in, and some said I should get my daughter her own loom.  One sweet comment said I should save this towel until my daughter got married and give it to her at a shower.  That was a great idea, and I might actually do that.
I finished the weaving and got the towels off the loom, but I still have to hem and wet finish them.  It should be done soon, but I started on weaving a scarf because I couldn't wait.  I LOVE how this is turning out, and I now have so many ideas for scarves.  The warping process went much more smoothly, thanks to all the mistakes I made in the purple scarf, so this will be a quick project.  A scarf is a great way to try something new and it is a useful item to have in Canada.
The sock is coming along.  Magic loop knitting is awesome!  Knitting in the round with four or five double pointed needles isn't bad, but this is so much easier and more portable.  I don't have to worry about the stitches falling off the needle in transit.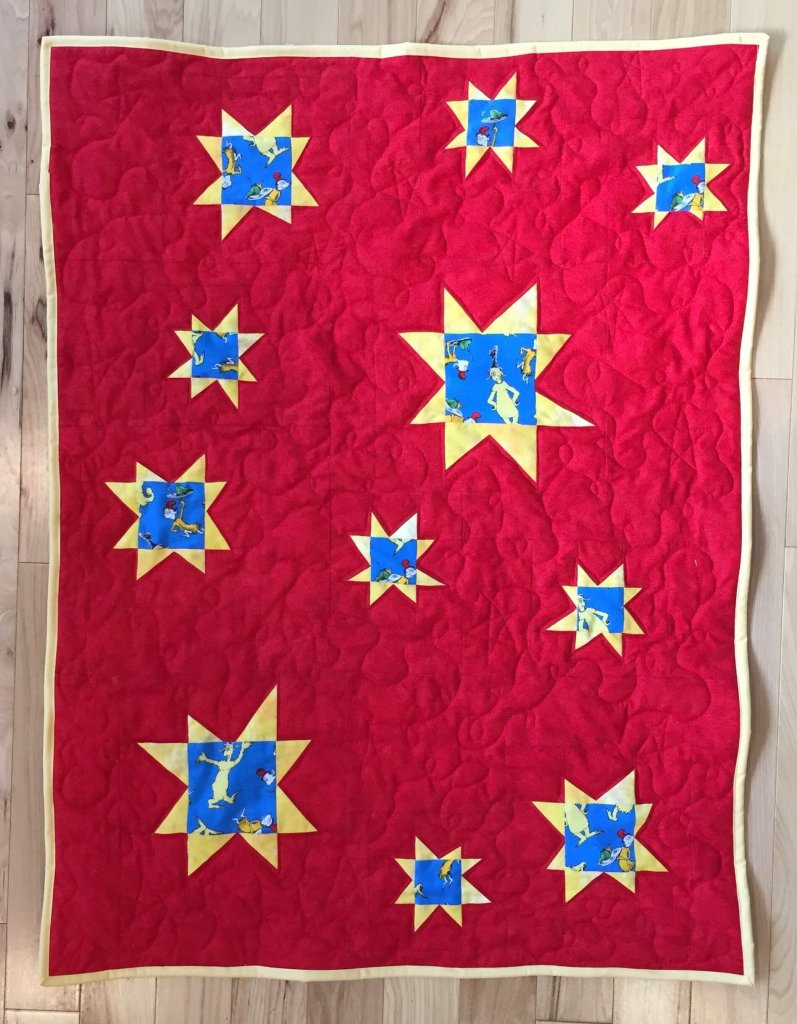 I finished this wacky stars baby quilt and gave it to the new mom, so I can share it here.  The mom loves Dr. Seuss, so wacky stars seemed to fit that.  I hope she and her big baby boy like it and get lots of use for it.  (Watch for a wacky star tutorial coming soon!)
I made some Christmas ornaments following the hardanger tutorial.  White on white is the traditional colour scheme and still my favourite.
But red is okay too.
And green isn't bad, either.  I am also practicing my photography on close-up stitch photos.  These ornaments are 2″ square.
Have a great week!