Every sewist, embroiderer and quilter needs a good pair of small scissors for clipping threads. Every knitter, crocheter and weaver needs one as well, and if you have a nice case to store them in, it will protect them, keep them from getting lost, and stop your kids from borrowing them for crafts or homework. (Maybe not on the last one, but I can dream. 🙂 ) It's also just pretty to have a nice case in your sewing box or project bag.
This scissor case will hold scissors up to 5″ long. If you want a smaller case, it's made from squares, so the math isn't too difficult. Besides fabric, you will need a short piece of cord or Perle cotton and a button.
1. Cut fabric
You need four 3″ squares of fabric, two in each colour and one 6″ square of fabric to be the lining. Cut these out in the traditional lined pojagi way.

2. Join the small squares
Join two different colours using a pojagi seam.

Repeat with the other two squares, then join into a large square.

3. Add the lining
Lay the pieced square and the lining right sides together, matching the marked seam allowances.

Join with a machine stitch, hand running stitch or hand back stitch, leaving a small opening for turning.

Turn right side out and press well.

4. Join two sides
Fold on the diagonal, and pin two of the sides together.

Using a pojagi seam. stitch these sides together.
HINT: If the side with the hole for turning right side out is one of these sides, the hole will be closed with this stitching, and you won't need an extra step to stitch it closed.

5. Finish
Lay the piece flat with the seam in the middle, and the points at the top and bottom.

Sew on a button at the point where the two colours meet.
Put a length of Perle cotton (size 5 or 3) at the tip.

To close, fold the top down, and wrap the cord around the button a few times.

The perfect size for small scissors!

And it looks even better on the other side.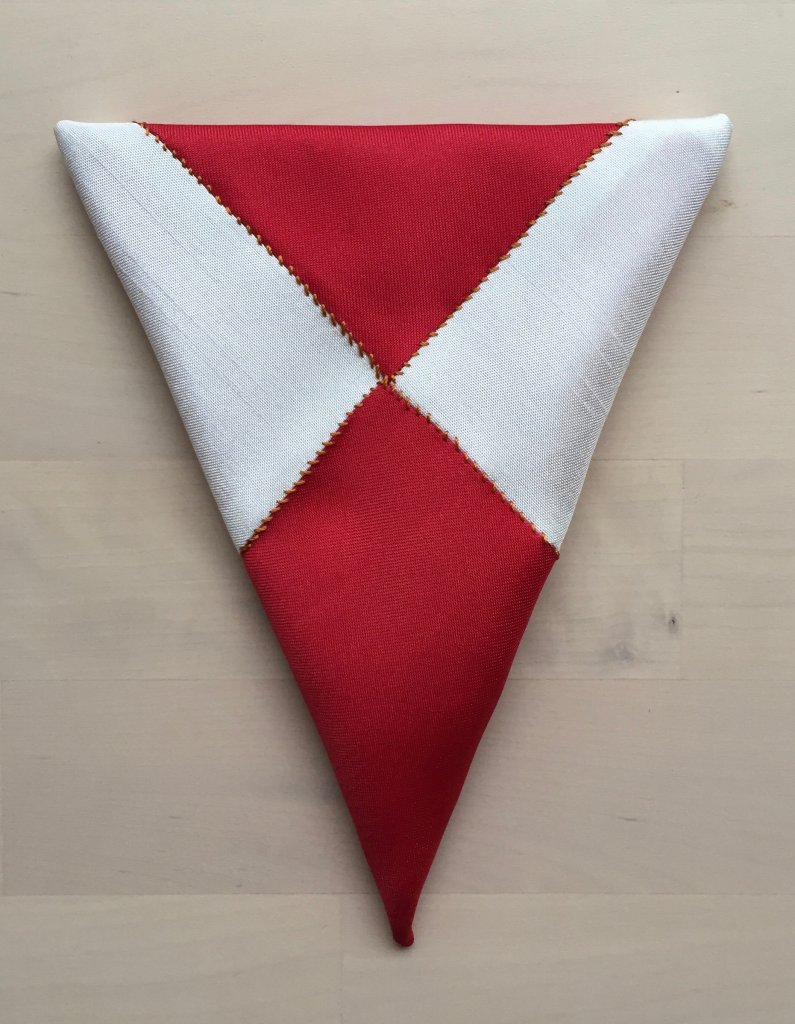 Enjoy this small project. It would make a great gift for any needleworker in your life.
If you enjoy this, try out the other pojagi Christmas projects as well.
---