Here's another small pojagi bag – great for gifts or storing special things. The finished size is about 4 1/2″ x 6 1/2″, so it will hold larger things than the round bag.
To make the bag, you need handkerchief linen, matching quilting cotton, size 8 Perle cotton and 1/4″ wide ribbon.
Mark and cut a 7 x 9 1/2″ and 2 1/2 x 4 1/2″ piece of the main bag colour. Cut nine squares at 1 1/2″ in a variety of colours. You could copy my colour design or try your own.

Join the small squares into three rows using the lined pojagi seam method. Then join these rows to make a nine-patch piece.

Join the nine patch piece to the small rectangle.

Join this piece to the large rectangle.

Place this piece right sides together with quilting cotton. Pin the edges to keep from shifting, then sew around the edge, leaving a 3″ opening.

Trim the seam allowance to 1/4″, then turn right side out and press.

Fold in half lengthwise, and sew the bottom edge with a pojagi seam.

Place right side down and press the bottom down so that the seam is in the centre.

Fold the right side down so that the edge lines up with the bottom piece. Make sure that the nine patch is on the side away from the bottom. It doesn't matter if you fold right or left, just have the nine patch to the top.

Pin to hold in place, and then stitch with an overcast stitch.

When you get to the end of the bottom piece, continue along up the side of the bag.

At the end, knot the thread. It should look like the picture below.

Fold the top down to make a flap.

Using an awl or sharp needle, pierce a hole just to one side of the centre of the nine patch piece. Go through all layers.

Cut a length of ribbon about 20″ and thread it through the hole. Make another hole on the other side of the centre of the nine patch piece.

Thread the ribbon through the other hole and tie off. Trim the ends to length.

It's done!
---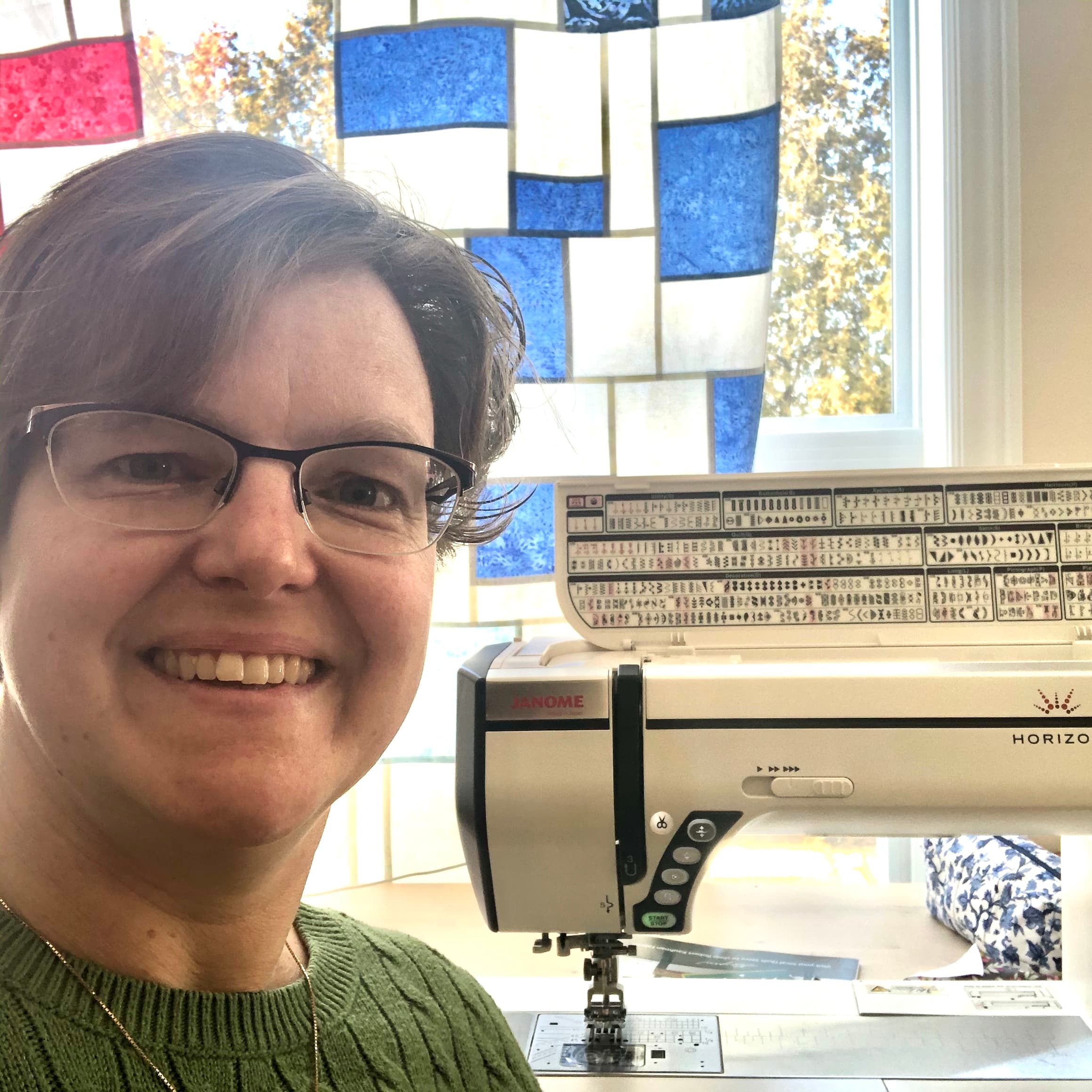 Elizabeth DeCroos
designer, teacher, speaker
Elizabeth enjoys doing all types of sewing and needlework and teaching others new techniques. For more information or to have her speak to your group click HERE.