In the fall of 2017, I acquired an old but new to me Leclerc Fanny loom.  Since then, I have figured out the basics of weaving and tried a few projects.  I have read every book on weaving at my library, but most helpful to me is the Floor Loom Weaving class by Janet Dawson at Craftsy and the online weaving classes by Kelly Casanova.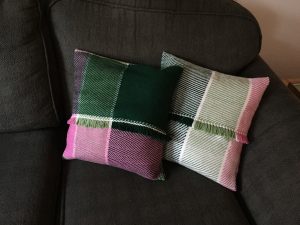 The woven pillows are the class project from the Craftsy class.
I made placemats with the yarn leftover from the pillows.

This scarf was an adventure, because I did everything wrong.  I was getting overconfident, but I learned a lot from my mistakes.