Now that all twelve blocks are completed, we will join them to make our quilt top.  The large version of the quilt is three blocks by four, and the small version is two blocks by three.
The blocks are not connected to each other directly.  They have strips of fabric called sashing between them.  Cut the sashing fabric into strips 3-1/2″ wide.  Cut eight pieces 12-1/2″ long.  Sew these to the blocks to create the rows.  You can follow the block layout or choose your own.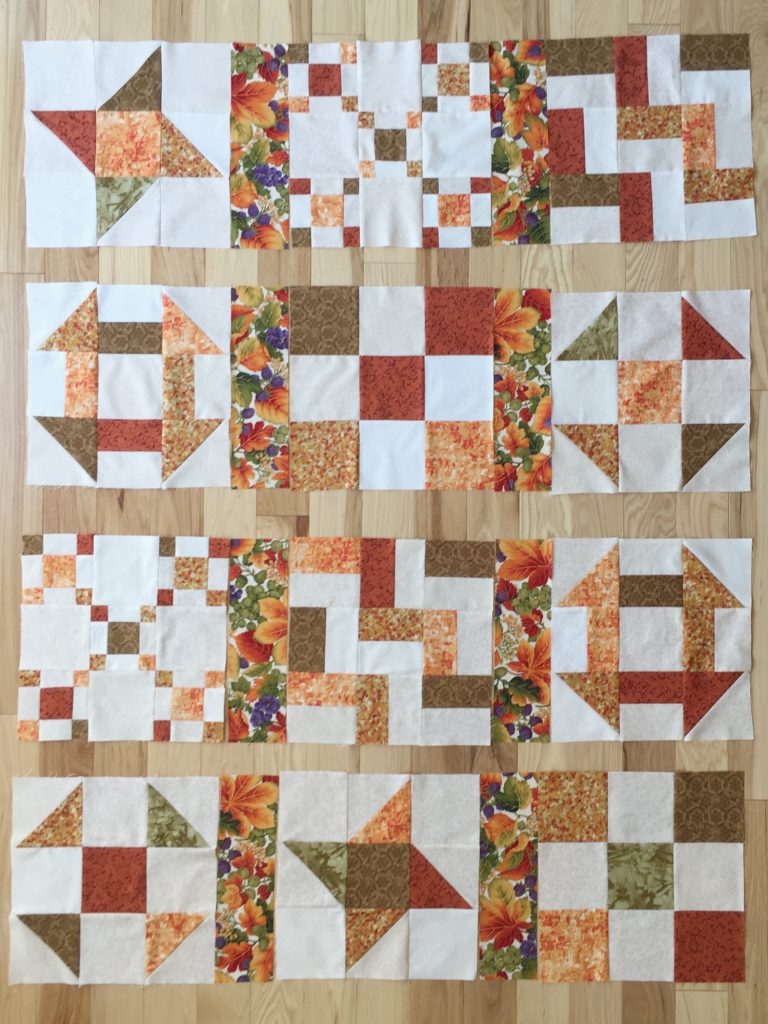 Next, you need to cut three sashing pieces the same length of the rows.  In a perfect world, that will be 42-1/2″, but if it is not exactly, you can adjust the sashing to match the row length, as long as they are all the same.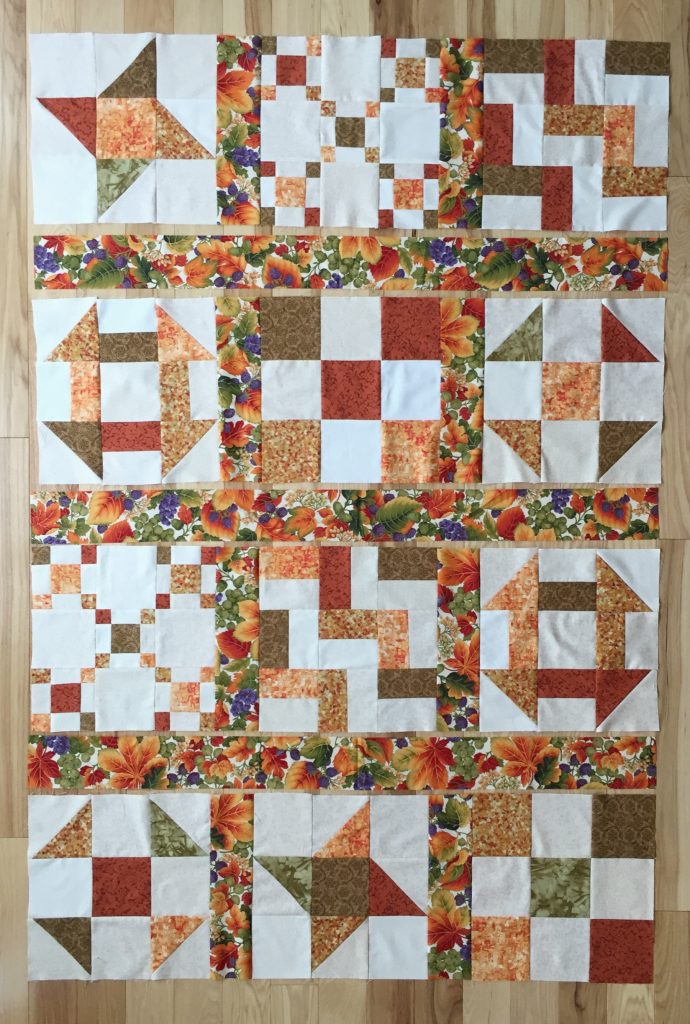 Pin the sashing to the row, so that it feeds through the sewing machine evenly.


When joining the second row to the sashing, make sure that the vertical sashings line up with each other.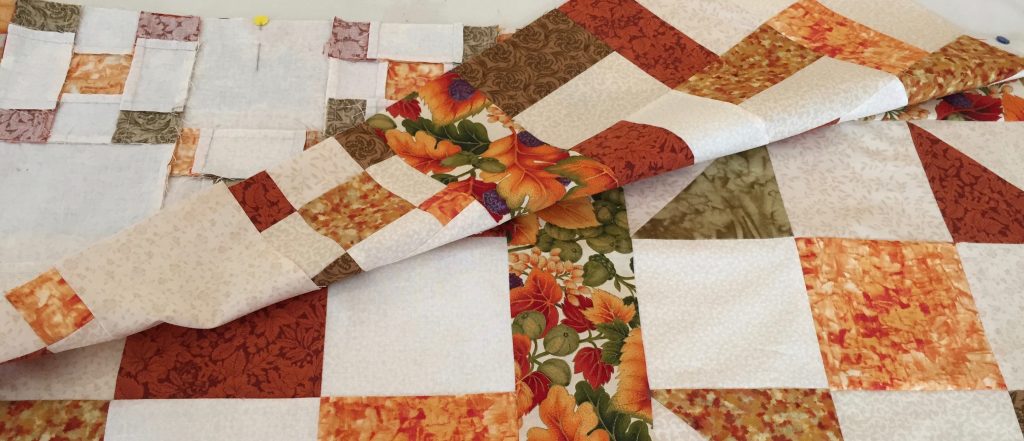 Once the sashing is complete, it is time to do the borders.  There are few variations for borders, but they are all done the same.  This quilt has one border that is 6″ wide.  If you want to do multiple borders, you just repeat this process with different widths of strips.
Measure the length of your quilt.  It will probably not be exactly the length it is supposed to be, and that's fine.  Small errors in seam allowance compound, and here is where it shows.  Measure it at the edges and the centre of the quilt.  If they are not all the same, take the average.  This is the length that you want your border strips to be.  It will be more than one strip of fabric, so you need to sew together two strips of 6″ fabric and then cut to the length of the quilt.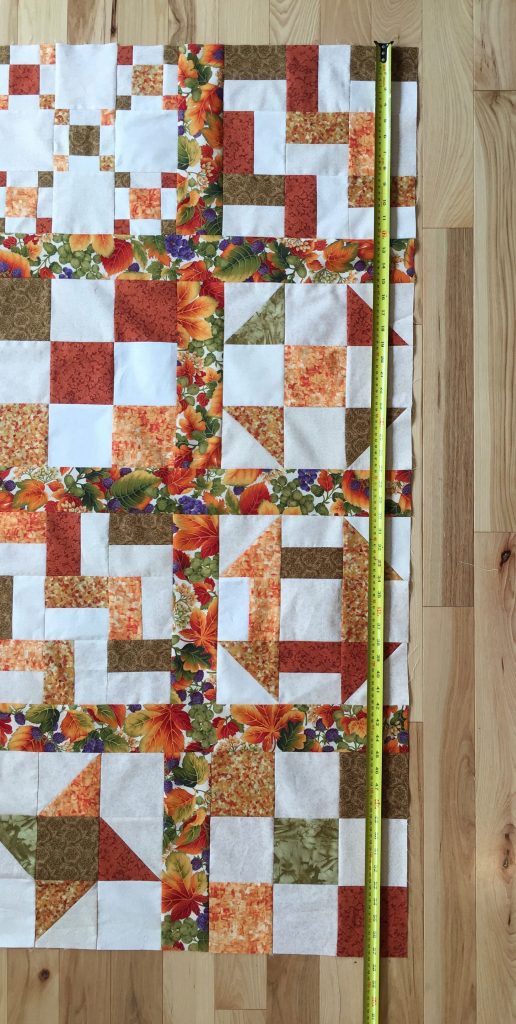 Be sure to use pins when you sew this seam.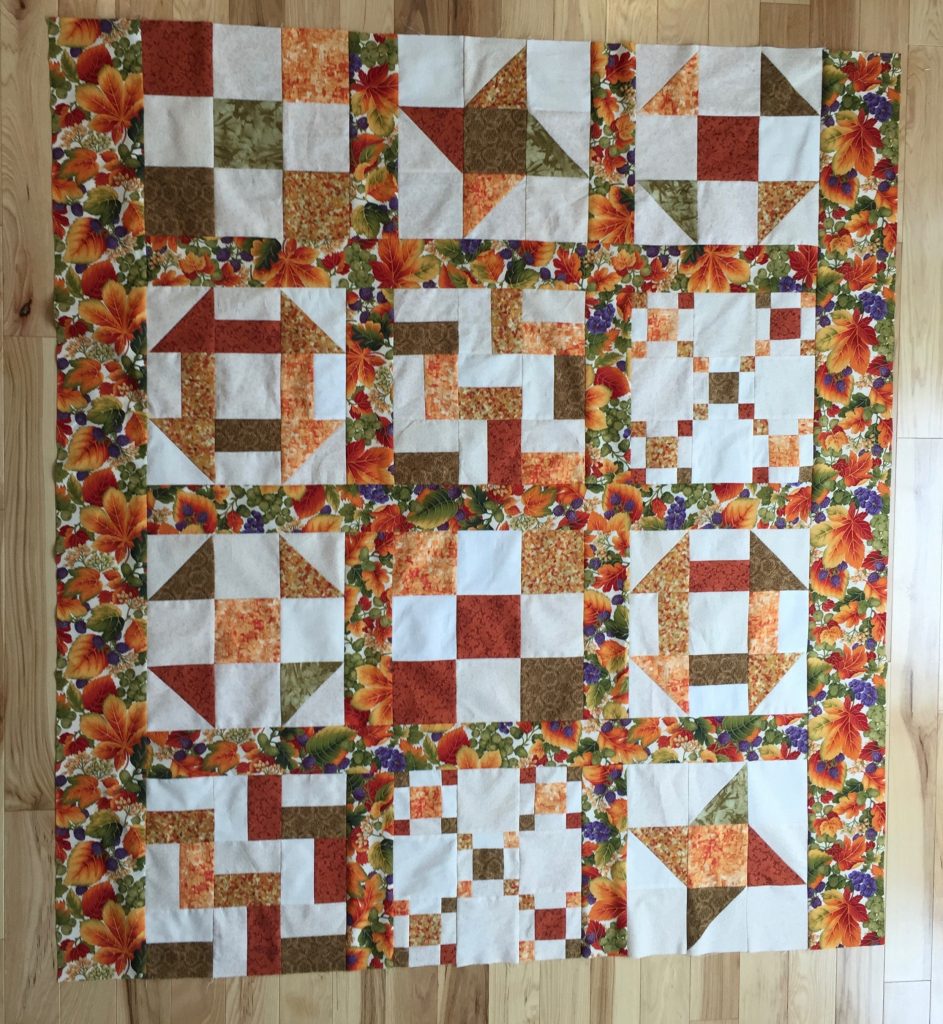 Repeat for the borders on the top and bottom.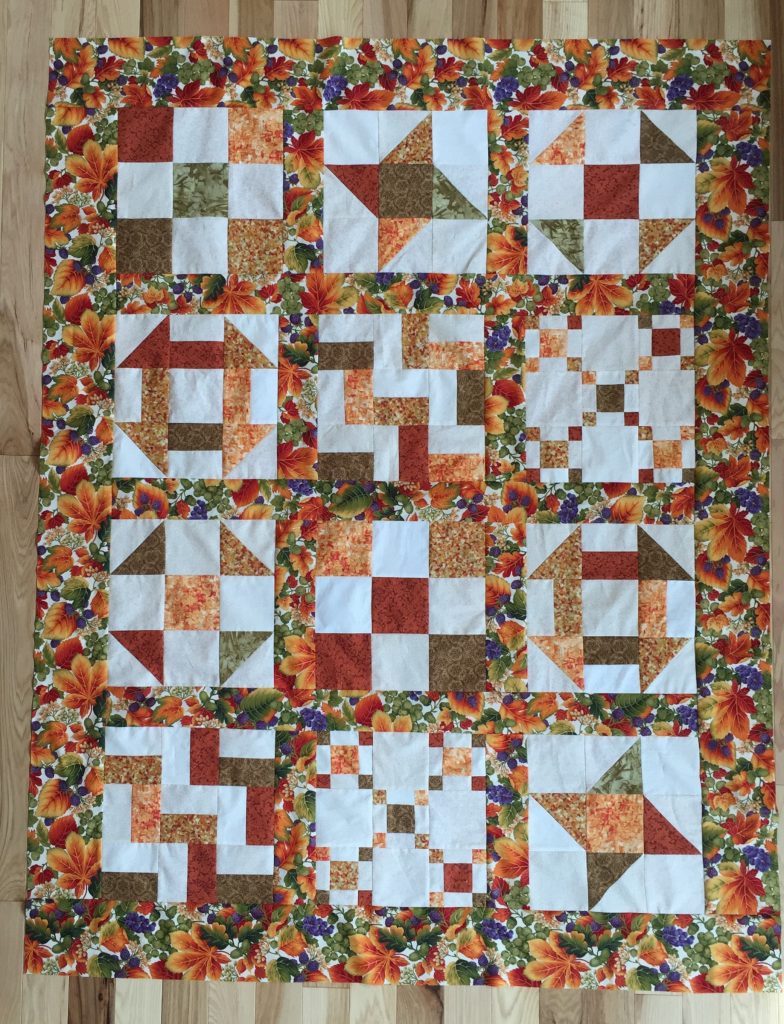 If you want multiple borders, like the other quilt variations, repeat these steps.
This quilt has a single border that matches the sashing.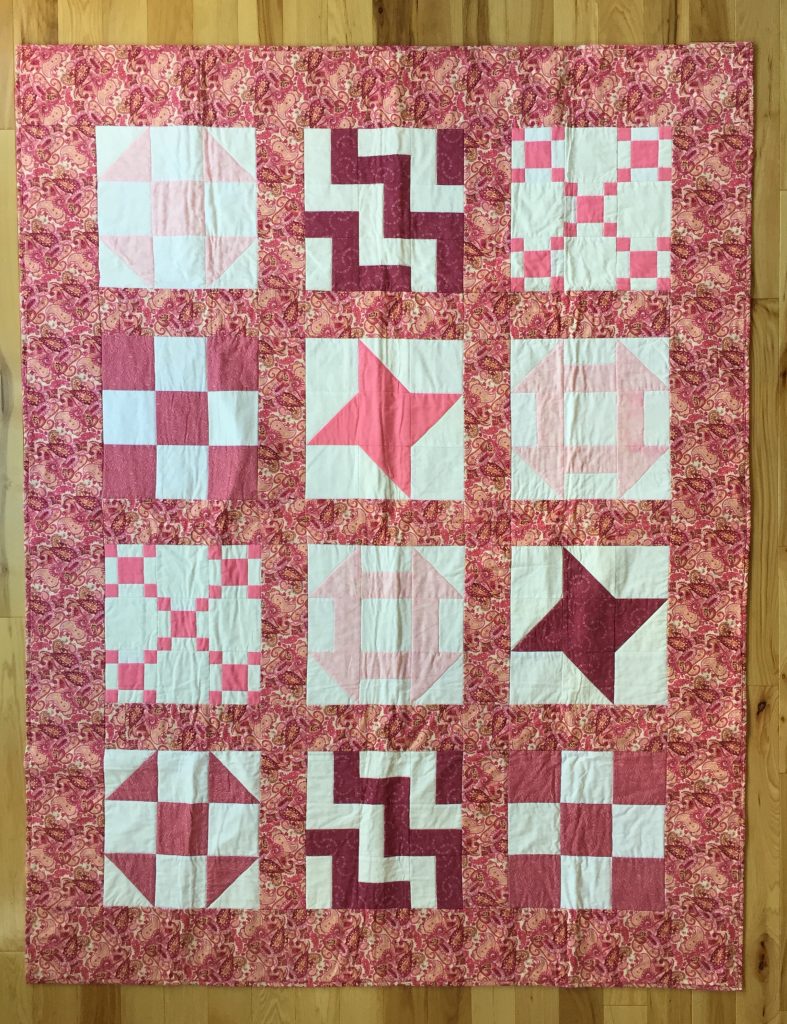 This quilt has a 2″ border, then a 3/4″ border, and then a 5″ border.  The sashing is in a similar but different fabric.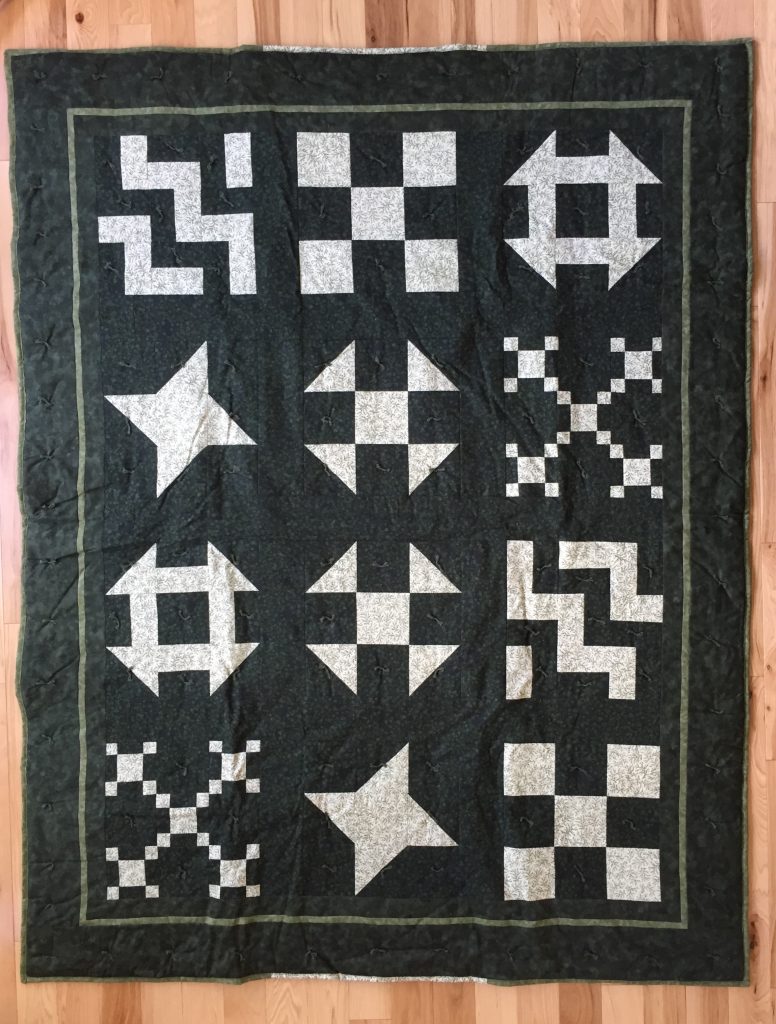 This quilt has a 1/-1/2″ border, then a 1″ border, then a 5″ border.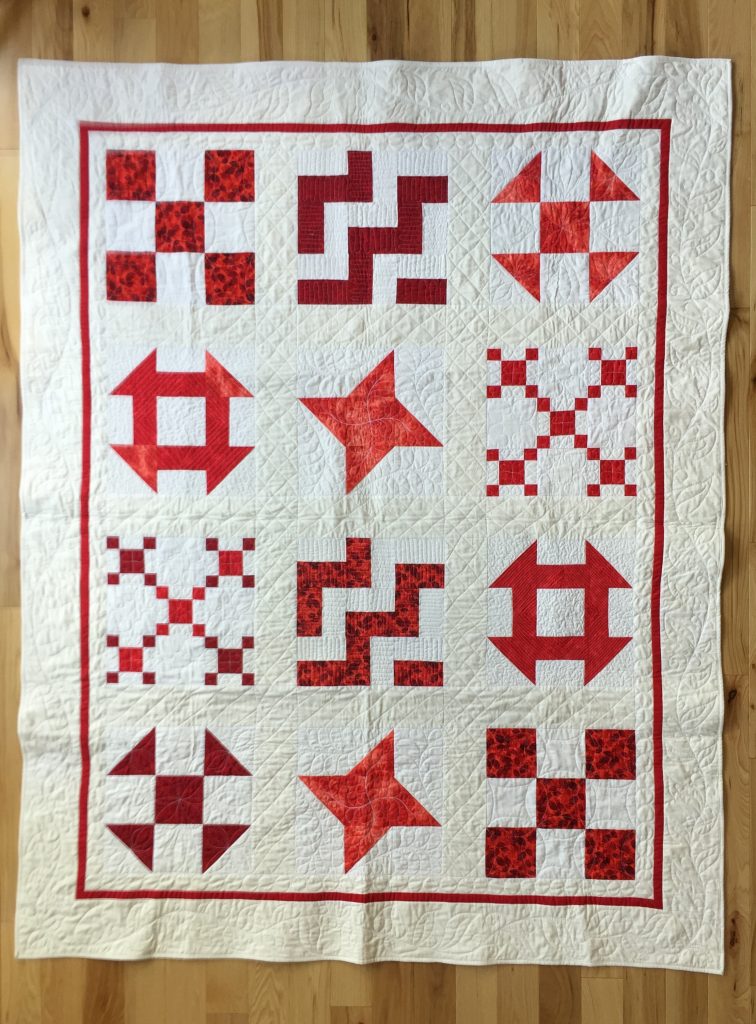 Your choices might depend on how much time you want to put into it, what size you want the finished quilt to be, and how much fabric you have left.  You can make your own design to personalize the quilt.
Now the top is complete, and you're almost done!
---
---