The house hand embroidery project has three different options – Relaxed, Intense or Insane. Each one get progressively more complex and time consuming.
If you want to stitch along on this project, the house line drawing is available to newsletter subscribers. Sign up today to get access to the resource library that contains this and other great projects.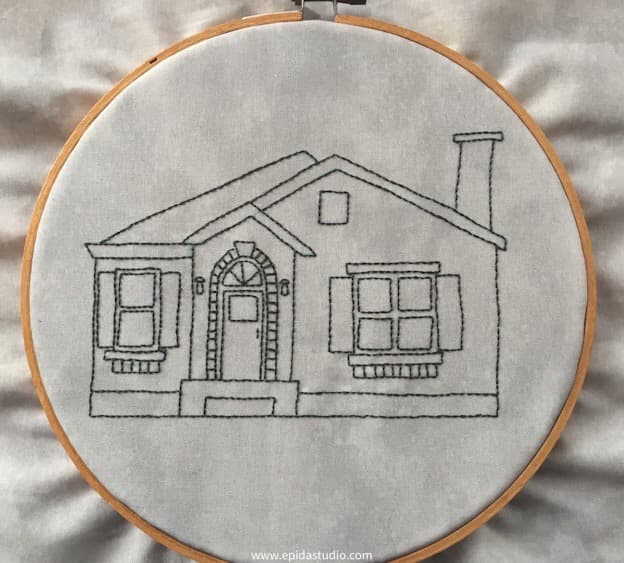 The relaxed option involves stitching all the lines with back stitch. This is a nice look that can be done in any colour and works up quickly.
Chain stitch and Straight stitch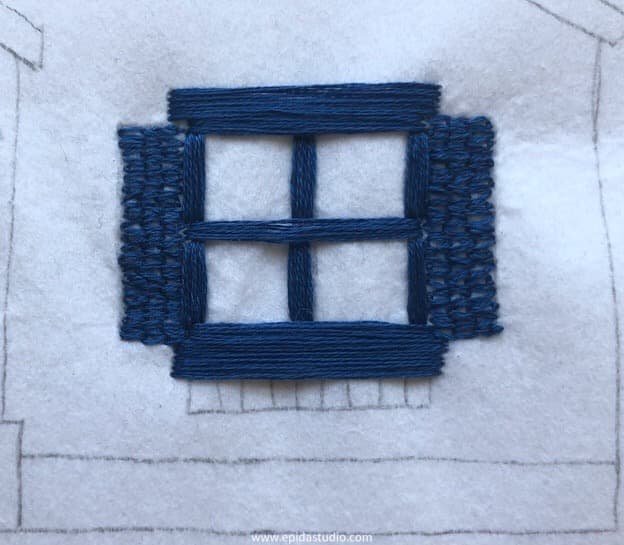 The intense option starts off with chain stitch doors and shutters, then straight stitch variation trims.
Now it's time to finish off with blanket stitch, feather stitch and back stitch.
Blanket Stitch
The bricks under the windows and around the door lend themselves to blanket stitch. This is sometimes also called buttonhole stitch, because it is used to stitch buttonholes by hand.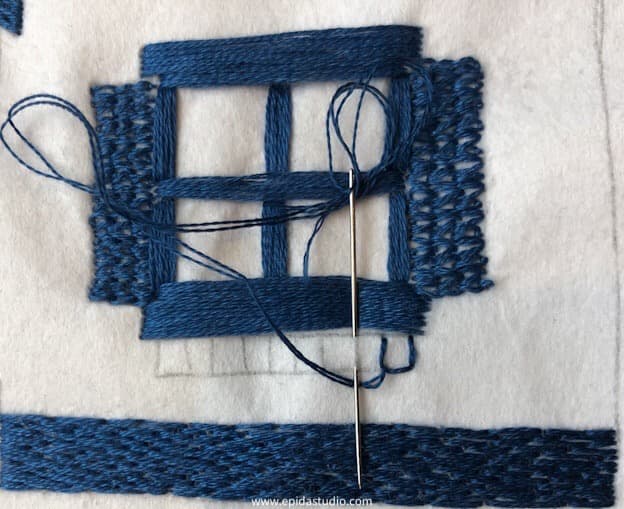 If you've never tried blanket stitch, you can check out a tutorial HERE. It is often used in applique, but can also be used for surface embroidery.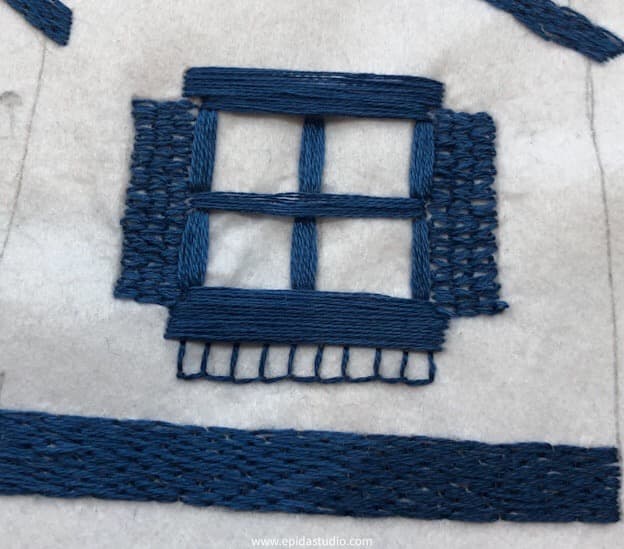 Just follow the brick outlines for the easiest blanket stitch ever.
Feather Stitch
This feather stitch roof was inspired by a drawing that my daughter did. I would never have thought of using that shape for shingles.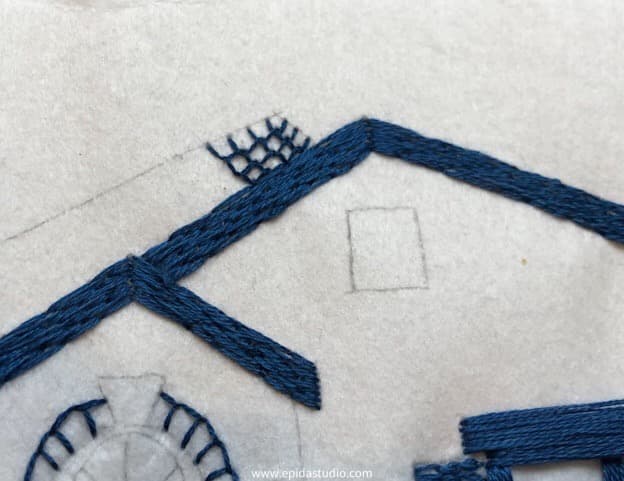 The feather stitching is stitched in rows going parallel to the roof line.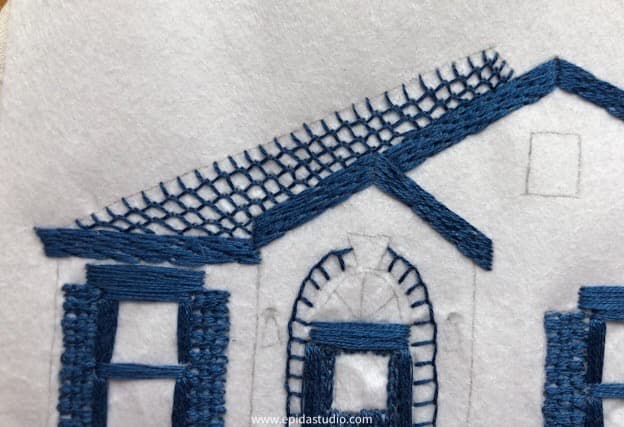 I enjoy feather stitch, and this has inspired my to try it in some more unusual options.
Check out a tutorial for feather stitch here.
Back Stitch
To finish off the design, I used back stitch on the rest of the lines, including the outline of the roof.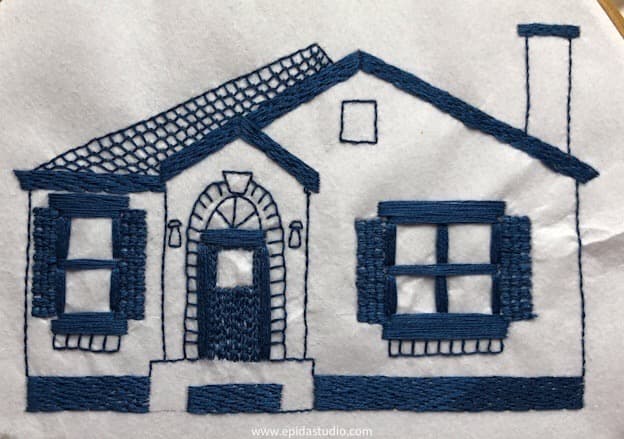 It is done in the same way as the Relaxed house embroidery option, but looks totally different with all the other stitches added.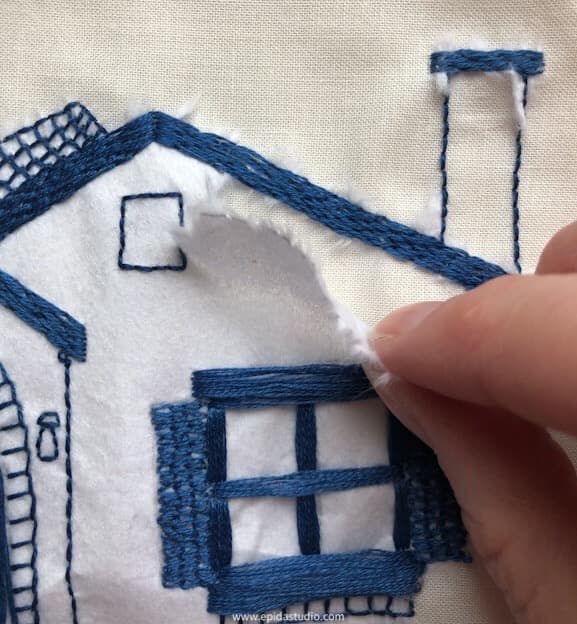 For this embroidered piece, I used water soluble stabilizer to transfer the design to the fabric, so my last step was to remove the excess paper.
This is another fun embroidery design. If you stitch along and make your own house embroidery, I would love to see a picture of it. Please send it to me or tag #epidastudio on instagram!
Sign up for my newsletter to download the sketch of the house along with other great bonus resources.
[mailerlite_form form_id=3]
---