There are endless options for freestyle embroidery materials, but if you are starting out, keeping it simple is the way to go.  Choose a basic fabric and thread to practice and learn on.  Freestyle embroidery should be fun and stress-free.
fabric choices
Freestyle embroidery does not need even-weave fabric, so it can be done on almost anything.  There are a few things to keep in mind, however.  If the fabric is very flimsy, it might need extra support to be able to hold the stitches.  Also, the fabric and thread need to be balanced.  You would need heavier thread to embroider on denim than on light cotton. If you are stitching on knits, remember that the stitching will affect the stretch ability of the knit, so you will want to avoid something like a t-shirt neckline or you might not be able to get the shirt over your head without breaking stitches.

Linen, silk, cotton and polyester are shown in the picture, and all would be fine for embroidery.
thread choices
There are a lot of thread choices available, but by far the most common is embroidery floss.  It is reasonably priced, available in a rainbow of colours, and the colour doesn't run.  This is the best option for beginners and a great option no matter how experienced you are.  There are a few different brands, but world-wide one of the most popular brands is DMC.  One nice thing about this is that colours are numbered, so if you need to match, it doesn't matter where you are, if you find that number floss, it will be the same colour.
The other nice thing about embroidery floss is that it is made up of six strands.  When you stitch, you use as many strands as you want.  If you are sewing on light fabric, use one, two or three strands.  If you are on something heavy, use four, five, six or sometimes more.  It is up to you.

Other choices include Perle cotton, which comes in different weights, and wool.  Beyond this, there are many kinds of specialty threads to add different looks.  Once you get started in the world of embroidery thread, you will find endless options.
my picks
I have some white fabric in my stash, so I am using that.  It is heavy weight and quite heavy. It might be cotton, but I don't know for sure.  It seems like it would be used for a bag or something heavy duty.  I am using embroidery floss for the stitching, so I looked for a bunch of colours that I thought looked nice together.  I can always add more as I go along.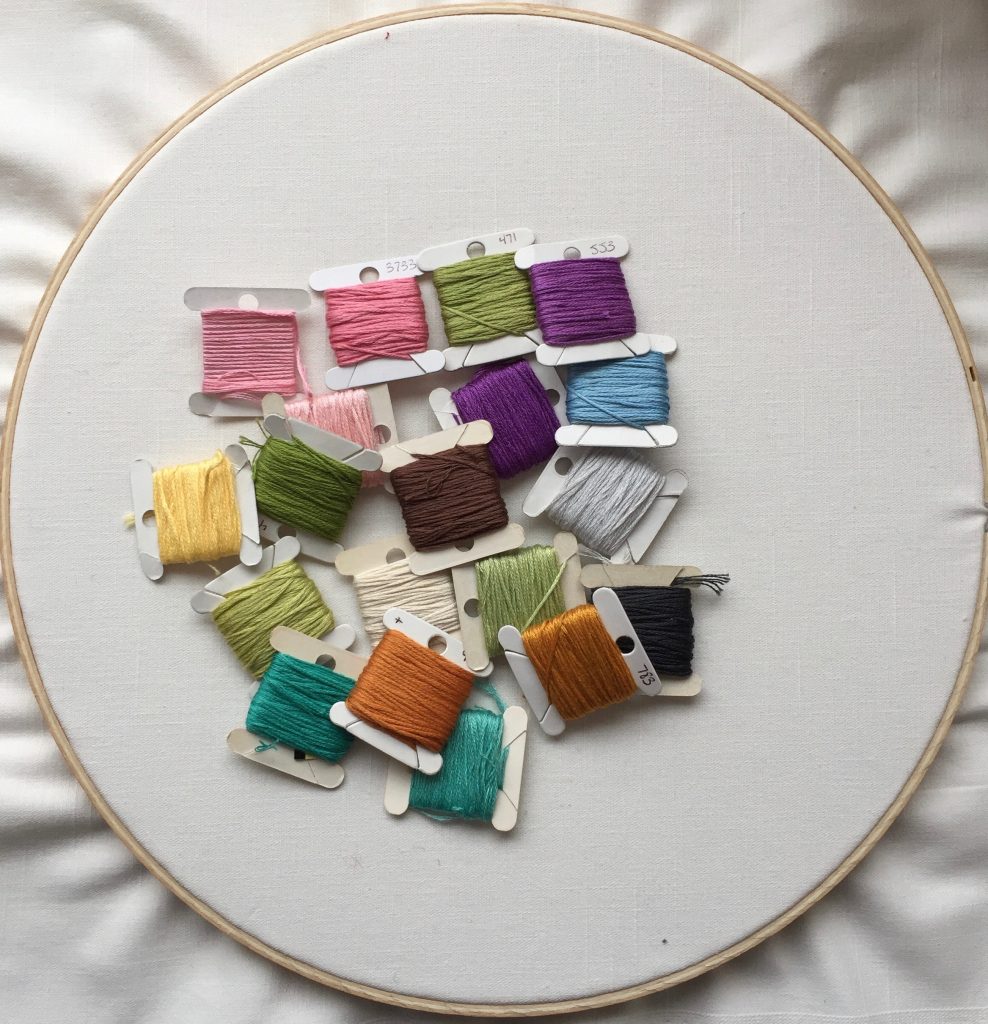 For smooth embroidery, use a hoop or a frame.  Frames are really nice, but hoops are usually more economical, so if you're starting out, I would recommend that.  Try to have a hoop that is larger than your design, so that you don't have to move it around the design.  A hoop keeps your fabric smooth, and helps the tension of your stitches.
Everything looks ready to go!
[mailerlite_form form_id=3]
---
---