Straight stitch is one of the simplest embroidery stitches you can do. It is just bringing the needle up and down at the start and end of the stitching line. But don't let the simplicity fool you. It is still a beautiful and effective stitch with lots of applications.
In the insane version of the house embroidery project, straight stitch is used to make a bunch of stems for a freestyle flower garden at the front of the house.
For more ideas of how to use straight stitch in your embroidery projects, check out this tutorial.
A freestyle garden matches the style of this piece. Some embroidery pieces are much more exact and defined. For those, you would want to mark a lot more reference lines.
To stitch, decide on where you want the flower garden to be, and randomly stitch straight lines.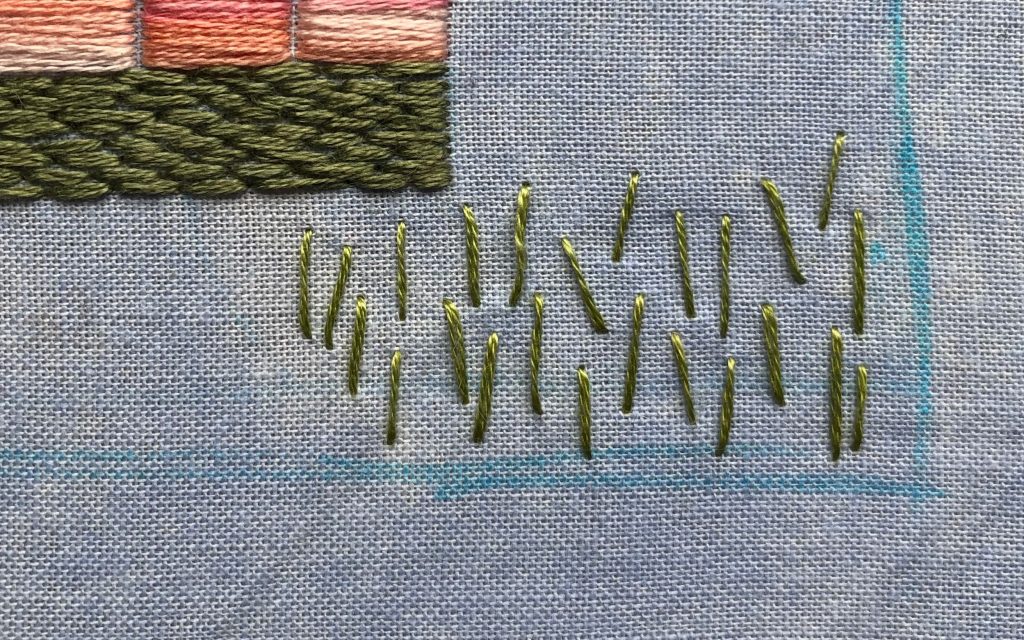 I used two strands of embroidery floss, but you could use more or less depending on how dense you want them to be and how prominent. It is fun to use multiple shades of green and adds depth and variety.
Remember as you are stitching the stems to leave space at the top for the flowers. The garden will go beyond the stems.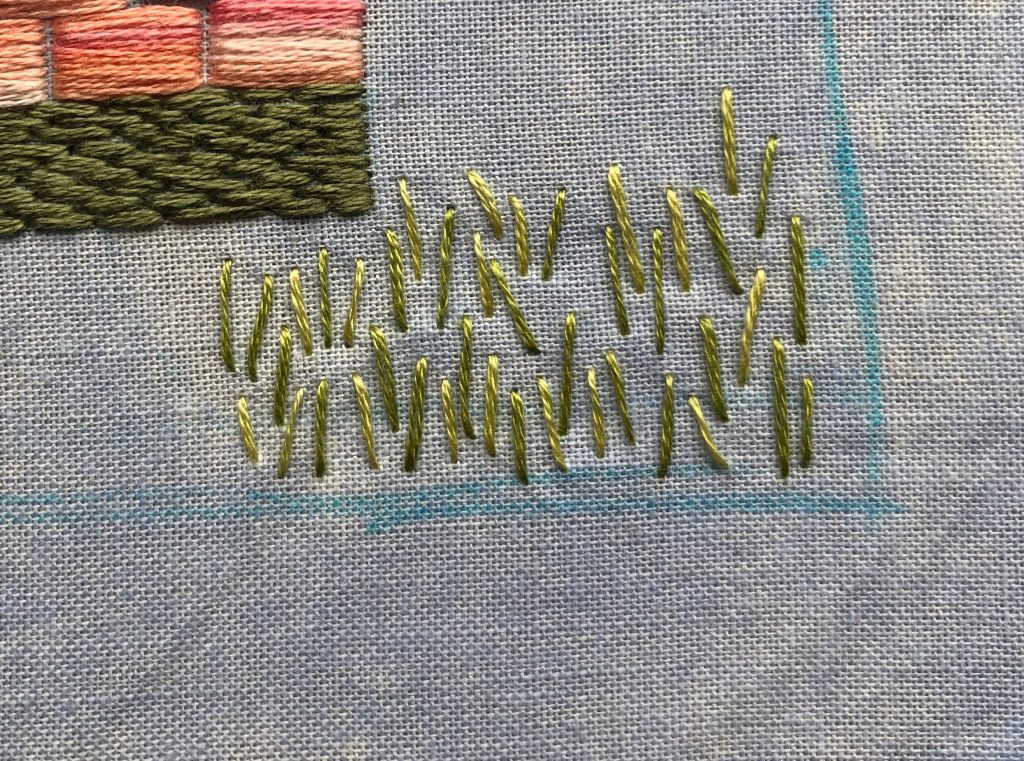 Once the stems are stitched, it's time to put on the flowers. Straight stitch is also nice to use for petals.
Decide how many petals you want per flower, but don't worry about making them all exactly the same. In a real-life garden flowers are not all exactly identical.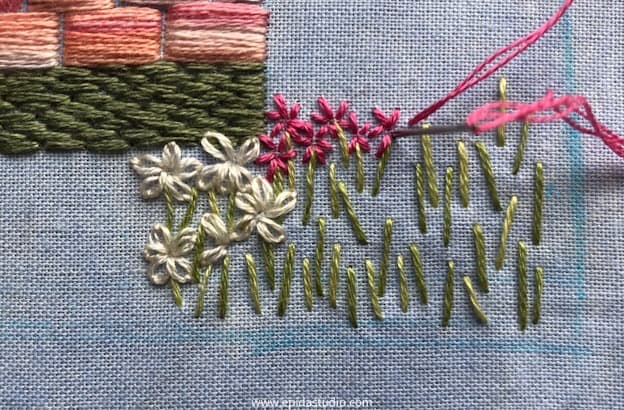 I stitched the pink flowers with two strands of floss. Most of the flowers have six petals, but not all. There are places where they overlap and run in to each other.
Remember that not every stem needs a flower. Just begin with one, and keep adding until you feel like there's enough. There are no rules to freestyle embroidery, so relax and have fun with it.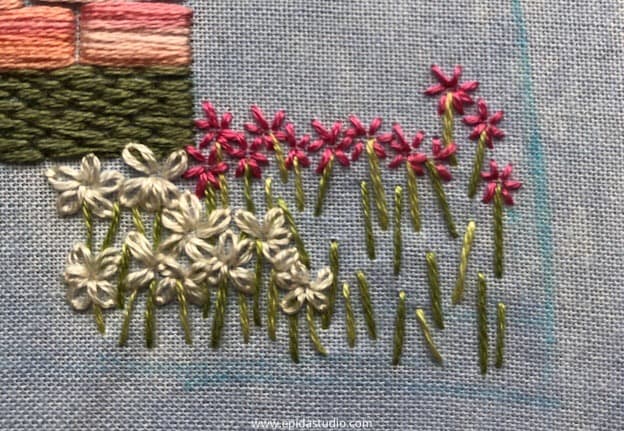 The other type of flowers in the garden are stitched with lazy daisy stitch. As the name implies, this is a common embroidery stitch used for flowers.
Check out this tutorial for lazy daisy directions and inspiration.
I used two strands of white floss for these flowers. Most have five petals, but the same rules about variety and perfection apply.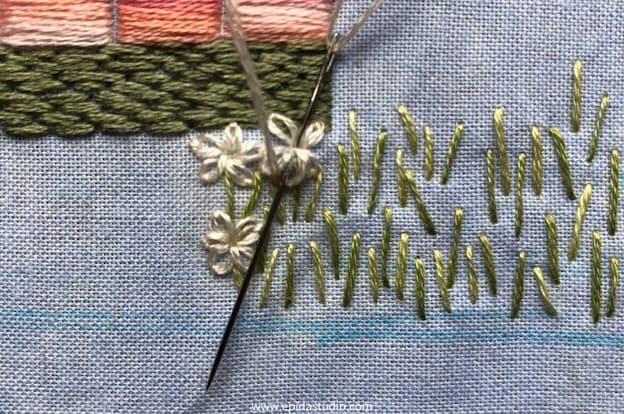 There are so many options if you want to add flowers. You could put flowers along the entire front of the house. You could make even more types and colours. You could make them evenly spaced and identical for a more structured look. You are only limited by your imagination.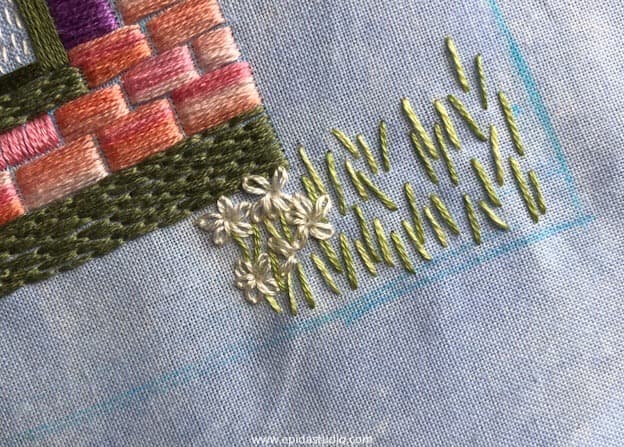 If the insane version seems like too much stitching for you, the relaxed or intense versions of the house embroidery might be more your style.
You can stitch along with all the options here. I love to see what you've made. Please send me pictures or tag #epidastudio on instagram.
The house pattern is available free to newsletter subscribers (along with other great bonuses). Sign up here for access.
[mailerlite_form form_id=3]
---
---