Feather stitch and chain stitch are both fun to do, and a great way to fill a lot of space quickly. They both have unique shapes and texture, so in embroidered pictures, you want to use that to your advantage rather than fighting against it.
In the Insane option of the house embroidered project, feather stitch and chain stitch are used for the upper part of the tree.
Feather Stitch
Feather stitch is often used for natural designs like plants because of its shape. It is easily adapted to fill different size areas, and can be perfectly symmetrical or random and organic.
See a tutorial for feather stitch here.
To stitch the tree branches, use two strands of embroidery floss. I chose the medium brown colour from the trunk.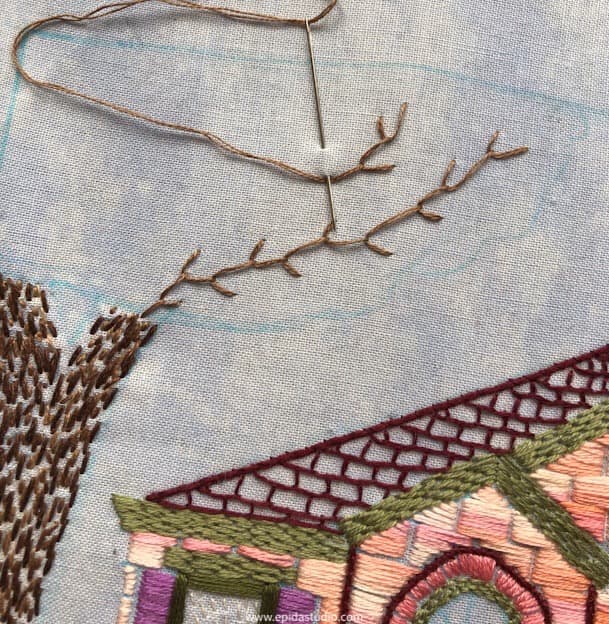 Begin the stitch at the top of the picture and work down towards the trunk. If you need it, feel free to draw a line on the fabric to follow with your stitches, but I think it looks more organic to just stitch it freehand.
Feel free to switch up direction. This is not a time for precise measurements and sizes.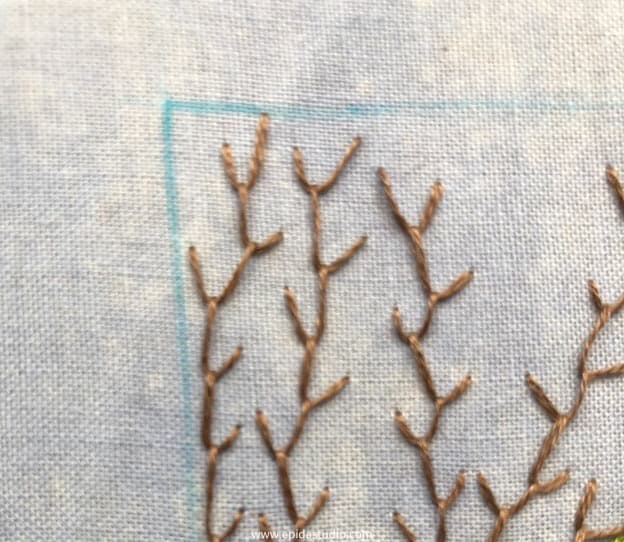 Remember that if there is something that you don't like, you can always cover it up with leaves. If you love the branches, you might want to do a winter tree and skip the chain stitch.
Chain Stitch
Chain stitch is used for leaves. I only used two strands of thread, but that was enough to give a lot of texture and weigh. I used a single green colour, but you could use a variety of shades or even a variegated thread.
You can see a chain stitch tutorial here.
Begin the chains at the top of the trunk and follow the feather stitch up the branches. Then fill in some of the offshoot branches.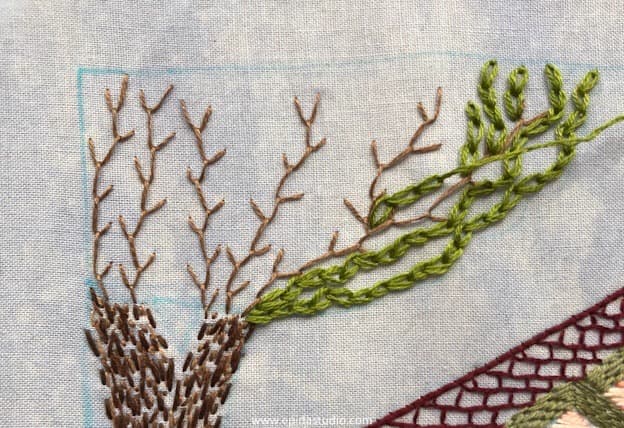 Just look at the piece for empty spaces that you want to fill and add small chains. Meandering the chain helps it look like leaves.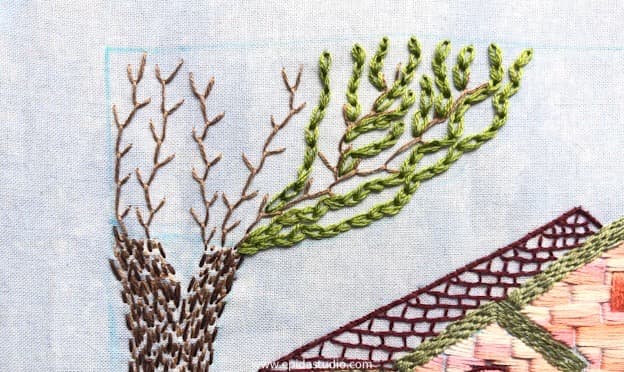 You can decide how dense you want the chains to be. If you want the tree totally full, you can even overlap the chains to fill it in. In that case, you might choose to skip stitching branches.
I chose a medium density. In some spots you can see the branches, and in other spots, just a hint. I chose not to completely cover them.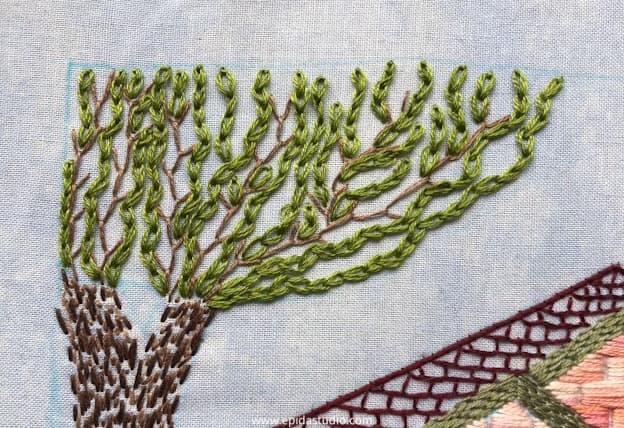 Chain stitch is also a good option if you want to add any small bushes to the picture. These could be stitched in the same way.
Check out the rest of the house embroidery project here.
This design is available to download in my subscriber bonus resources. Get access by signing up below.
[mailerlite_form form_id=3]
---
---