This is the first version option for the house embroidery – RELAXED. But any picture looks good embroidered in a single colour with just a backstitch outline.
Backstitch is a simple stitch that is easy to learn and quick to do.
If you've never done backstitch before, HERE is a tutorial that shows how to stitch it and also gives ideas for where to use it in embroidery.
For best results when stitching a design with backstitch, here are three things to keep in mind:
1. Keep the stitches a consistent size.
Your embroidery will look better if the stitches are all the same size. Don't stress about exactly what that size should be.
If you have a design with a lot of curves, you will probably want to go on the smaller size so that the curves are smoother. But don't make them super tiny.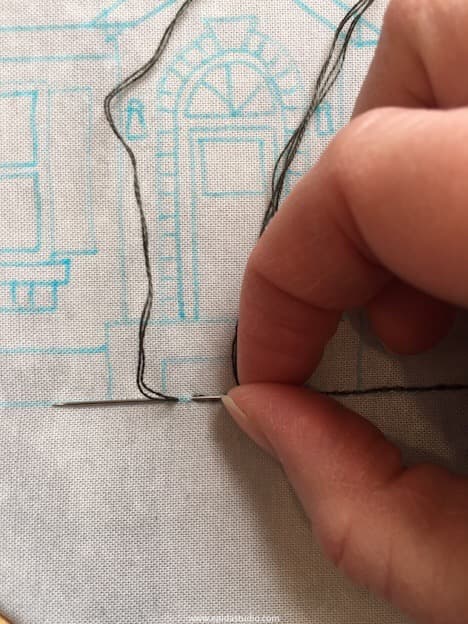 I like making them about 1/8" (3mm). You will find what is comfortable for you.
Stitch size will be partially determined by fabric and thread. If you are using a chunky thread on denim, you will probably have a larger stitch size.
2. Stop and start thread.
I know it's a pain to stop and start thread when you move to a new section, but avoid the temptation to just carry your thread along the back.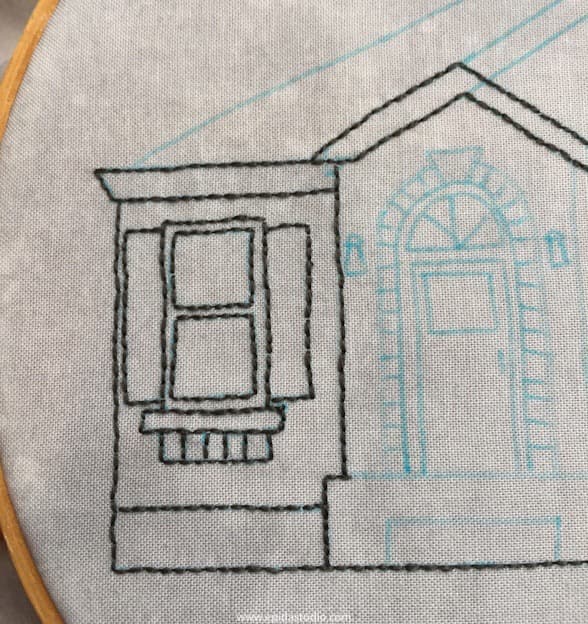 If you are making a wearable, long threads on the back will easily get caught on things and pull and distort your stitching.
If you have a high light / dark contrast between fabric and thread, random threads on the back will show through.
3. Keep the back neat, but don't obsess about it
Most embroiders get a bit stressed and defensive if you look at the back of their work. My grandmother, who was an award-winning embroiderer, always said that the back of embroidery should look as good as the front.
I wouldn't go that far, but I do think that if you pay attention to the back, you will have a better finished project.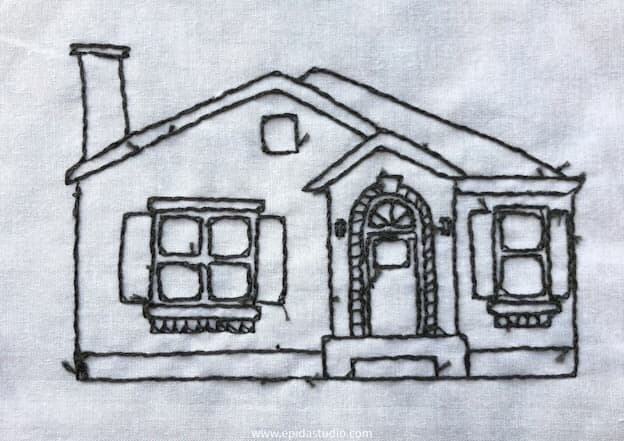 If you get a big tangle or birds nest of thread on the back, take the time to untangle it rather than just moving on and ignoring it.
You might notice on the back of my piece that I do use knots. This can be controversial. Many people say you should never use knots in embroidery, but weave the threads into the stitches to hold them.
I weave in to end a thread, but I use a tiny knot to start threads for surface embroidery. This reduces the bulk of all the threads woven in and is faster in a quick project like this.
I never use knots in counted thread embroidery like hardanger, cross stitch or canvas work. I also hesitate if I'm embroidering on a very sheer or lightweight fabric. But for surface embroidery on quilting cotton, knots are fine. (Just don't tell my grandma.)
Backstitch is a great choice for any picture, but if you want the outline for this house, it is part of my free subscriber resource library. Sign up below to get access.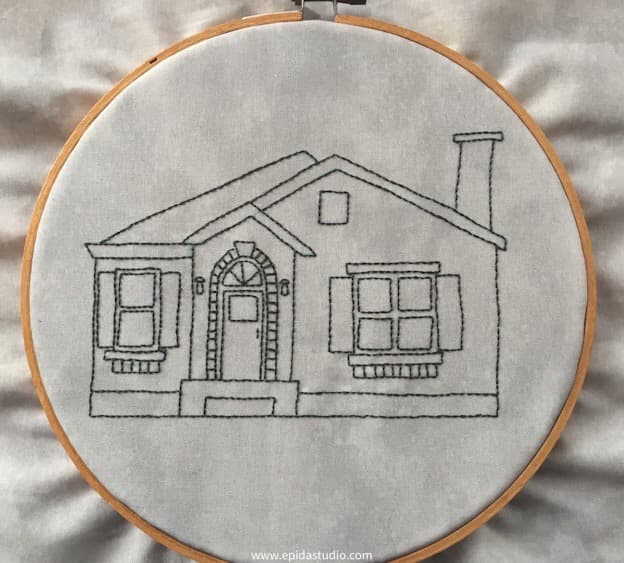 [mailerlite_form form_id=3]
---
---