A pojagi is a traditional Korean wrapping cloth. Some of these cloths were utilitarian and used frequently to carry household items. Others were special cloths which were used to give gifts or store valuable items or heirlooms.
This wrapping cloth is not made with traditional Korean materials or methods, but is a tribute to Korean style. It is a unique way to present special gifts, but could also be used for decor. Wrap a pillow and it's an easy way to add a pop of colour in your living room or bedroom.
This project uses the modern pojagi seam, a reversible seam based on traditional pojagi techniques. It is totally different from western quilting, so read all the directions before you begin.
Supplies
You can make these with any type of fabric, but if it is your first modern pojagi project, use something that is reversible, like a batik or a solid. If your fabric has a clear right and wrong side, you will have to be careful to get the fabrics the right way. It is possible with the reversible seam, just more complicated than normal piecing.
Fabric
Two 15" squares, colour one
Two 15" squares, colour two
60" length of ribbon (any width of ribbon will work, but between 1/2" and 1" is best)

Thread
Use any normal sewing thread. Traditionally in pojagi a contrasting colour is used and the stitching is part of the design. You can use a neutral or match one of the colours of fabric you have or a third colour.
No matter what colour thread you use, your stitches will be visible on the finished project. Don't stress about this, just relax and enjoy the process.
Assembly
Join pieces
Join each colour one square to a colour two square using the simple pojagi seam method.
Then join the two pieces together, alternating colours.

You might have to flip the pieces around a bit to get the squares to line up in the middle for both the front and the back.
This is one of the differences with pojagi seam allowances. With four squares it is not too hard to get all the seams to line up, but the more seams you add, the more complicated it becomes.

Hem
One side at a time, fold over 1/4" then fold over 1/4" again, pressing each fold well. Top stitch the fold.

It is much easier to hem one side at a time rather than attempt to do all sides at once.
Add Ribbon
Fold the ribbon in half and stitch the fold onto one corner of the square.

Trim the ends of the ribbon at 45* to keep from unravelling.

You're done!
Using the finished cloth
Now that the wrapping cloth is completed, you can use it to wrap many items.
Lay the square out like a diamond on a flat surface with the ribbon side down and closest to you.

Place the item in the middle of the square. Depending on the size of the item, you might have to try a couple of times to get the placement that you want,
Fold in the two sides over the item.
Fold down the top and roll up if necessary (like a burrito).
Fold the bottom side up so that it sits on top of the item.
Wrap the ribbon around the item and tie.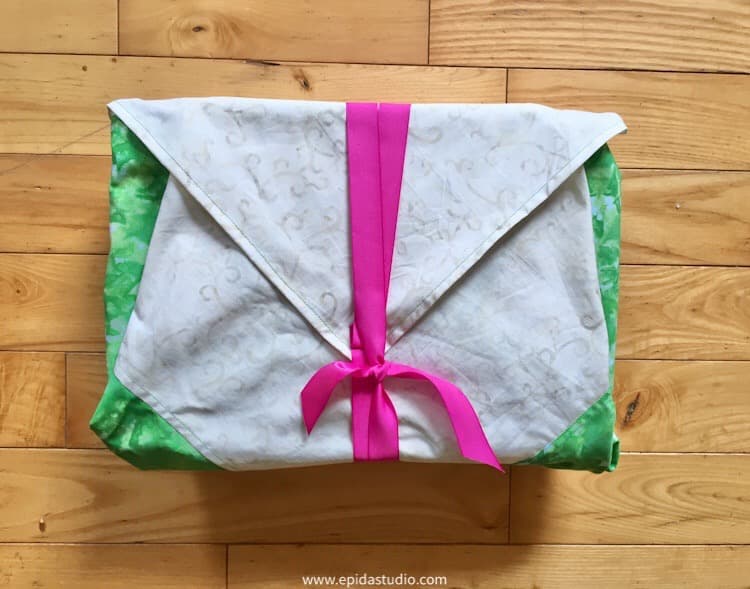 What a nice gift!
If you enjoy this project, check out more quick and easy pojagi tutorials.
---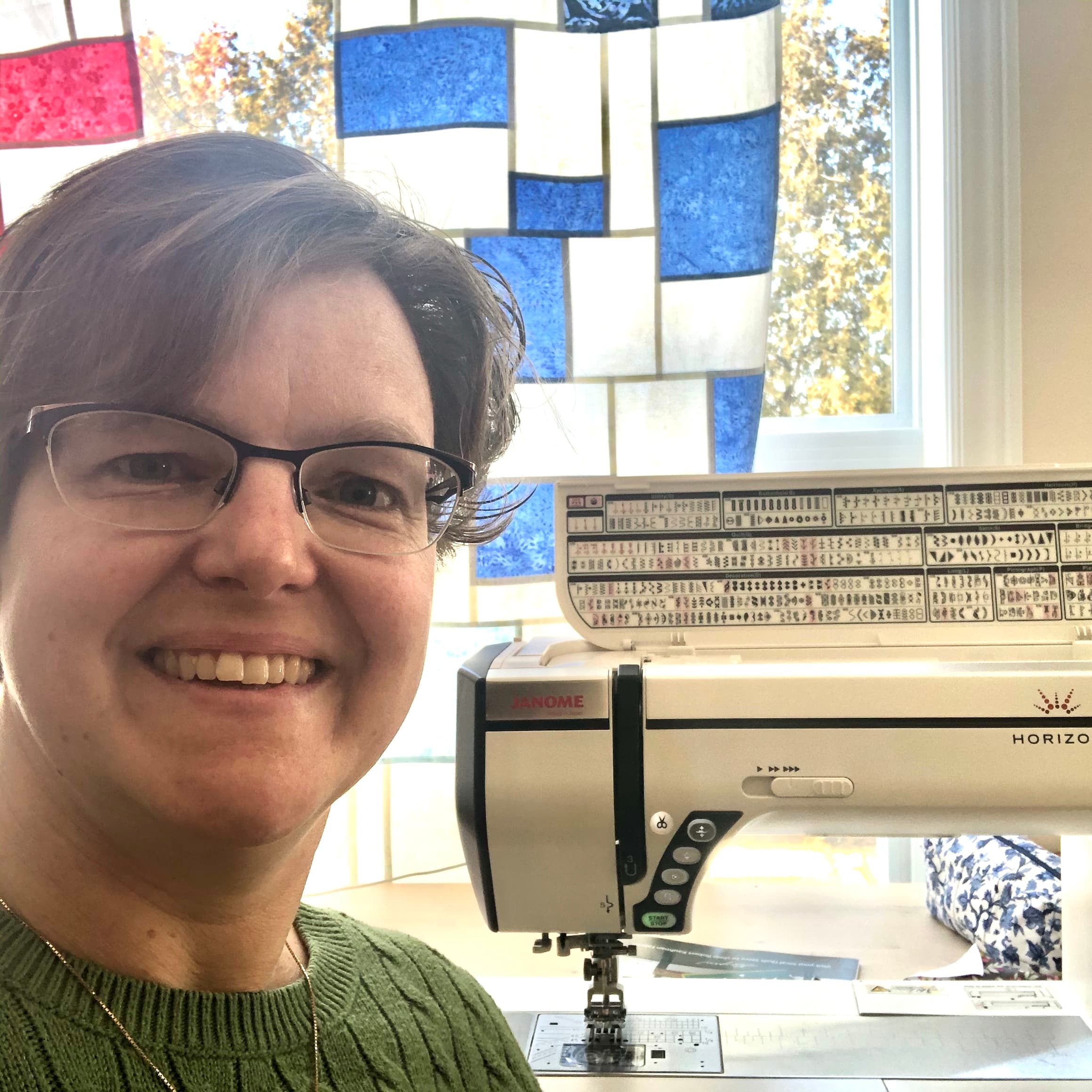 Elizabeth DeCroos
designer, teacher, speaker
Elizabeth enjoys doing all types of sewing and needlework and teaching others new techniques. For more information or to have her speak to your group click HERE.